Tuxedo Tabby Cat For Adoption in Chicago Illinois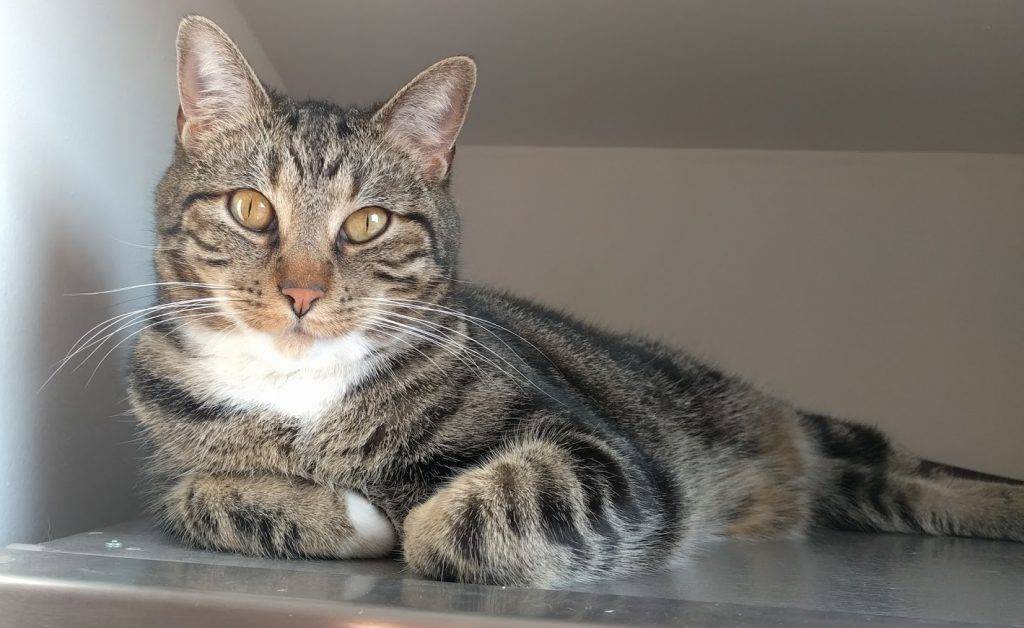 Meet Jerry, DSH Tuxedo Tabby Cat For Adoption in Chicago IL
Looking for a delightful tabby cat for adoption in Chicago IL? Want to adopt a Tuxedo cat? Jerry, a 3 YO fixed male tuxedo tabby cat is looking for a loving, forever home. Jerry is good with children and other pets. He is healthy, fixed, up to date on shots and micro-chipped. Adopt Jerry Today!
There is a $35 adoption/rehoming fee. Supplies and veterinary records will be included.
Questions about Jerry? Please contact our Chicago cat rehoming team today.
Call or Text our JERRY ADOPTION HOTLINE 24/7 at (773) 830-3820
---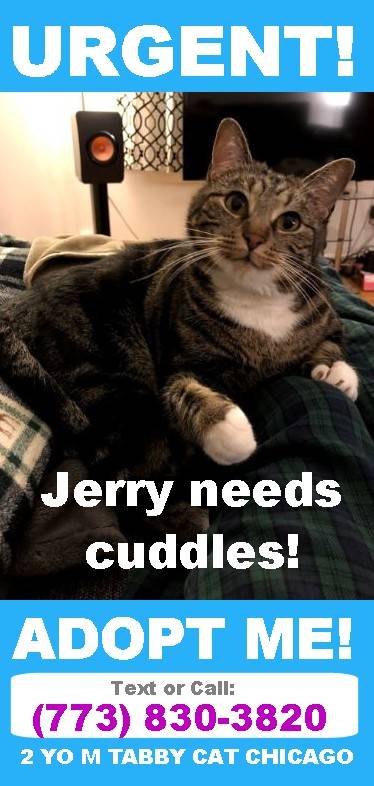 All About Jerry – Tabby Tuxedo Cat For Adoption in Chicago IL
Name of Pet: Jerry
Location: Chicago, IL, 60642
Type of Pet: Cat
Breed of Pet: Domestic Shorthair Tabby Tuxedo
Sex of Pet: Male
Age of Pet: 3.5
Spayed/Neutered?: Yes
Health Problems: H
Behavior Issues: Had 13 teeth extracted. May need to go on a soft diet.
Up To Date on Vaccinations: No
Gets along with cats: Yes
Gets along with dogs: Unknown
Good with Children?: Yes
House Broken or Litter Trained?: Yes
Crate Trained?:
Accessories Included: Supply of dry food and treats, toys including laser pointer, his favorite bed, and full size crate for transportation.
Jerry's Personality
1. Jerry is very loving. He'll frequently sit on my lap and fall asleep while I'm watching TV
2. Jerry loves to play with his laser pointer and feather toys
3. Jerry enjoys sleeping in the sun
4. Jerry has beautiful patterning on his coat. Concentric circles on his sides and cute white socks and bib
5. Jerry is very gentle even around new people and has never once been aggressive toward anyone
Jerry's Current Home Environment
Small 1 bedroom apartment. I used to have another cat and Jerry got along with him fine. No other pets at the moment.
Jerry's Current Family:
I live alone in my apartment with Jerry.
Jerry's Favorite Toys, Foods, Activities?
Jerry absolutely loves to play with a laser pointer or any feather toy on a string. Enjoys stalking the feather toy around corners and then pouncing. Loves to take long naps, especially in the sun. Enjoys sleeping at the foot of the bed at night. Eats dry food and thoroughly enjoys treats.
Cute Jerry Story:
Jerry seems to know when I'm sad, and will come cuddle with me in bed or on the couch and start purring which is very comforting and soothing.
Why is Jerry Being Rehomed?
My work schedule has changed and I travel frequently for work for long stretches of time. I have someone come visit Jerry daily during this time but it is expensive and I feel bad for him.
Jerry's Perfect Adoptive Home Will Be:
A loving owner/family who treats him well and enjoys his company.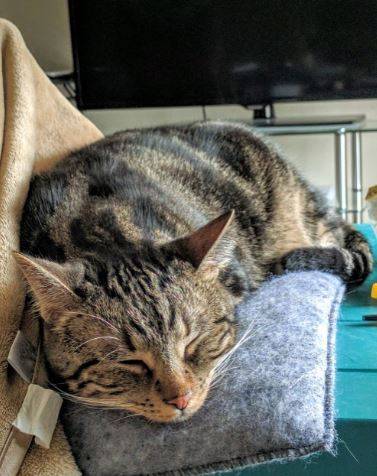 How To Adopt This Gregarious 3 Year Old Male Tabby Tuxedo Cat
If you are interested in adopting this special Tuxedo Tabby  Cat For Adoption in Chicago IL, please fill out our online meeting request below. Once received and reviewed, our staff will ask the pets owner to reach out to you and arrange a for you to meet this sweet tabby tuxedo cat for adoption in Chicago.
Questions about Jerry? Please contact our Chicago cat rehoming team today.
Call or Text our JERRY ADOPTION HOTLINE 24/7 at (773) 830-3820
Jerry – Tabby Tuxedo Cat For Adoption in Chicago IL
Jerry is a Brown Tabby Tuxedo Cat for adoption in Chicago IL, near
Cicero, IL
Oak Park, IL
Berwyn, IL
Forest Park, IL
River Forest, IL
Elmwood Park, IL
Lincolnwood, IL
Lyons, IL
Maywood, IL
River Grove, IL
Summit, IL
Evergreen Park, IL
Evanston, IL
Norridge, IL
Melrose Park, IL
Fort Dearborn Addition, IL
Park Row, IL
Burnham Place, IL
Harbor Square, IL
Cityfront Center, IL
Film Row, IL
Conleys Patch, IL
Cityfront Place, IL
Duncans Addition, IL
Streeterville, IL
Kinzies Addition, IL
Shantytown, IL
McCormickville, IL
Swede Town, IL
Killgubbin, IL
Central Station, IL
Carpenters Addition, IL
Wolcotts and Bushnells Additions, IL
---
Adopt this very sweet Brown tabby tuxedo cat in Chicago IL today.