Handsome Tuxedo Cat For Adoption in Los Angeles CA – Adopt Stanley Today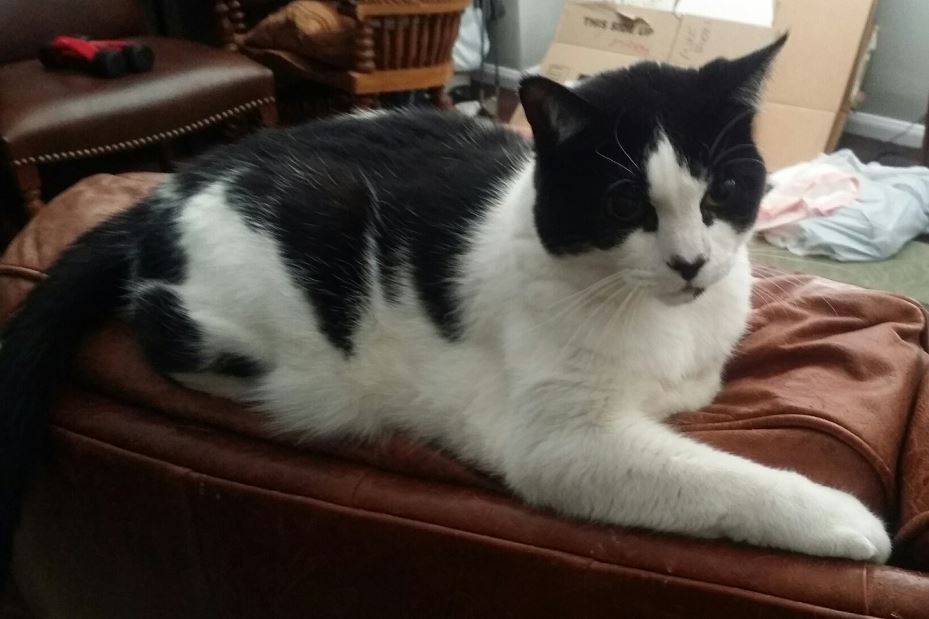 Meet Stanley – Sweet Black and White Tuxedo Cat For Adoption in Los Angeles CA
Stanley is a handsome and sweet 11 year old male Tuxedo cat for adoption in Los Angeles, CA.   Stanley is very healthy. He has been neutered, and is a very clean and well behaved cat.
Stanley is a real charmer. This dashing Tuxedo cat has been known to help his owner entertain guests. He has a special way about him that makes visitors feel welcome – and he is always very well dressed!
Stanley is a very laid back, calm cat. He gets along very well with other cats and cat-friendly dogs, and he is gentle and sweet with children.
When it comes to good looks, Stanley is a stunner. He has a medium length black and white tuxedo coat that is so soft and silky. He has gorgeous green eyes and the cutest heart shaped marking on his nose.
He may be 11 years of age, but Stanley has a lot of love left to offer. His owner is a widower in his mid sixties who is retiring to Mexico. It is not at all practical to take Stanley with him, so he is dearly hoping to find a loving new home for Stanley in the Los Angeles area.
If you have been looking for the ultimate cuddle cat, Stanley is waiting to meet you! Please offer this charming Tuxedo cat a loving home today.
Adoption fee waived for a good home. Supplies and veterinary records will be included.
---
All About Stanley  – Male Tuxedo Cat For Adoption in Los Angeles, California
Name of Pet: Stanley
Location: Los Angeles, CA
Type of Pet: Cat
Breed of Pet: Tuxedo Cat For Adoption
Sex of Pet: Male
Age of Pet: 11
Spayed/Neutered?: Yes
Health Problems: No
Behavior Issues: No
Up To Date on Vaccinations: No
Gets along with cats: Yes
Gets along with dogs: Yes
Good with Children?: Yes
House Broken or Litter Trained?: Yes
Accessories Included: Cat carrier. Litter box. Water dish.
Stanley's Personality
His personality and temperment.
His desire to participate when guests are in the house.
He's very handsome.
Everyone finds him charming.
He is easy going.
Stanley's Current Home Environment
He lived indoor / outdoor most of his life, but for the past two years has has been confined to a one bedroom apartment in downtown Los Angeles.
I also have another cat, Sophie, that also needs rehoming. She can go with Stanley or they can be split up. I can provide separate details on Sophie.
Stanley's Current Family:
I am 64 years old. My wife passed away five years ago and my two kids have their own homes and are not able to take the cats. I am moving to Mexico and can no longer care for them.
Stanley's Favorite Toys, Foods, Activities?
I only them dry food. They just like to hang out. They had a lot more to do when they had a back yard.
Why is Stanley Being Rehomed?
I am moving to Mexico to live there permanently and it is not practical for me to take my two cats with me.
Stanley's Perfect Adoptive Home Will Be:
Ideally, anyone with a yard.
How To Adopt Stanley – A Charming Black and White Tuxedo Cat For Adoption in Los Angeles CA
If you are interested in adopting this special Black and White Tuxedo cat for adoption in Los Angeles, CA, please fill out our online meeting request here. Once received and reviewed, our staff will ask the pets owner to reach out to you and arrange a meeting to determine for certain if Stanley is a good fit for you – and you are a good fit for this pet.
If you have any questions about our careful pet rehoming process, feel free to get in touch.
Stanley – Tuxedo Cat For Adoption in Los Angeles
Stanley is a Black and White Tuxedo cat for adoption in Los Angeles, near East Los Angeles
Huntington Park
Maywood
Walnut Park
Commerce Bell
Glendale
South Pasadena
Monterey Park
South Gate Cudahy
West Hollywood
Alhambra
Bell Gardens
Westmont
Little Tokyo
Old Chinatown
Naud Junction
New Chinatown
Aliso Village
Mission Junction
Taylor Junction
Pico Gardens
Angelino Heights
Brooklyn Heights
Glendale Junction
Butte Street Junction
Dayton Avenue
Boyle Heights
Lincoln Heights
Wyvernwood and
Ninth Street Junction, CA, and close to Glendale Long Beach Anaheim Santa Ana Riverside and San Bernardino CA.
Adopt this sweet Black and white Tuxedo cat today.