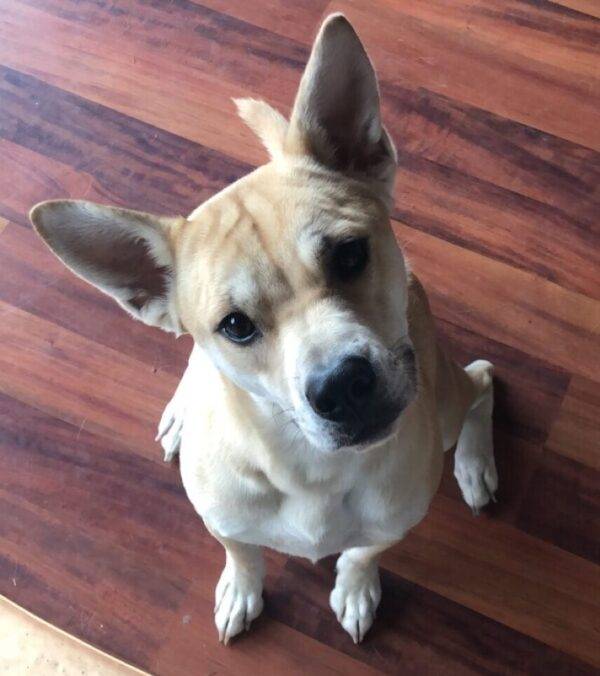 Amazing German Shepherd Pitbull Mix Dog For Adoption in Bonney Lake WA – Meet Delilah
Have you been looking for a German Shepherd or Pitbull to adopt near Tacoma WA? Please consider offering a loving home to Delilah. This 2 year old female mixed breed dog weighs 50 pounds. She has been spayed, fully vaccinated and is house trained. She is in excellent health and is crate trained and leash trained.
Delilah is one of those dogs that makes you feel special every moment of your day. She is there looking up at you with her big brown eyes when you wake up in the morning, and her warm snuggles are amazing to fall asleep with. She loves to do stuff with you, particularly hiking and being outdoors. She is also content to cuddle up beside you while you watch tv or read. She is an amazing companion.
Delilah's owners are very sad to have to find her a new home, but they fear that she is very unhappy being crated for long hours while they are at work. She deserves better, and they are dearly hoping to find her a home with a dog lover who works from home, or someone retired.
Delilah is good with other dogs, and also with children old enough not to disturb her when eating. She loves to play and romp in the back yard, and is gentle and sweet with children. Delilah has not been around cats, so it is best that she be placed in a cat free home.
If you have room in your heart and home for this 50 pound bundle of love and licks, please offer Delilah her forever home today.
How To Adopt Delilah
If you are interested in adopting this special Pitbull Dog For private rehoming in Bonney Lake WA, please fill out our online meeting request below. Once received and reviewed, our staff will ask the pets owner to reach out to you and arrange a meeting.
There is a $150 adoption/rehoming fee. Supplies and veterinary records will be included.
Questions about Delilah? Contact our Bonney Lake Dog rehoming team today. Text "DelilahWA" to (888) 833-2128 or email [email protected]. We look forward to hearing from you.
---
All About Delilah – German Shepherd American Pit Bull Terrier Dog For Adoption in Bonney Lake WA
Name of Pet: Delilah
Location: Bonney Lake, WA,
Type of Pet: Dog
Breed of Pet: German Shepherd x American Pit Bull Terrier
Sex of Pet: Female
Age of Pet: 2
Spayed/Neutered?: Yes
Health Problems: No
Behavior Issues: Separation anxiety and food aggression
Up To Date on Vaccinations: Yes
Gets along with cats: Unknown
Gets along with dogs: Yes
Good with Children?: Yes
House Broken or Litter Trained?: Yes
Crate Trained?: Yes
Accessories Included: Collar, leash, documents and rabies tag, food bowls, and a few toys.
Delilah's Personality
1. She is a great hiking partner
2. She is very vocal and will occasionally howl
3. She loves to cuddle
4. She is fearless
5. She has a quirky spirit
Delilah's Current Home Environment
Our home consists of a mom and daughter who enjoy spending time together and loving our puppies. We have two dogs, one big and easy going and the other happy and vivacious. Our lives have become busier than we would like and the time we once had to play with our pups had diminished dramatically causing times of loneliness our active puppy and we are struggling with.
Delilah's Current Family:
We are a close knit group who loves animals from big to small, fat to unique. We even had a pig join us for a time. We laugh and have fun inside as well as outdoor activities that most times include our furry friends.
Delilah's Favorite Toys, Foods, Activities?
She loves bones, any kind of tug of war toys, hiking, swimming, snuggling.
Why is Delilah Being Rehomed?
We know our pet is suffering from us being away at work while she is in her kennel for long hours and we want her to be in a home that is better suited to her needs.
Delilah's Perfect Adoptive Home Will Be:
Fenced backyard, an active household, a household with a lot of time to spend with her that is loving and patient.
Additional Comments:
Delilah – German Shepherd Pitbull Mix Dog For Rehoming in Bonney Lake WA
Delilah is an mixed breed American Pit Bull Terrier Dog For Adoption in Bonney Lake WA. This pet is located close to the following towns and cities in Washington:
Sumner WA,
South Hill WA,
Puyallup WA,
Edgewood WA,
Auburn WA,
Enumclaw WA,
Federal Way WA,
Parkland WA,
Spanaway WA,
Covington WA,
Elk Plain WA,
Tacoma WA,
Kent WA,
Lakewood WA,
Maple Valley WA,
Adopt this sweet Pitbull German Shepherd Mix Dog in Bonney Lake WA today.