American Cocker Spaniel For Adoption Near Brockville Ontario – Supplies Included – Adopt Tucker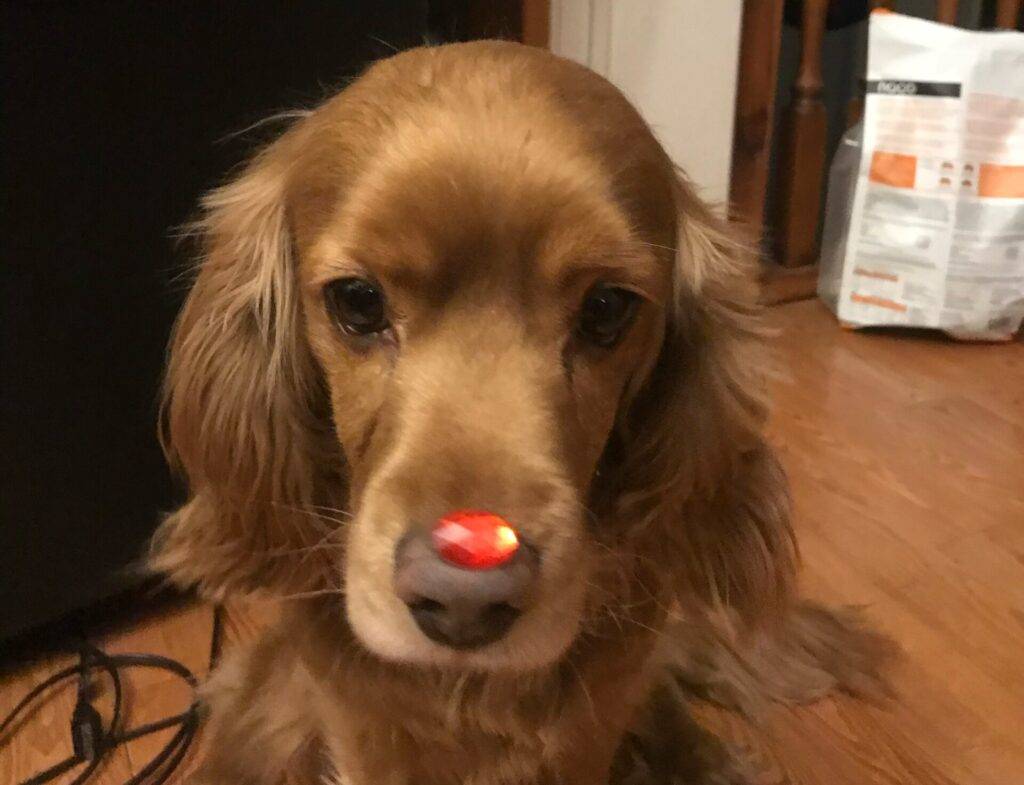 Meet Tucker, an American Cocker Spaniel for Adoption by Owner Near
Looking for an Anerican Cocker Spaniel for adoption in Brockville Ontario and area? Just 4 years old and weighing 30 lbs, this lovely American Cocker Spaniel is fixed, up to date on shots, and house broken. Tucker is a sweet and devoted little dog with plenty of love to offer a special dog lover. Tucker is one of those dogs that can capture your heart within moments of meeting him. He is very deserving of a loving, forever home where he will be kept safe, happy and healthy.
You have heard of "emotional support animals", but have you ever heard of an "emotional support human'? Like some people, Tucker has problems with anxiety, which cause him to act aggressively in certain situations. What Tucker needs is a dedicated adult owner who lives a very quiet life with a solid routine. Tucker is terrified of children, strangers, the outdoors and unexpected situations. Living a life where he knows what to expect every hour of the day, and being loved unconditionally by a confident owner will help Tucker tremendously.
Tucker has allergies and, like many Cocker Spaniels, is prone to ear infections. These issues may be contributing to his anxiety, so it is important that he be given medication and regular ear cleaning.
Tucker is such a deserving dog. If you have lots of patience and a proper home for him, please reach out and offer him his forever home today. He can't wait to steal your heart. Adopt Tucker today.
How To Adopt Tucker
If you are interested in this special American Cocker Spaniel For Adoption in Brockville Near Ottawa Ontario, please fill out our online meeting request below. Once received and reviewed, our staff will ask the pets owner to reach out to you and arrange a meeting.
There is a $150 adoption/rehoming fee. Some supplies and veterinary records will be included.
Questions about Tucker? Contact our American Cocker Spaniel rehoming team today.
Text "TuckerBrockville" to (888) 833-2128. We look forward to hearing from you.
---
All About Tucker – Cocker Spaniel Dog For Adoption in Brockville Ontario
♥ Name of Pet: Tucker
♥ Location: Maitland, Ontario, K0E 1P0 (Near Ottawa)
♥ Type of Pet: Dog
♥ Breed of Pet: Cocker Spaniel
♥ Color / Coat Type: Copper
♥ Age of Pet: 4 years old
♥ Size of Pet: 30lbs
♥ Health Problems: Allergies
♥ Behavior Issues: Fear aggression
♥ Gets along with: Adults
♥ Pet is: Healthy, fixed, up to date on shots, house broken
♥ Food: Other
We mix a teaspoon of Benadryl and a tbsp. of plain yogurt for his allergies and .75ml of CBD oil to calm his anxiety (but it isn't helping)
---
Tucker – Cocker Spaniel Dog For Adoption in Brockville Ontario
---
Tucker's Personality
Devoted and loveable, Tucker wants to be with his special person 24/7. He is a dog that needs an emotional
Why is Tucker Being Rehomed?
Tucker has a lot of anxiety, which is made worse by living in an unpredictable environment where there are adults, children and other pets. In the right environment, Tucker will be a devoted and very affectionate companion, but in his current home, his fears are getting the better of him, and he is reacting by showing aggression.
His owner has realized that her home is not the right setting for a special needs dog like Tucker. She wants to find him a very quiet home with just one or two adult dog lovers who are home most of the time.  They need to be able to love Tucker unconditionally, and have the confidence and patience to work with him to get past his fears. A very confident owner and a strong routine will go a long way towards reducing Tucker's anxiety. Knowing what is going to happen every hour of the day is crucial. Patience will be rewarded with an amazing dog that will offer many years of companionship, love and joy.
Tucker is located in Maitland, Ontario, close to the following towns and cities:
Ottawa ON
Prescott ON,
Ogdensburg NY,
Cardinal ON,
Iroquois ON,
Smiths Falls ON,
Kemptville ON,
Gananoque ON,
Morrisburg ON,
Potsdam NY,
Perth ON,
Winchester ON,
Chesterville ON,
Watertown NY,
Carleton Place ON,
Massena NY,
Thank you for your interest in this deserving American Cocker Spaniel for adoption in Ontario.