Obedience Trained Pitbull Mix for Adoption Near St. Louis Missouri in Alton Illinois – Gambit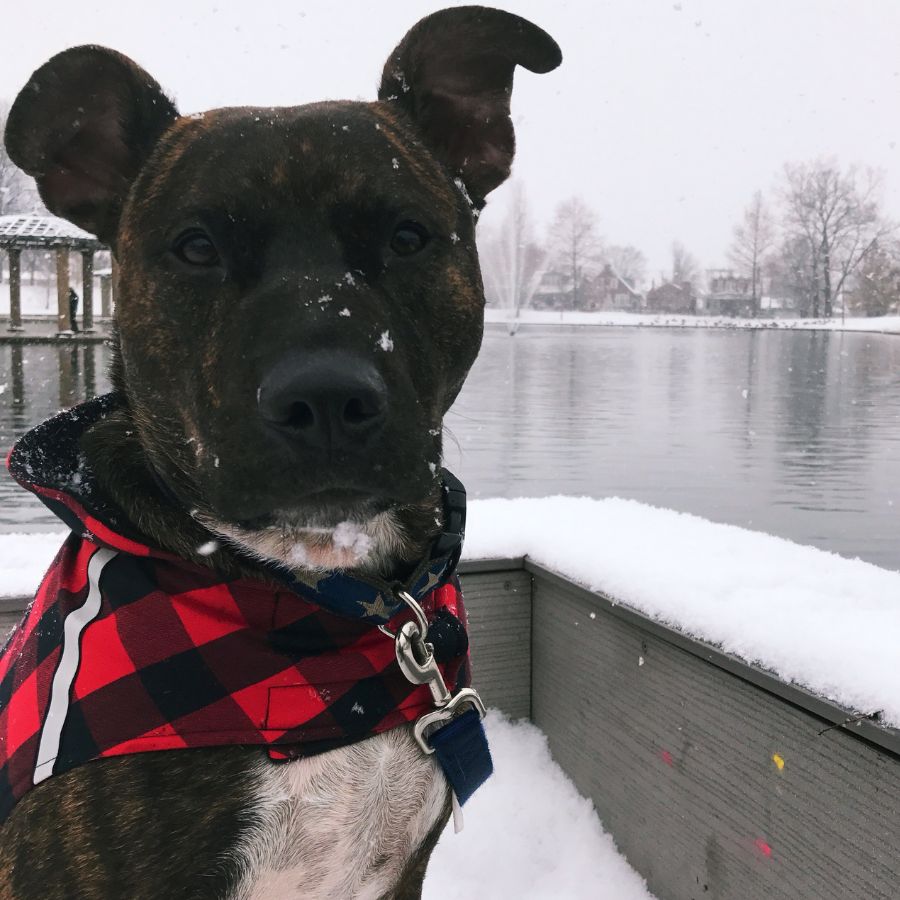 Looking for an American Pit Bull Terrier Mix dog for adoption in St. Louis Missouri and area? With his big, brown eyes and amazing powers of dog-to-human-ESP, Gambit has "being the best dog-freind ever" down to a science!  Not only that, he's the cuddliest bundle of fur, paws, ears, and teeth you will find West of the Mississippi.
This handsome, healthy, 7 year old Brindle and white male dog is looking for a child-free home where he can show off just how good he is at being your dog.  Got room for a 70 pound, fixed, obedience trained, crate trained, house-broken, dog-freindly, cuddle muffin?Gambit would love to be considered for the position of your cherished companion.
Read on to learn more about Gambit and how to offer him a new home…
---
Meet Gambit | About Gambit | Personality | Why Rehoming? | Location | Adopter Requirements | How to Adopt
---
Meet Gambit – Pre-Loved American Pit Bull Terrier Mix dog For Adoption by Owner in Alton IL
Gambit is a Male American Pit Bull Terrier Mix dog for adoption to a very loving home in or near Alton, IL. This very special dog is 7 years old and weighs 70 pounds of doggy devotion. Gambit has been fixed, fully vaccinated, microchipped, crate-trained, and obedience trained. Gambit is something of a velcro dog and loves being near his people, but is equally content to play with his toys with you. Cuddly and eager to please, Gambit is a good boy with lots of love to offer. He will require a home with no children to manage his increasing anxiety.
5 Amazing Things About Gambit:
-Fast Learner
-Cuddle Buddy
-Handsome
-Playful
-Intuitive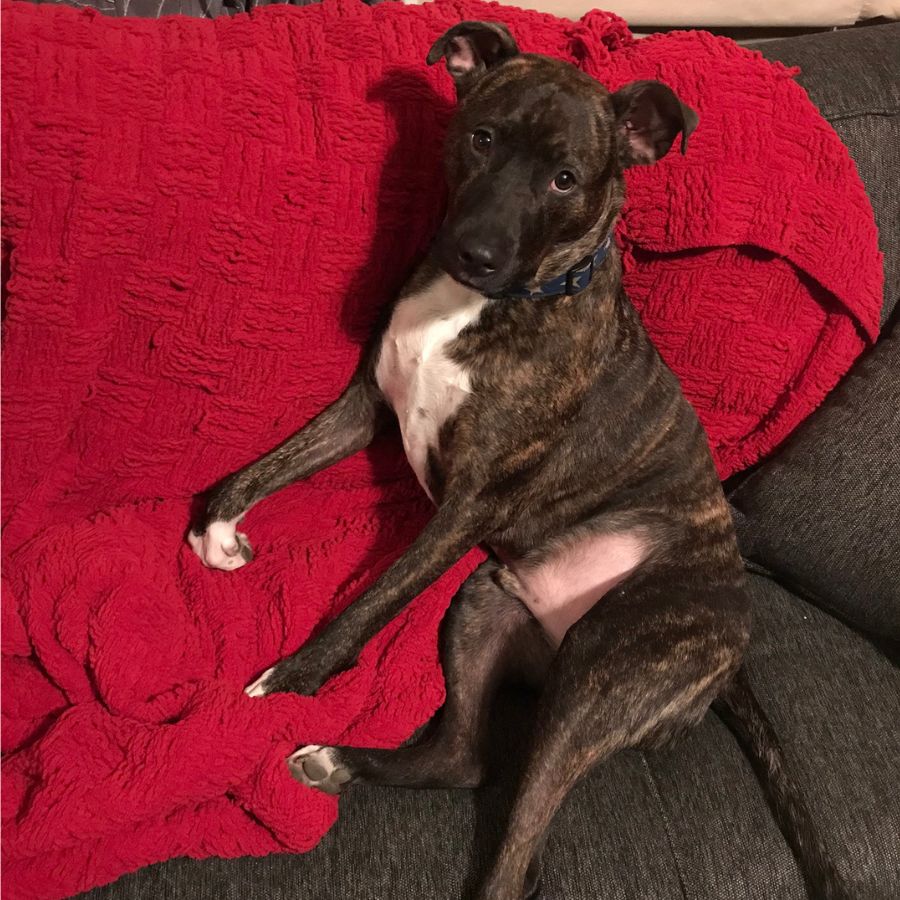 Gambit's owners are very sad to have to rehome their cherished dog, but circumstances beyond their control have made rehoming a must-do. Gambit has become increasingly anxious around the children in the home and will do better in a home with an established routine.
Gambit's owners are hoping to find the right home for their cherished dog, where this deserving dog will be loved unconditionally and kept safe, happy, healthy and well-cared-for. He will thrive in a home with experienced owners and no children to help tame his anxiety. Gambit does well with other dogs of a similar size and disposition.
If you have room in your heart and home for this deserving American Pit Bull Terrier Mix dog, then please offer Gambit a loving, forever home today. Gambit can't wait to show you the true meaning of unconditional love.
---
How To Adopt Gambit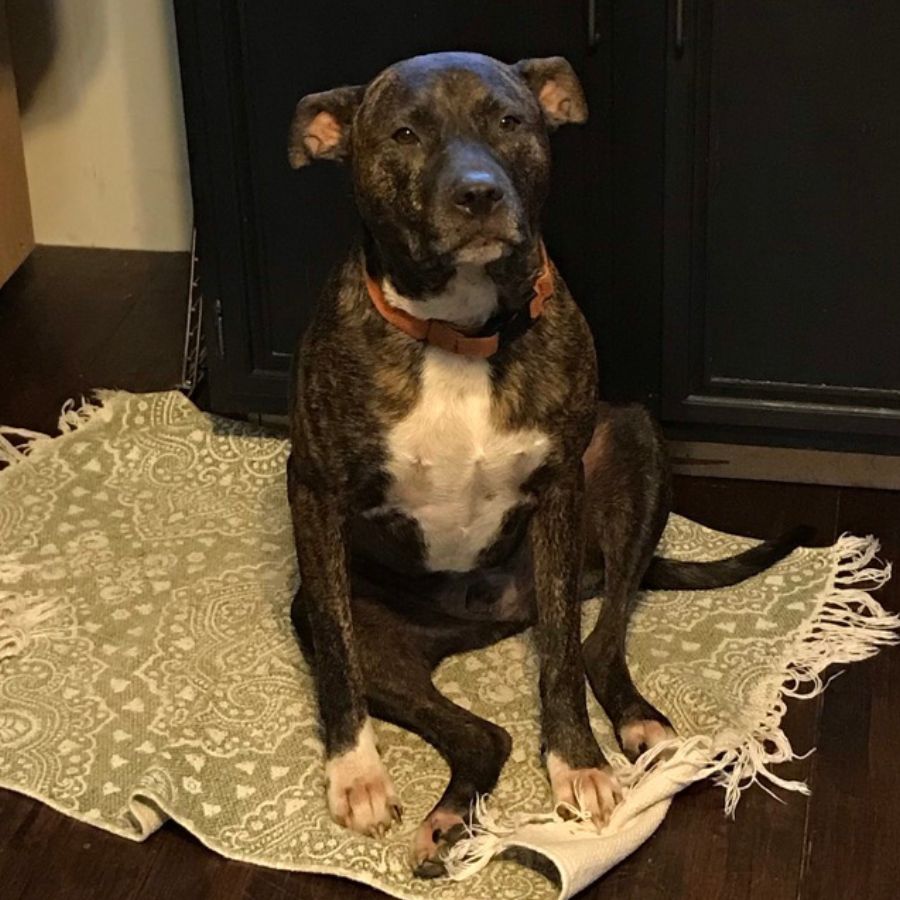 Please fill out our online meeting request form via the button below. Once your application is received and reviewed, our staff will ask the pets owner to reach out to you and arrange a meeting.
[vcex_button url="https://pet-net.net/adopt-a-pet/" rel="nofollow" layout="block" align="center" font_padding="top:15|bottom:15″ font_size="d:18px|tl:18px|tp:18px|pl:16px|pp:16px" font_weight="semibold"]Request to Adopt Gambit Here[/vcex_button]
There is a $150 adoption/rehoming fee. Supplies and veterinary records will be included.
Questions about Gambit? Contact our dog rehoming team today.
We look forward to hearing from you!
---
All About Gambit – American Pit Bull Terrier Mix dog For Adoption in Alton IL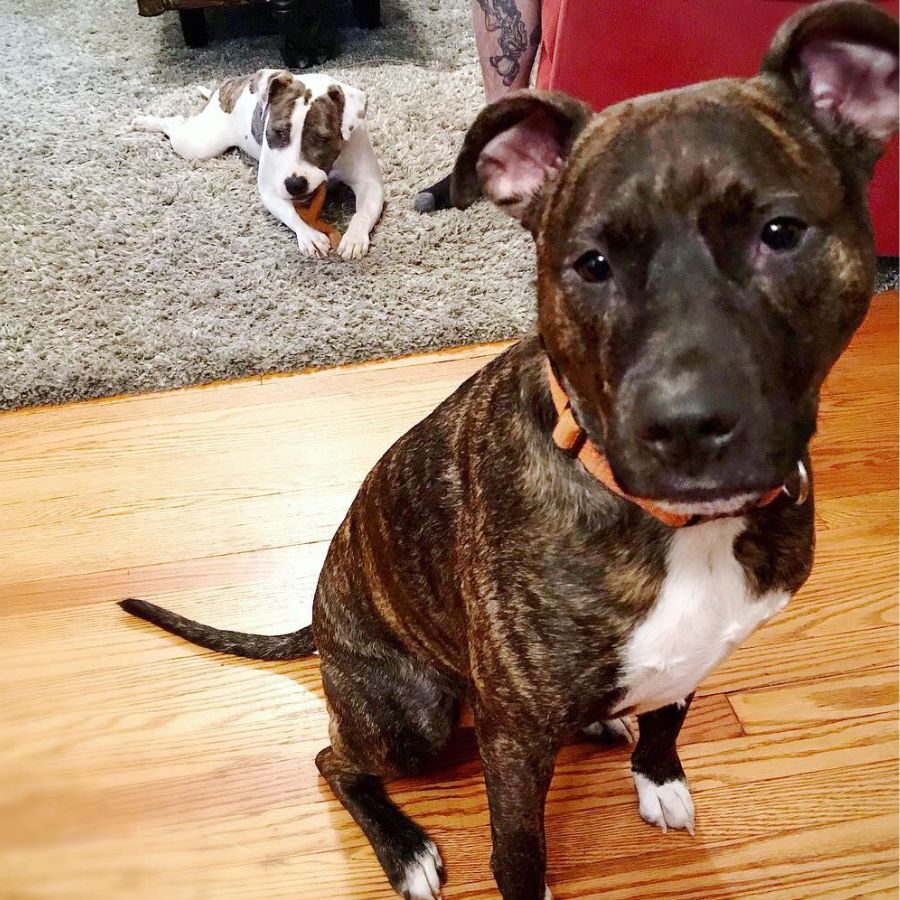 Name of Pet: Gambit
Location: Alton, IL, 62002
Type of Pet: dog
Breed of Pet: American Pit Bull Terrier Mix
Sex of Pet: Male
Age of Pet: 7
Spayed/Neutered?: Yes
Health Problems: Yes
Skin allergies
Behavior Issues: Yes
Territorial of home and anxious around children
Up To Date on Vaccinations: Yes
Gets along with cats: Unknown
Gets along with dogs: Yes
Good with Children?: No
House Broken or Litter Trained?: Yes
Crate Trained?: Yes
Accessories Included: Crate, collar, shampoos, toys, muzzle, leash, food/water bowl container, brush, nail clippers, and bed
Gambit's Personality
Pros: High energy, affectionate, loyal, smart, adventurous in the outdoors
Cons: Nervous with strangers and children
*Actually likes wearing shirts
*More of an inside dog unless you're out with him playing and/or walking
Gambit's Favorite Toys, Foods, Activities?
Gambit loves bully sticks, tug-of-war toys. He enjoys carrots, sweet potatoes, pumpkin, and yogurt. His good of choice is Fromm or Zignature. He will Immediately destroy any toy you give him!
Cute Gambit Story:
When he is content you often grunts , we call this "Mr. Grunts." Since he was a puppy he quickly learned and loved hide and seek. He also loves being tucked in with a blanket when it's cold.
Why is Gambit Being Rehomed?
Gambit's nervous behavior has caused growing concern since our 3 year old acts out towards Gambit plus a baby will surely not understand Gambit's issues when learning to crawl/walk. The situation is often stressful concerning the children's welfare and having no time to give Gambit what he needs to excel.
Gambit's Perfect Adoptive Home Will Be:
Someone with experience and the time to not only handle a temperamental dog but the time to give him attention. No children. We know with the right person Gambit will be a happy boy and prove how good he really is!
---
Gambit – American Pit Bull Terrier Mix dog For Rehoming in Alton IL
Gambit is a American Pit Bull Terrier Mix dog for private adoption by owner in Alton IL. Gambit is located close to the following towns and cities in IL, and can be adopted from anywhere within a reasonable distance.
Godfrey IL,
Wood River IL,
Spanish Lake MO,
Bethalto IL,
Florissant MO,
Bellefontaine Neighbors MO,
Ferguson MO,
Berkeley MO,
Jennings MO,
Hazelwood MO,
Granite City IL,
Edwardsville IL,
Glen Carbon IL,
Bridgeton MO,
Saint Ann MO,
Saint Louis MO.
Adopt this deserving American Pit Bull Terrier Mix dog near Saint Louis MO in Alton IL today.