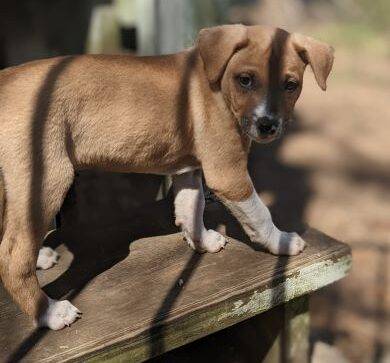 Boxer Mix Puppy for Adoption Near Dallas Ft Worth in Denton Texas – Adopt Pacho
Boxer Mix Puppy for Adoption in Denton, Texas
Pacho is an absolutely adorable Boxer mix puppy looking for his forever home in or near Denton Texas.  How anyone could DUMP a sweet little bundle of love and licks like this is one of life's great mysteries. Pacho and his brother were found and taken home by their foster Mama, who is hoping to find them the homes they deserve, where they will be cherished and kept safe, happy, and healthy for life.
If you have room in your heart and home for Pacho (or both puppies), please complete our online meeting request form. Once received, our Denton Dog Rehoming team will make arrangements for you to meet Pacho and his foster Mama. Adopt Pacho today!
There is a $150.00 adoption processing fee.
How To Adopt Pacho
If you are interested in adopting this special Boxer mix puppy in Denton Texas, please fill out our online meeting request below. Once received and reviewed, our staff will ask the pets owner to reach out to you and arrange a meeting.
Questions about adopting Pacho?
Text PachoDENTON to (888) 833-2128. We look forward to hearing from you!
---
All About Pacho – Boxer Mix Puppy For Adoption in Denton Texas
♥ Name of Pet: Pacho
♥ Location: Denton, Texas, 76201
♥ Type of Pet: Dog
♥ Breed of Pet:  Boxer Mix
♥ Color / Coat Type: short hair tan w/ white
♥ Age of Pet: 10 weeks
♥ Size of Pet: 8 pounds
♥ Health Problems: no
♥ Behavior Issues: no, just a puppy
♥ Food: Other
Purina puppy kibble. Since they are pups, I feed them very often.
Pacho – Boxer Mix Puppy For Adoption in Denton Texas
---
Pacho's Personality
Pacho is a Boxer mix puppy appr. 10 weeks old that was rescued along with his brother. Pacho loves to run and play with his brother and does well with cats of all temperaments. He is a tiny but mighty guy with a big personality and lots of kisses to give. He loves to play hard and then burrow in your lap to fall asleep. It would be ideal to adopt both Pacho out along with his brother, but not necessary. Most importantly they each go to loving homes! Pacho is very smart, affectionate, and a bit of a Mama's boy too. Pacho would be great with other dogs as well. He's a darling, sweet pup and is at the perfect age to make a wonderful forever family member.
Why is Pacho Being Rehomed?
I rescued Pacho along with his brother, they were dumped. I am trying to find them loving homes!
Nearby Locations
Pacho is located in Denton, Texas, close to the following towns and cities:
28 miles to Plano, TX
33 miles to Arlington, TX
34 miles to Fort Worth, TX
35 miles to Garland, TX
36 miles to Dallas, TX
Corinth TX,
Highland Village TX,
Little Elm TX,
Flower Mound TX,
Lewisville TX,
The Colony TX,
Frisco TX,
Southlake TX,
Coppell TX,
Grapevine TX,
Keller TX,
Carrollton TX,
Colleyville TX,
Farmers Branch TX,
Addison TX,
Thank you for your interest in this deserving Boxer Mix Puppy for adoption in Texas.