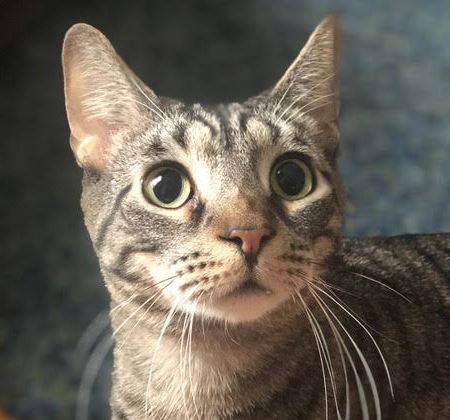 Meet Wilbur, Grey Tabby Cat For Adoption in Brooklyn NY
Wilbur is one of those special little cats that can steal your heart within moments of meeting him. At first rather shy, Wilbur is so very affectionate and companionable once he establishes trust with his special person.
Is Wilbur a good choice for a noisy household with kids, other pets and lots of visitors? No. But place him in a quiet home with just one or two cat lovers to cherish him, and you will not find a more sweet, intelligent, playful or engaging feline companion.
Wilbur is only 4 years old and very healthy. He is fixed, up to date on his shots, micro-chipped and ready-to-love. If you have room in your heart and home for this lovable little lap leopard, please offer Wilbur the home he needs and deserves today!
Wilbur is a Male Grey Tabby Cat for adoption to a very loving home in or near Brooklyn, New York. This very special male tabby cat is 4 years old and weighs 11 pounds.
Wilbur is being placed for adoption by owner for the following reason:
We are relocating to the UK
There is a $30 adoption/rehoming fee. Supplies and veterinary records will be included.
Questions about Wilbur? Contact our Brooklyn Cat rehoming team today. Text "Wilbur" to (888) 833-2128 or email [email protected] We look forward to hearing from you.
---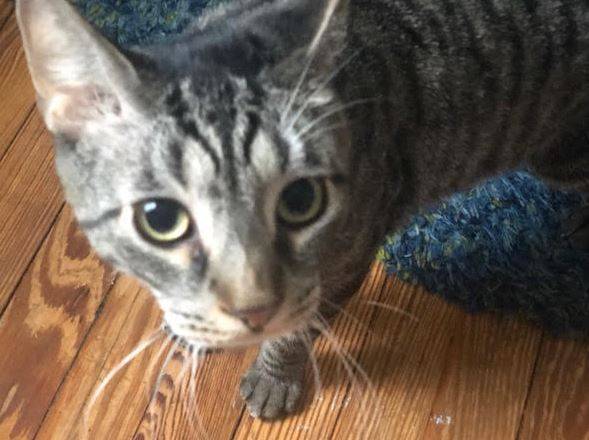 All About Wilbur – Gray Tabby Cat For Adoption in Brooklyn NY
Name of Pet: Wilbur
Location: Brooklyn, ny, 11205
Type of Pet: Cat
Breed of Pet: DDSH Grey Tabby Cat
Sex of Pet: Male
Age of Pet: 4
Spayed/Neutered?: Yes
Health Problems: No
Behavior Issues: No
Up To Date on Vaccinations: No
Gets along with cats: Yes
Gets along with dogs: Unknown
Good with Children?: No
House Broken or Litter Trained?: Yes
Crate Trained?:
Accessories Included: I can provide a cat bed and a litter tray, but i'm pretty sure a new owner would rather get those new!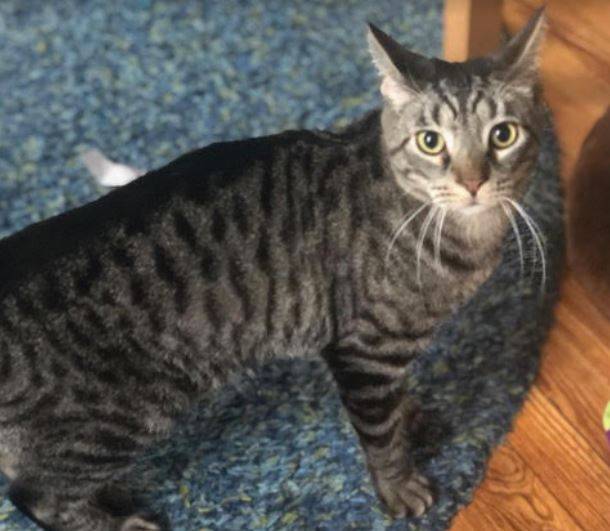 Wilbur's Personality
Gentle
Beautiful
Sensitive
Clumsy
Playful
Wilbur's Current Home Environment
We are a pretty hectic environment, and Wilbur is not well suited to it. We have two boys in the house aged 11 and 8 who are always running around, kicking balls, bouncing on trampolines and generally yelling a lot. Wilbur would prefer a calmer environment.
Wilbur's Current Family:
There are 4 of us and we live in an apartment in NYC. We are a fairy typical family, always busy, always in the go, lve to watch movies together with cats on our laps.
Wilbur's Favorite Toys, Foods, Activities?
The cats love to play with cat toys such as wiggler sticks, and stuffed toys filled with catnip. They love a cat tower, scratching post and feathery bits to catch (and destroy.) They also love to play with little rattly things they find lying around and will chase Lego and ping pong balls through the house like mad things. They also love to hunt any unwanted visitors to the house!
Cute Wilbur Story:
Wilbur has always been very selective of who he goes to, and in 4 years my husband has only managed to pet him a handful of times – and mostly when he was a kitten. However, if my husband happens to have a bag of cat treats, its amazing how quickly Wilbur will abandon his principles and stepped up to be hand fed!!
Why is Wilbur Being Rehomed?
We are relocating to the UK
Wilbur's Perfect Adoptive Home Will Be:
I think Wilbur would be best suited to a female that lives alone.
Additional Comments:
We are very sad to be re-homing our animals, but we know its for the best.
---
How To Adopt Wilbur – Shy and Sweet Male Tabby Cat in Brooklyn NY
If you are interested in adopting this special DSH Cat For private rehoming in Brooklyn ny, please fill out our online meeting request below. Once received and reviewed, our staff will ask the pets owner to reach out to you and arrange a meeting.
There is a $30 Adoption Fee. All supplies and vet records will be included.
Questions about Wilbur? Contact our Tabby Cat rehoming team today. Text "Wilbur" to (888) 833-2128 or email [email protected] We look forward to hearing from you.
---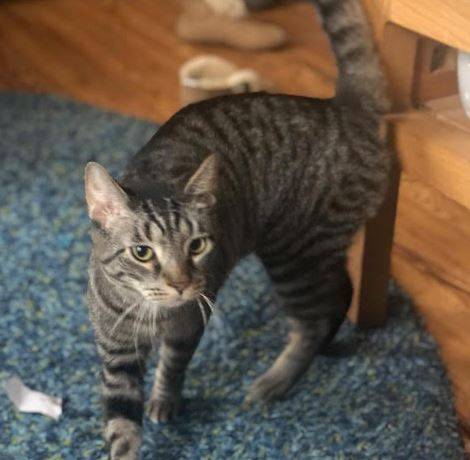 Wilbur – Grey Tabby Cat For Rehoming in Brooklyn NY
Wilbur is a DSH male Tabby Cat for private adoption by owner in Brooklyn NY. This pet is located close to the following towns and cities in ny:
New York NY,
Hoboken NJ,
Jersey City NJ,
Newark NJ,
Bayonne NJ,
Weehawken NJ,
Union City NJ,
West New York NJ,
Guttenberg NJ,
North Bergen NJ,
Secaucus NJ,
Fairview NJ,
Cliffside Park NJ,
Edgewater NJ,
Woodmere NY,
Valley Stream NY,
Lafayette Houses NY,
East Flatbush NY,
Eastern Parkway NY,
Rutland Plaza NY,
Brownsville NY,
Parkville NY,
Paerdegat NY,
Flatlands NY,
Marcus Garvey Village NY,
Adelphi NY,
Bedford-Stuyvesant NY,
Park Slope NY,
Brevoort Houses NY,
Atlantic Terminal Houses NY,
Medgar Evers Houses NY,
Canarsie NY,
Borough Park NY,

Contact us about this sweet male tabby Cat for adoption in Brooklyn ny today.