Handsome Brown Tabby Cat for Adoption in Houston Conroe TX – Supplies Included – Adopt Goose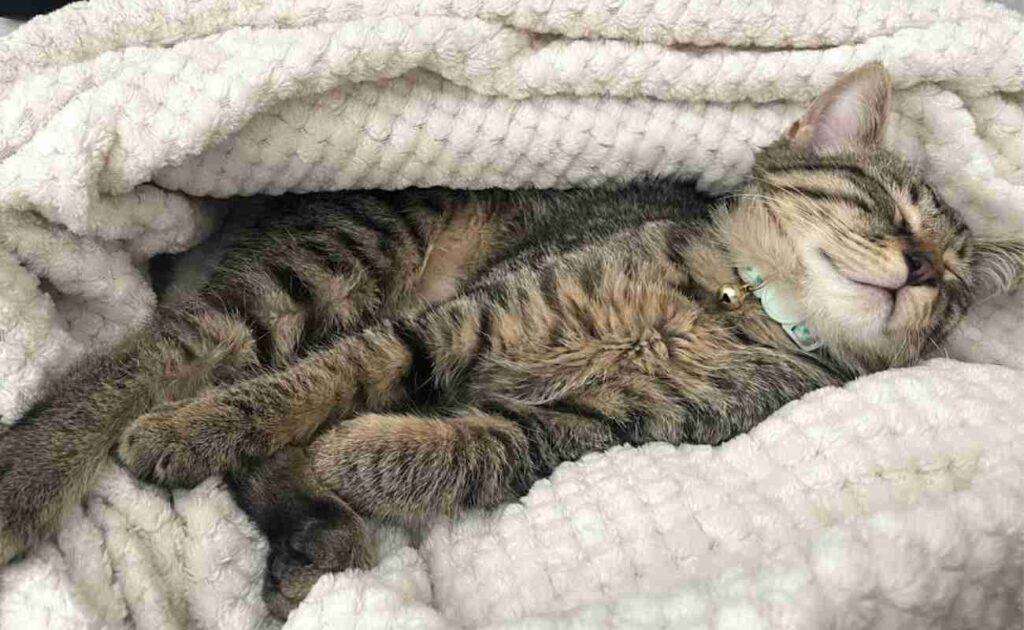 Brown Tabby Cat for Adoption in Houston (Conroe), Texas
Houston area cat lovers, looking for a Brown Tabby Cat to adopt in Conroe, Texas? Just 1 year old and weighing 9lbs, adorable  Goose still has that cute kitten curiosity and playfulness.  This bundle of personality has been fixed, fully vaccinated, and housebroken, and is good with other cats. Warm and fuzzy, this little friendly cat can often be found  where his people are as he finds people to be very entertaining!
Do you need a cat as a sidekick to keep you company while you work, relax or get settled in to binge watch, follow your team on TV or play some games? He may want to perch near you while you get busy, because he wants to be a team player.
A cat who love attention, pets and ear scratches are among Goose's favorite things, and he will always make time for a cuddle.
Like your own special cat assistant Goose will wake his people up in the morning by kneading their bellies in greeting. This companionable boy is very affectionate and gentle, and will be a wonderful new family member in his forever home! Who says that cats are anti-social? Certainly not this kitten.
Goose's owners are very sad to have to rehome their cherished cat. He needs a home where he can spend more time with people.
Are you able to offer a home for Goose where this special cat will be cherished and kept safe, happy, and healthy for life?
If you have room in your heart and home for Goose, please complete our online meeting request form. Once received, our Houston Cat Rehoming team will make arrangements for you to meet Goose and his owners. Adopt Goose today!
There is a $25.00 adoption processing fee. Supplies, accessories, and veterinary records will be included.
How To Adopt Goose
If you are interested in adopting this special Brown Tabby near Houston, in Conroe Texas, please fill out our online meeting request below. Once received and reviewed, our staff will ask the pets owner to reach out to you and arrange a meeting.
Questions about adopting Goose?
Text GooseHOUSTON to (888) 833-2128. We look forward to hearing from you!
---
All About Goose – Brown Tabby Cat For Adoption near Houston in Conroe Texas
♥ Name of Pet: Goose
♥ Location: Conroe, near Houston Texas, 77384
♥ Type of Pet: Cat
♥ Breed of Pet: Brown Tabby
♥ Color / Coat Type: Short hair brown tabby
♥ Age of Pet: 1
♥ Size of Pet: 9lbs
♥ Health Problems: No
♥ Behavior Issues: No
♥ Gets along with: Cats
♥ Pet is: Fixed, Fully Vaccinated, Housebroken
♥ Food: Fancy Feast Gravy Lovers, but I think they are discontinuing so we are transitioning them to the 9Lives Meaty bits. They do not like pate.
Goose – Brown Tabby Cat For Adoption in Conroe Texas
---
Goose's Personality
We absolutely adore Goose. He is a short/medium hair brown tabby. Only 1 year old and his birthday is 3/14/21 (another pi day baby!) An amazing purr-it will wake us up in the morning to start our day.
He is such a loving and wonderful cat, he literally is the best cat. Like no joke. He is very very talkative after feeding because he likes to be held and likes to be pet. He likes to be pet when he is being fed. He just really really likes attention.
Whenever we sit at our computers, he is always in the office with us and he is either on our laps, or on our desks trying to be stealthy about wanting to lay on the keyboards.
He loves to see what food we are eating, but in such a gentle way, he won't usually paw at the food, but at our hands so we can feed him if we want to share. Sometimes we do, sometimes we don't, but he is really respectful about it. The most considerate and loving cat I have ever seen in my life and he deserves the best. He should never be an outdoor cat, he is too much of a little loving baby.
Why is Goose Being Rehomed?
The home situation really does not give Goose enough attention and he needs a home where he can have more "people time".
Nearby Locations
Goose is located near Houston in Conroe, Texas,
also close to the following towns and cities:
The Woodlands TX,
Spring TX,
Tomball TX,
Humble TX,
Aldine TX,
Atascocita TX,
Huntsville TX,
Houston TX,
Jacinto City TX,
Cloverleaf TX,
West University Place TX,
Bellaire TX,
Galena Park TX,
Channelview TX,
Katy TX.
Thank you for your interest in this deserving Brown Tabby Cat for Adoption in Conroe Texas.