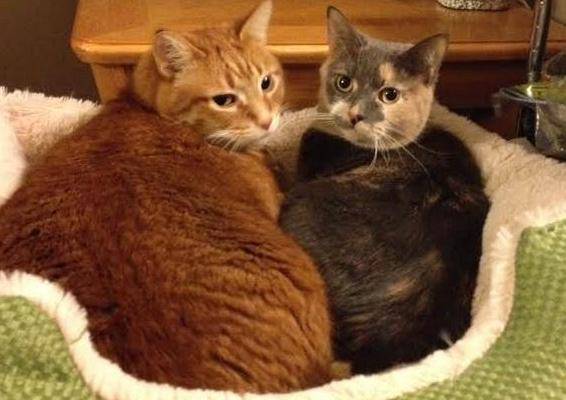 REHOMED TOGETHER! Michigan Cat Rehoming Success Story – Bowser and Picachu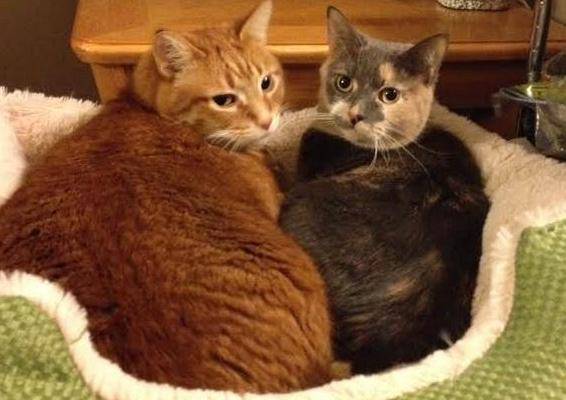 Rehomed together! Delighted to announce that Bowser and Pikachu have found a great home together with their new owner Rachel. Rachel called and said she couldn't imagine separating this pair of cuties, and offered to give them both a great home. They are now with Rachel, and being spoiled and cherished. Photos and videos to be added soon.
From their previous owner:
Hi, Debbie !
Everything want well . I will call you soon ,Debbie .
We all soo happy for both family's :) I will send you video and photos from Rachel .
Debbie , please send me your address .I would like thank you more !
You are Angel !!! Everybody talking about you ! Bunch of kisses and huge hug to you :)
Love you , Debby !
Michigan's Garfield Seeks Loving New Home With Playmate Pikachu – Troy Michigan
Hi, Our names are Bowser and Pikachu
We are a closely bonded pair of beautiful cats who are in desperate need of a new home due to severe cat allergies in our family. We live in Troy, MI, located a reasonable distance from Detroit, Windsor ON, and Toledo OH.
Our owner, who has cared for us both since we were kittens, has a new partner who is expecting a baby. She has severe allergies, and we have had to live cooped up on our apartment balcony for the past several weeks. We are hoping to find a loving, forever home where we can stay together. We're looking for someone who will ADORE us, spend lots of time with us, and keep us safe and healthy.
We will be rehomed with all of our supplies. EVERYTHING! All you will need to add for the first several months is lots of love.
Please offer us a home today. We live in Troy, Michigan. We can be adopted in Windsor, Ontario Canada, Detroit, Michgan, Toledo, Ohio and any parts in-between.
Meet Bowser:
Am I upside down, or are you?
I'm often mistaken for Garfield – both in girth and in personality. Just 7 years old, I am as laid back as they come, a fabulously fluffy orange tabby cat with charm that greatly outweighs my body.
I am healthy and neutered, vet checked and up to date on my shots. I am a really cool cat who loves to cuddle up on the couch with you and watch TV.
I am more than a bit on the pudgy side – but that just means there's more of me to love! I have a lot of charisma and personality, and am a really good friend and confidante.
My owner says that I would make an excellent therapy cat. I am a great listener and do my best to make you feel better if you are having a rough day. Cats like me are rare – I'm very, very special.
---
Meet Pikachu:

I am a very pretty, petite little girl with gorgeous dilute Calico markings. My personality is equally lovely.
Dilute Calico Cat For Adoption Troy Michigan
I'm a real cuddle bunny. I love people, other cats and dogs too!
I am called "Baby" or "Picci" and I am very much like a baby! I am a tiny little girl with a gorgeous dilute calico coat. I am in love with Bowser, so to separate us would make me very sad. I am a sweet little girl – I care about the people and pets in my home. I have even been known to feed the others by dropping my food on the floor for them.
I have a very cuddly, loving personality. Once I feel comfortable with you, I am happy to be picked up and snuggled.
One of the neat things about me is that I double as an "alarm clock". Just tell me what time you need to get up in the morning, and I can be counted on to come into your bedroom and open the blinds. This amazing ability has prevented my owner from being late for work on many occasions!
About Bowser and Pikachu
Name of Pet: Bowser (M) Peachy Pikachu Baby (F)
Location: Troy, Michigan, 48098
Type of Pet: Cat
Breed of Pet: Shorthair
Sex of Pet: Male, Female
Age of Pet: 7, 5
Spayed/Neutered?: Yes
Health Problems: No
Up To Date on Vaccinations: Yes
Gets along with cats: Yes
Gets along with dogs: Yes
Good with Children?: Yes
House Broken or Litter Trained?: Yes
Crate Trained?:
Accessories Included: Food, all supplies, scratching post, litter boxes and litter, preventative medications, toys
Personality
Both outgoing and friendly. Like to be picked up and cuddled. Pikachu is playful and energetic. Bowser is a less energetic – a caring therapy cat. Tries to make you feel better if you are sad.
Bonded. Like to cuddle together. Very clean.
Scratching post. Very good with using.
Current Home Environment
Live in apt with 2 adults. Baby on the way. Expectant mother has severe cat allergies.
Current Family:
Had since kittens. Pikachu was tiny kitten. Mother cat abandoned Pika. Nursed to health.
Cats have different parents.
Owners are huge animal lovers.
Favorite Toys, Foods, Activities?
Pika feeds everyone :-)
Cute Story:
Pika likes to open shades "alarm clock cat".
Why Are They Being Rehomed?
Landlord restrictions, severe cat allergies and expecting baby.
Perfect Adoptive Home Will Be:
Safe, time to spend, cherish them, commit to forever, resources for care.