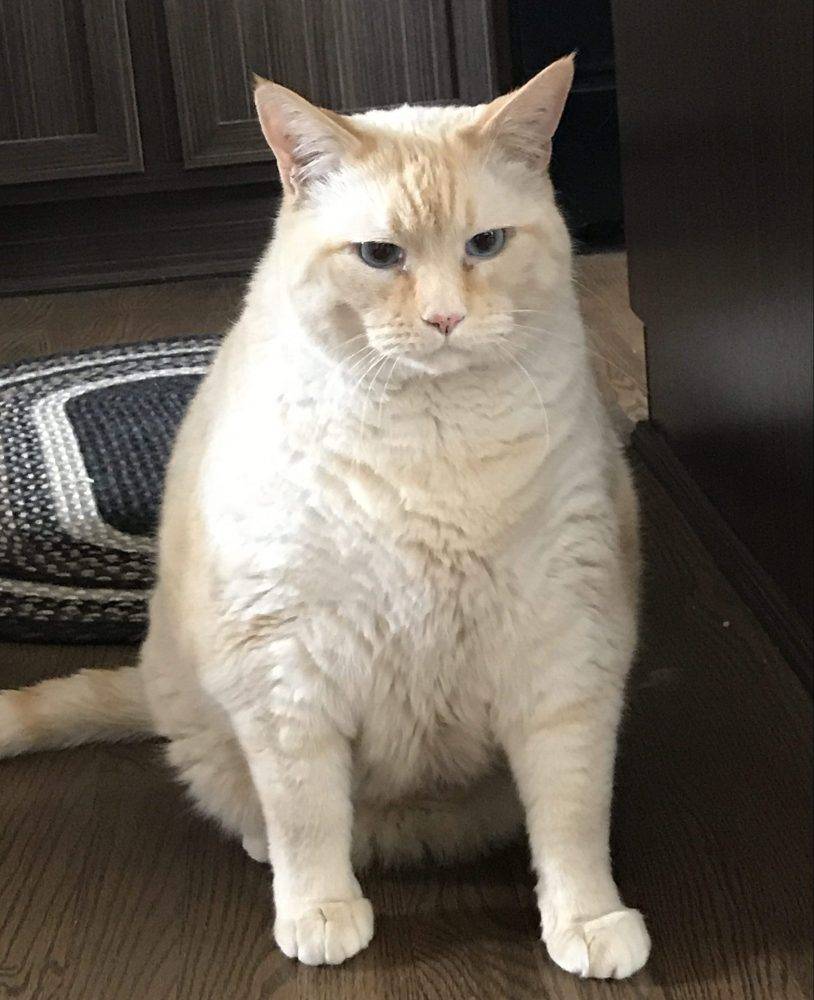 Kenny Has Been Rehomed!
Kenny has found a wonderful forever home with a single lady in the Denver area. She was impressed by his majestic size, amazing personality and handsome appearance. We look forward to receiving photos and updates about Kenny in his new home.
Need to rehome a cat in Colorado? Contact our cat rehoming team today! We are experts in finding good homes for pre-loved cats and kittens.
Call or text us toll free at (888) 720-3322 or fill out our online information form to schedule a chat with our senior pet rehoming coordinator, Debbie Moore.
Ready to rehome your cat?
Request pet rehoming services here!
Meet Kenny – Ragdoll Orange Tabby Mix Cat Rehomed Near Denver, Colorado
Kenny is a very large and handsome Ragdoll mix cat rehomed into a loving home in or near Westminster, CO. Kenny weighs 22 pounds and is 5 years old. He is good with older, respectful children and loves people in general. He is good with other cats. Kenny is fixed and healthy. He was rehomed with supplies and vet records.
---
Denver Colorado Ragdoll Mix Cat Rehomed – Kenny from Pet Rehoming Network on Vimeo.
All About Kenny – 5 YO M Ragdoll Tabby Mix Cat Rehomed Near Denver CO
Location: Westminster, Co, 80020
Type of Pet: Cat
Breed: Blue Eyed Ragdoll – Orange Tabby Mix Cat
Age: 5
Color/Coat Type: White/light orange
Size: 22 lbs
Health Issues: No
Behavior Issues: No
Kenny is:
Neutered, Fully vaccinated, Litter Trained
Kenny gets along with:
Older Children, Adults, Cats
Personality
He's super loving, likes attention, likes to be next to you or on your lap. He's always done good with kids adults, people come to visit and he likes to hang around them be part of the group.
Food and Diet
Kenny is currently on Other
He loves wet meow mix and Sheba
One can 1/2 in am and 1/2 late afternoon( sometimes I give him more because he's a large cat. I also leave a bowl of dry cat food
( Fancy Feast in the green bag) and he likes to nibble on that. Sometimes cheese or lunch meat Lol
Reason For Rehoming
Out cat scratched our 22 month old grand daughter and felt it was better to find him a new home for both of them.
Westminster is within a reasonable distance of the following towns and cities in Colorado.
Denver, CO
Aurora, CO
Colorado Springs, CO
Sherrelwood, CO
Federal Heights, CO
Arvada, CO
Thornton, CO
Welby, CO
Northglenn, CO
Wheat Ridge, CO
Commerce City, CO
Broomfield, CO
Denver, CO
Applewood, CO
Lakewood, CO
Superior, CO
Louisville, CO
Lafayette, CO
Sherrelwood, CO
Twin Lakes, CO
Semper, CO
Western Hills, CO
Federal Heights, CO
Berkley, CO
Zuni, CO
Utah Junction, CO
Arvada, CO
North Washington, CO
Thornton, CO
Welby, CO
Lakeside, CO
Northglenn, CO
Wallace Village, CO
Mountain View, CO
Wheat Ridge, CO