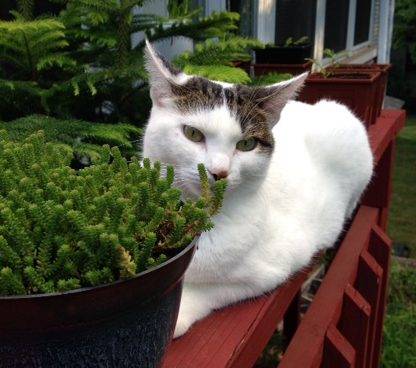 PLACED IN LOCAL RESCUE – Sweet 7 YO Bonded Sister Cats – Waterbury CT
Sometimes, despite our very best efforts, we are not able to locate a suitable home for pets within the owner's timeline, and such was the case with Katie and Dee Dee. Their owner had to place them with a local rescue, and is hoping that this no-kill organization will be able to find the sisters a loving home together. We tried for a few months to find Katie and Dee Dee a good home. We had a few offers, but because of the cats' somewhat skittish nature, the homes were not suitable.
Meet Katie and Dee Dee!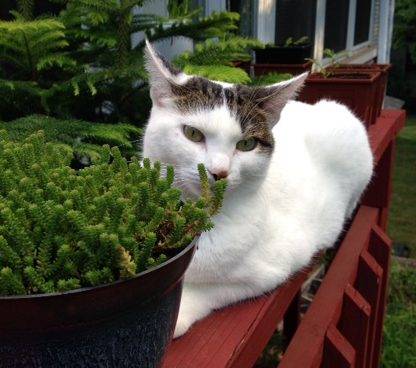 We are a very pretty pair of sister cats; both white with very unique tabby accents. We are both ust 7 years old, very healthy, spayed and up to date on shots. We have been very lovingly cared for our entire lives. We are well behaved, very clean and social kitties.
Katie is the brains of the operation! She is so smart and loyal, too. She loves to follow you around like a dog, paying close interest to whatever you happen to be doing. Dee is the athletic one. She is so graceful and strong; her owner once described her as like a gazelle.
These sweet girls were the cherished companions of their owner, a man who passed away recently. His wife of a year has been left caring for them, and although she loves them, she is hoping to move and do a lot of travelling, which will make it very difficult to provide the cats with the time, care, love and attention they both deserve.
She is hoping to honor her husband's memory by finding Katie and Dee Dee the best home ever. They make wonderful companions for a retired couple or single with plenty of time to spend with them. They are used to being able to enjoy the outdoors, so new owners with a safe outdoor space for them would be ideal.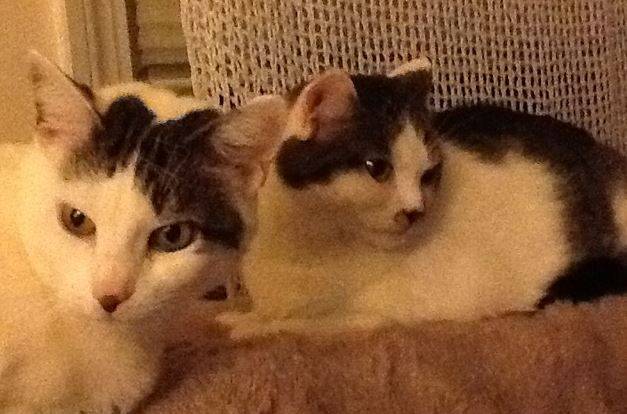 ---
All About Katie and Dee Dee
[one_half]
Name of Pet:
Katie and Dee Dee
Location:
Waterbury, CT, 06705
Type of Pet:
Cat
Breed of Pet: Domestic Short Hair, Bi-color Tabby
Sex of Pet:
Female[/one_half] [one_half_last]
Age of Pet: 7 years
Spayed/Neutered?: Yes
Health Problems: No
Up To Date on Vaccinations: Yes
Gets along with cats: Unknown
Gets along with dogs: Unknown
Good with Children?: Unknown
House Broken or Litter Trained?: Yes
Crate Trained?:
Accessories Included: Adoption and medical records, toys, beds, a litter box.
[/one_half_last]
Katie and Dee Dee's Personality
There are two pets here: Katie and Dee Dee, sisters. Katie is very loyal and smart, Dee Dee is gazelle like and athletic. Katie's is very soft furred, Dee Dee is short haired. They are both beautiful animals and young enough to make a transition to a new caregiver, so long as they are loved and played with and well cared for.
Katie and Dee Dee's Current Home Environment
It's a single level ranch on about 1/2 acre, suburban neighborhood.
Katie and Dee Dee's Current Family:
Reunited after 30 years, my husband tragically passed away after only 2 years of marriage. We met working in broadcast television in the early '80's. He stayed in the profession, but I moved to the west coast, after a sad parting. He found me again in 2013, and in 2014 we were reunited, and then married. I gave up my home and moved to Connecticut, hoping to make a home here. I found this more difficult than expected, and caring for my husband made me sad and left me with some of my own health issues. When he passed, after a lot of soul searching, I have decided to return to the Pacific Northwest where I am most at home.
Katie and Dee Dee's Favorite Toys, Foods, Activities?
Dee Dee is more playful. Katie likes to stalk Dee Dee, and Dee Dee plays along. They like to chase each other around and romp. Dee Dee is a jumper, clearing tall objects without touching them, like window sills, bath tubs, or will jump over you on the couch to get up or down. They both eat healthy brand dry food, with a Sunday treat of one shared small can of fancy feast for dinner. I give them each about 1/4 cup scoop of dry food about twice a day. Dee Dee loves the outdoors, while Katie is more content to hang out with you inside. But Dee Dee only stays out for about 30 minutes at a time, although sometimes she likes to explore and ranges a little further.
Cute Katie and Dee Dee Story:
One time I was folding laundry in the enclosed porch. There is a tall window, about 4 1/2 ft off the ground, through which I can reach the clothes line. I had pulled everything in, but the window was still open. Suddenly I saw this white blur come flying in. I was startled, thinking it was a bird at first, but it was Dee Dee. She cleared the window sill and came sailing in effortlessly. One time, Dee Dee was sitting in the bathtub starting at the faucet purring. It was then I realized she loved water so much. So we began to put bowls of water under the tap and let it trickle in a very thin stream. Those fountain pet kits don't do it for some reason. Katie used to be jealous of Dee Dee but got over it after my husband passed away. I am careful to make sure they both get lots of love and affection but not so much they become goofy. They are both afraid of thunder and will hide under furniture, growling until it passes.
Why is Katie and Dee Dee Being Rehomed?
Our home has to be sold to pay debts. I cannot stay on here. I am returning to the west coast, and will be on the road for up to 6 months at a time, renting out my place, and putting things in storage. Obviously this is not a good environment for pets.
Katie and Dee Dee's Perfect Adoptive Home Will Be:
A loving stable environment, ideally a retired couple or a family where a responsible reliable person is usually around. Someone who understands and gets cats and their special quirky likes and dislikes which are unique to each creature. Someone who can easily afford two cats. Someone who will be affectionate and take the time to play with them, but not spoil them too much. Also make sure they have fresh water every day! And be gentle.
Additional Comments:
Dee Dee loves water and appreciates your running a tricke for a few minutes at least once a day so she can drink from the faucet. She might jump up on the bathroom counter expecting this. Other than this they are trained not to jump up except in special places like the window. Katie needs to be sedated when going to the vet.