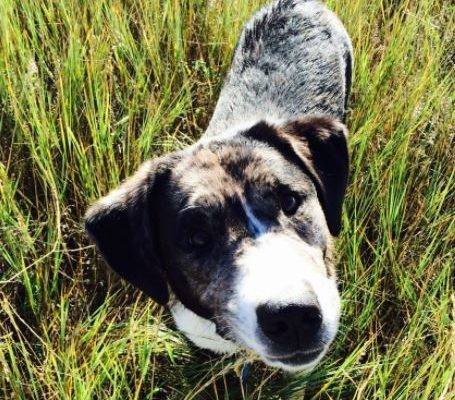 REHOMED – ZOE- Stunning 4 YO F Border Collie Catahoula Mix Dog Littleton CO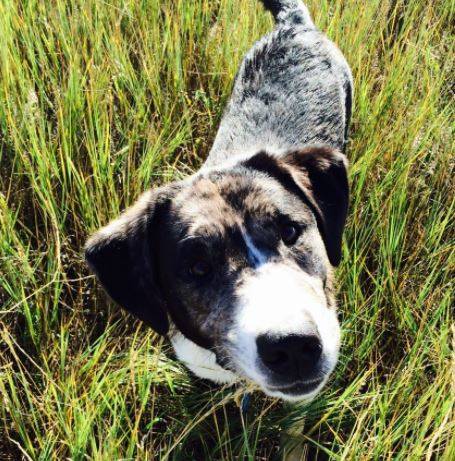 Zoe, a very sweet Border Collie Catahoula mix dog has found a wonderful new home in Denver through the efforts of our Colorado pet rehoming team! Zoe is doing very well in her new home, and we have received some great pictures from her new owner.
Need to Rehome a dog in Colorado?
Our Colorado Pet Rehoming team can find your dog or puppy a very loving home – safely and effectively. Contact our pet rehoming team today! Call us toll-free at (888) 720-3322, TEXT "Rehoming" to (888) 833-2128 or email [email protected]. We will be happy to speak with you about your situation and answer any questions you may have.
Ready to Rehome Your Pet?
Request Pet Rehoming Services Now!
---
Here is how our Border Collie dog rehoming team presented sweet Zoe to attract the perfect new home for her:
Meet Zoe – A 4 Year Old Female Catahoula Leopard / Border Collie Mix Dog
Looking for a Border Collie mix to adopt near Denver? Zoe has to be one of the most special dogs in Colorado. This 4 year old mix of Border Collie and Catahoula Leopard Dog combines the very best traits of both breeds. She is incredibly smart, very intuitive, completely devoted and super affectionate with people. Zoe is spayed, up to date on shots, micro-chipped and house broken.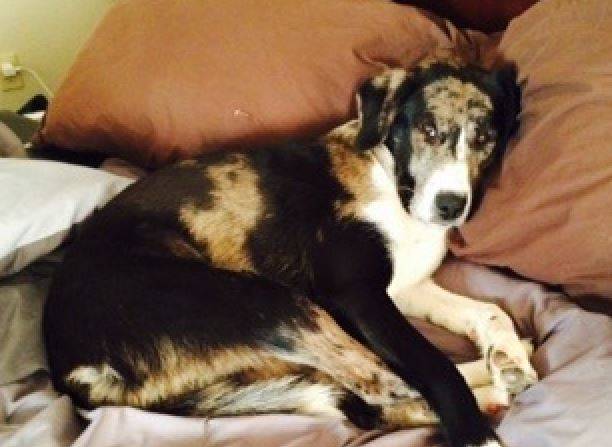 Zoe gets along very well with other dogs, and is very well behaved in the home. She is obedience trained, very well behaved and good on a leash.
Unfortunately, Zoe's owners have had to make the difficult choice to find her a loving new home. Their son is just at the age where he is starting to toddle around, and it has become clear that Zoe is very anxious around small children.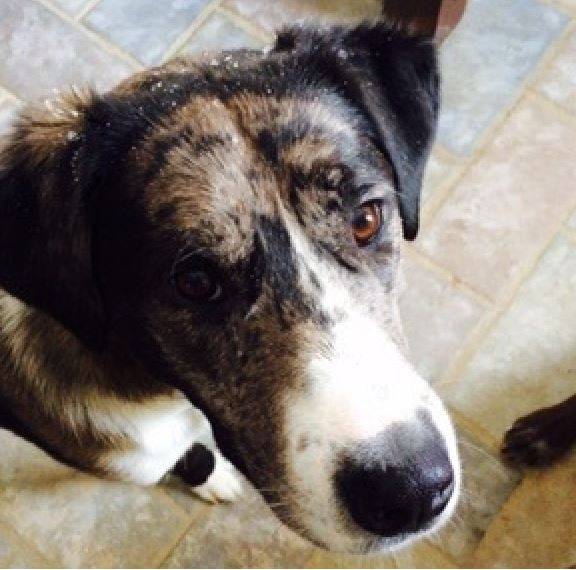 This is quite common in Border Collies – they are so tuned in to their environment, since being successful at herding requires the ability to sense what is going to happen next. Toddlers are anything-but predictable. They cry and run make loud noises.
Zoe's owners are dearly hoping to find this beautiful girl a very loving home. She can be adopted alone, but would love to bring her dog sibling, Stanley, another wonderful dog, along with her.
The ideal home for Zoe (and Stanley) will be with dog lovers who do not have children under 10 or cats. They should have plenty of time to spend with her, and be able to give her the exercise, playtime, snuggles and stimulation she needs and very much deserves. Zoe would love to have a securely fenced back yard to play in.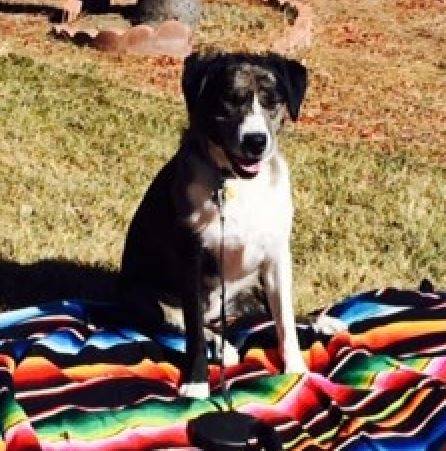 ---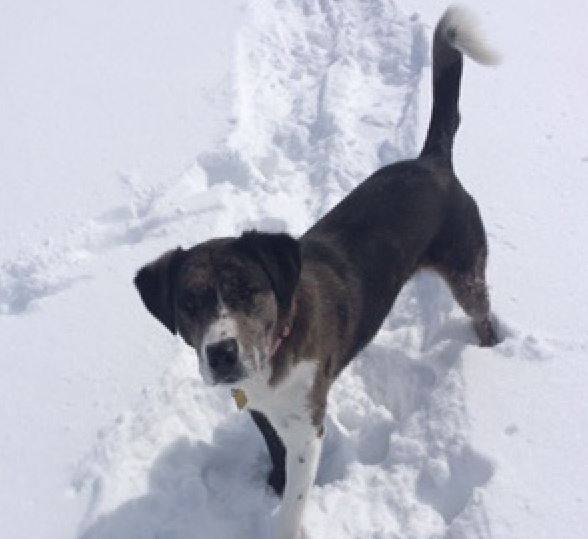 Name of Pet: Zoe
Location: Littleton, CO
Type of Pet: Dog
Breed of Pet: Catahoula / Border Collie Mix
Sex of Pet: Female
Age of Pet: 4 (Birthday: May 15th)
Spayed/Neutered?: Yes
Health Problems: No
Up To Date on Vaccinations: Yes
Gets along with cats: No
Gets along with dogs: Yes
Accessories Included:
-Leash and collar
-Dog food bowl
-Any extra food we have(Taste of the Wild: Pacific Stream)
-Any treats we have
-2 dog mind challenging toys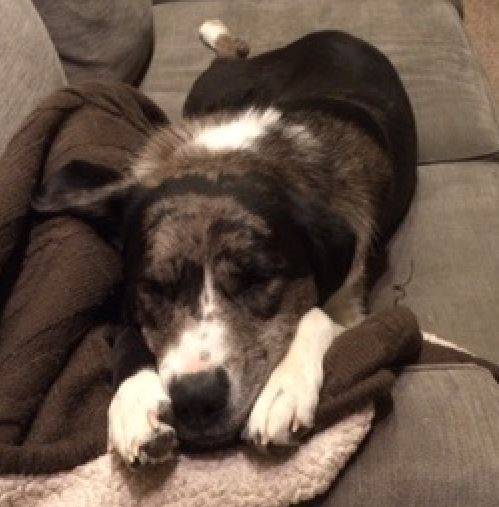 Zoe's Personality
Zoe is both incredibly smart as well as extremely sweet. She is leagues above Stanley in intelligence, and will often show this by jumping on him if he has a toy he shouldn't have or herding him away from something he should not be near.
She loves to explore and play in the backyard with Stanley. Though she cannot outrun him, she turns so quickly that she can hold her own most of the time. She loves to relax as much as she loves to play and needs a number of naps on the couch each day.
She sleeps very uniquely and differently each time. She adores being bet on her butt and will finagle a way for that to happen, especially by standing between someone's legs or curling her body against you so that her backside is most accessible.
Whenever we have visitors, she cannot wait to meet them and often loves to sit right on their foot or near their legs and stare up at them. She will often notice if someone is feeling sad or crying and will come in to snuggle or comfort them in this way.
Zoe also like to selectively lick people but only if she really likes you. She loves to explore new places, especially wide open fields. She is a very loving, intelligent and sweet companion.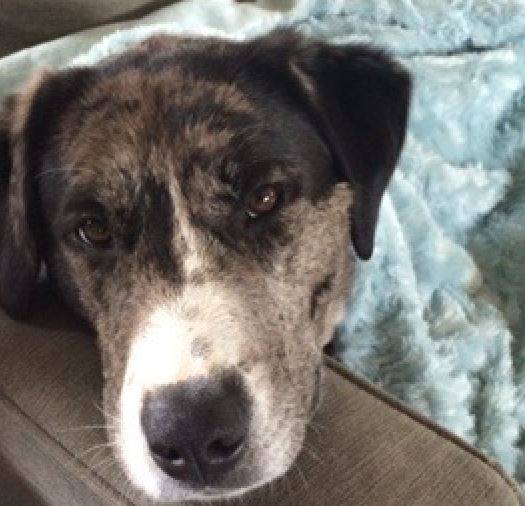 Zoe's Current Home Environment
Due to our son becoming a toddler, our home environment is full of playing, movement and activity during the days. Zoe (and Stanley) are kept separate from our son in our main room off of the kitchen due to safety concerns in the past.
We often have people over at night and once our son goes to bed, the dogs interact with whoever is over (unless they have small children). We spend a lot of time as a family outside with the dogs on our 3/4 acre lot. During the non-winter months, we are able to walk Stanley and Zoe every couple of days if not every day.
Zoe's Current Family:
Dave and I brought Stanley and Zoe into our family of two a little over four years ago when they were both puppies. At the time, I was able to work part-time and spend a lot of time with each dog. For the following 4 years, we played, went on trips and adventures together.
We moved a couple of times to houses with bigger and bigger yards because of our love for them. Our son, Sam, was born 21 months ago and we made the transition to a family of 5, hoping the dogs would adjust. Sadly, they have not adjusted as we had hoped and that has led to this heartbreaking but hopeful decision to find them a home with a high quality of life for them.
Zoe's Favorite Toys, Foods, Activities?
Zoe loves to play outside. She enjoys digging in the dirt, exploring the yard playing with Stanley. Her LOVES raw hides and treats and will do anything for them.
She loves to go on walks and short runs. She also enjoys taking naps, often in very strange and contorted positions. She usually wants to be close to us at night and will squeeze in to be as close as physically possible if we let her sleep with us.
She loves to eat and gained a few pounds a couple of months ago because she had found a way to break into her food bag without us noticing! She would only eat extra when we were not around and would not eat at mealtime. It took us a little while to realize what was happening. She does not like to swim, but really enjoys sitting in the sun by the pool. She also loves to meet new people and other dogs.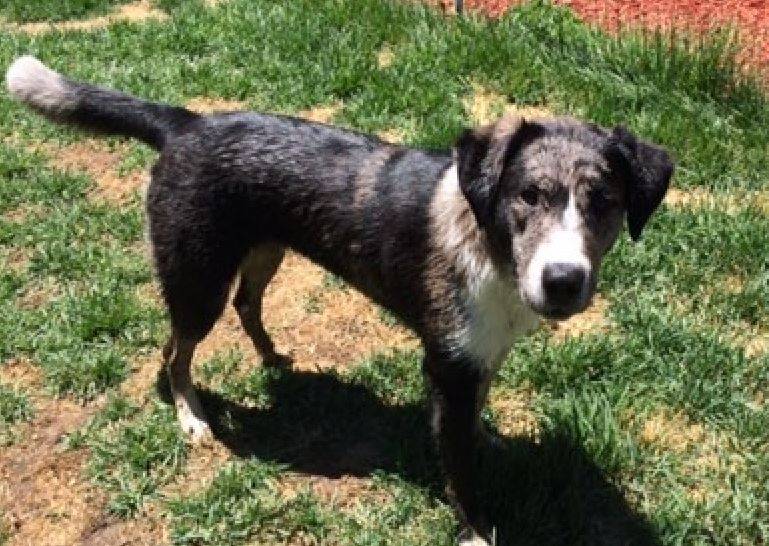 Cute Zoe Story:
One day, I decided to take the dogs on separate walks to train them individually. I took Stanley first and left Zoe in the backyard while we exited the front door. She somehow knew we had left and I could hear her yelping in the backyard as we made our way down the block.
Little did I know, but she found a way out of the yard through a loose fence section in the far corner and within two minutes was bounding her way towards us down the street. She stopped and began to walk alongside us as if nothing unusual had just happened!
Why Was Zoe Rehomed?
Zoe has not adjusted well to our toddler. Early on, she turned and growled meanly towards him when he was around 9 months old. She has never enjoyed saying hi to him or being around him and a couple of times would turn and growl or snap towards him if he is putting his hand up towards her.
Zoe's Perfect Adoptive Home :
A place where she gets plenty of love and attention from her owners is paramount. She needs a home free of young children whose unpredictable movements make her uncomfortable.
She needs a place with a yard she can explore as well as someone who will walk her and provide her exercise. She also needs a safe and cozy place she can take her naps and rest throughout the day. She thrives when she is able to use her intelligence with herding, tasks or dog mind challenges as well.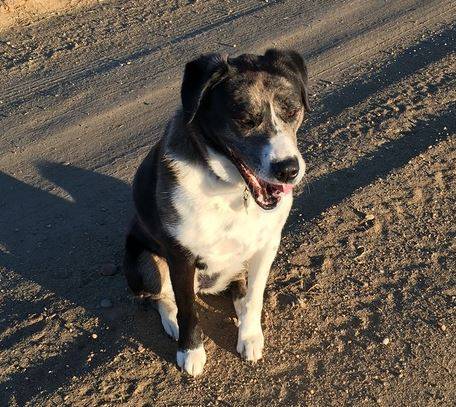 ---
Zoe is a Border Collie Louisiana Catahoula Mix Dog Rehomed in Littleton CO – Near Denver.
Littleton is close to the following towns and cities in Colorado:
Englewood, CO
Columbine, CO
Greenwood Village, CO
Southglenn, CO
Ken Caryl, CO
Castlewood, CO
Lakewood, CO
Centennial, CO
Denver, CO
Wheat Ridge, CO
Applewood, CO
Aurora, CO
Arvada, CO
Commerce City, CO
Columbine Valley, CO
Bow Mar, CO
Sheridan, CO
Englewood, CO
Wolhurst, CO
Columbine, CO
College View, CO
Greenwood Village, CO
Cherry Hills Village, CO
Southglenn, CO
Blakeland, CO
Cherry Ridge, CO
Highlands Ranch, CO
Kistler Park, CO
Ken Caryl, CO
Acequia, CO
Archer, CO