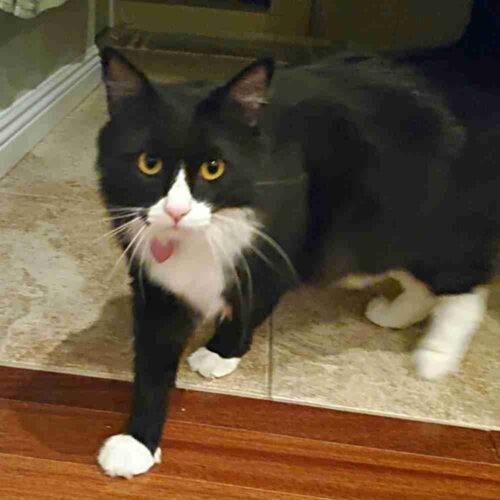 Stunning Longhair Tuxedo Cat For Adoption in San Jose California – Supplies Included – Adopt Oliver
Long Haired Black and White Tuxedo Cat for Adoption in San Jose, CA
Looking for a Long Haired Black and White Tuxedo Cat to adopt in San Jose, California and area? Just 3 years old and weighing 14lbs, Oliver is an absolutely gorgeous cat with flowing long mane and big green eyes that will steal your heart within just moments of meeting him.
Oliver is a healthy cat that has been fixed, fully vaccinated, micro-chipped, litter box trained and pre-spoiled. This amazing cat gets along well with adults and well-behaved, older children. He's a big baby that loves to be cuddled just like a human infant. He's just so sweet that you simply will not be able to resist his charms.
Oliver's owner is devastated to have to make the very difficult decision to rehome him. Oliver has a fear of loud noises, and her's is a loud, busy household with children and lots of activities on the go. Oliver spends much of his time hiding from life, feeling like he is in danger and in a state of being very stressed. Wendy is worried about Oliver's well-being, and for this reason is seeking a new home for him where he will be happy and content.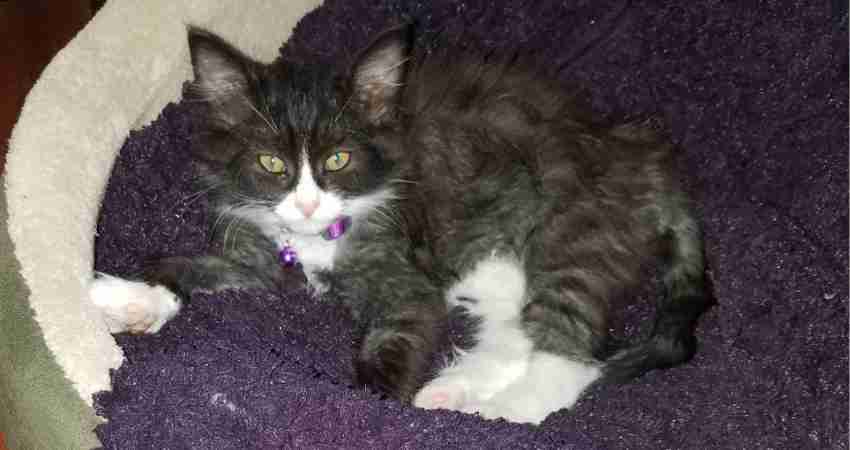 Oliver's ideal new home will be with a single or couple who have no other pets and live in a quiet home with a strong routine. In this environment, Oliver will shine, and his cuddly, sweet and very affectionate personality will come through.
Oliver is the perfect companion looking for the perfect new home. If you have the right environment for this gorgeous, charming longhaired Tuxedo cat, please offer Oliver his forever home today. He can't wait to purr and snuggle his way into your heart and home. Adopt Oliver today!

How To Adopt Oliver the Longhaired Tuxedo Cat in San Jose CA
If you are interested in adopting this special Long Haired Black and White Tuxedo in San Jose CA, please fill out our online meeting request below. Once received and reviewed, our San Jose Cat Rehoming team will ask the pets owner to reach out to you and arrange a meeting.
There is a $50.00 adoption processing fee. All supplies, accessories, and veterinary records will be included!
Questions about adopting Oliver?
Text OliverSANJOSE to (888) 833-2128. We look forward to hearing from you!
---
All About Oliver – Long Haired Black and White Tuxedo Cat For Adoption in San Jose CA
♥ Name of Pet: Oliver
♥ Location: San Jose, CA, 95120
♥ Type of Pet: Cat
♥ Breed of Pet: Long Haired Black and White Tuxedo
♥ Color / Coat Type: Black and white medium length hair
♥ Age of Pet: 3 years
♥ Size of Pet: 14lb
♥ Health Problems: No
♥ Behavior Issues: No
He is fearful of loud noises
♥ Gets along with: Adults, older, cat-friendly children.
♥ Pet is: Fixed, Fully Vaccinated, Housebroken, Microchipped
♥ Food: Other
Merrick and Dr elseys
Oliver – Long Haired Black and White Tuxedo Cat For Adoption in San Jose CA
---
Oliver's Personality
Loving and affectionate. Afraid of loud noises.
Why is Oliver Being Rehomed?
I have a loud and busy household with kids, a dog and two other cats. He is so fearful of everything that he hides all the time. But if I am in a quiet room alone with him he is affectionate and loving. I feel that I am unable to provide the quiet environment he needs to live a happy life.
Nearby Locations
Oliver is located in San Jose, CA, close to the following towns and cities:
Santa Clara CA,
Campbell CA,
East Foothills CA,
Milpitas CA,
Cupertino CA,
Los Gatos CA,
Sunnyvale CA,
Saratoga CA,
Mountain View CA,
Los Altos CA,
Los Altos Hills CA,
Fremont CA,
Newark CA,
Palo Alto CA,
Stanford CA,
Thank you for your interest in this deserving Long Haired Black and White Tuxedo Cat for adoption in San Jose CA.