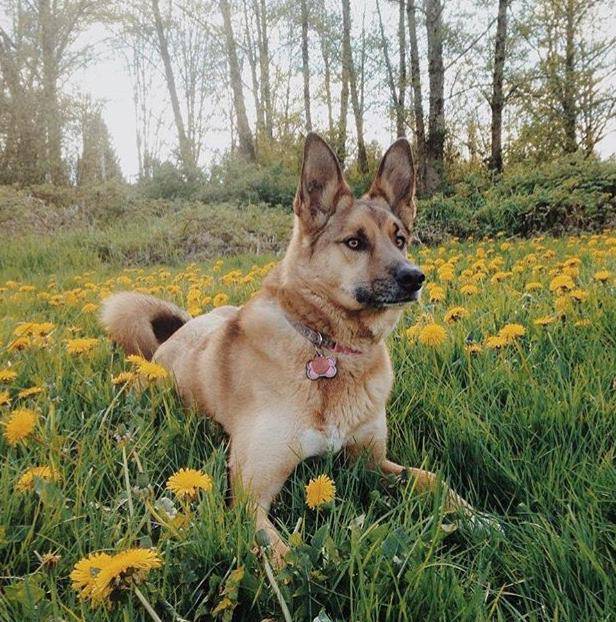 Langley BC German Shepherd Mix Found Loving Home in 2 Weeks
Need to rehome a dog in the greater Vancouver area? Contact our pet rehoming team today.
Things have become a bit too hairy at Luna's home! Like most German Shepherds, this beautiful German Shepherd mix sheds copious amounts of downy undercoat.
For many seasoned German Shepherd owners, dealing with all the dog hair is just something that goes hand in paw with owning one of these amazing companions, but for Luna's very busy family, the dog hair has become more of an issue than they can manage. They have a small child that has just begun to crawl, and dog hair shouldn't be a part of his diet. As much as they have tried to keep up with the vaccuming and sweeping, it is taking away from the little time they have available to spend with their child – and with Luna.
They want Luna to have a great life, and realize that between busy schedules, child care and dog hair cleanup, they are not able to meet her needs for exercise, companionship and playtime.
Luna is a gorgeous Reddish blonde, Female German Shepherd mix dog for adoption to a very loving home in or near Langley BC. This very special Dog is 3 and weighs 65lbs. Luna is such an amazing girl, and her family are dearly hoping to find her a loving new home where she will be cherished (dog fur and all) and where she will be kept safe, happy and healthy.
Luna is a very healthy dog. She is spayed, up to date on shots, micro-chipped, house trained and obedience trained. She is very good with children older than 6, and good with other dogs once she is familiar with them. Cats are not her cup of tea, however.
Luna's perfect home will be with folks who have a house and securely fenced back yard. They should have plenty of time to spend with Luna, and be willing to cope with her shedding.
---
All About Luna – Shepherd Cross Dog For Adoption in Langley BC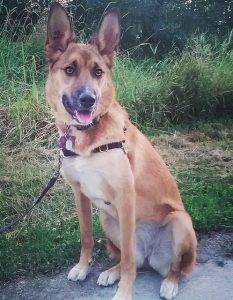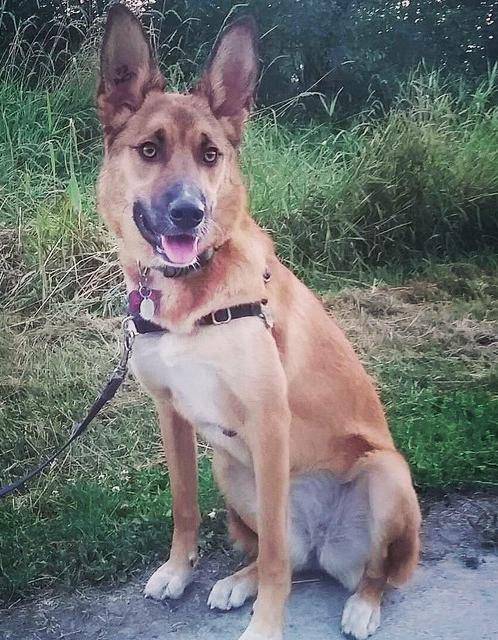 Name of Pet: Luna
Location: Langley, BC, V3A 5C5
Type of Pet: Dog
Breed of Pet: Shepherd Cross
Sex of Pet: Female
Age of Pet: 3
Spayed/Neutered?: Yes
Health Problems: No
Behavior Issues: Protective of her family towards other dogs when out on a walk on her leash. She is great at the dog park, though.
Up To Date on Vaccinations: Yes
Gets along with cats: No
Gets along with dogs: Yes
Good with Children?: Yes – best for kids older than 6
House Broken or Litter Trained?: Yes
Crate Trained?: Yes
Accessories Included: Crate and dog bowls
Luna's Personality
Her beautiful eyes and smile. She positive attitude. And her ability to protect the house and kids
Luna's Current Home Environment
Small townhouse with very little yard
Luna's Current Family:
I have a wife and two boys, 11 years old and 8 months old.
Luna's Favorite Toys, Foods, Activities?
She will eat any food given to her. Doesn't have many toys as she destroys them all. Loves to go for walks and to go swimming
Cute Luna Story:
When we had gone to an adoption event to check out dogs, we found Luna and her two brothers. They were cowering together in this make shift ring. None of them wanted anything to do with the people here to see them. We moved through all the dogs and none of them really caught our eye. So I sat down in a chair beside the little ring and out of nowhere Luna leaps out of the crate and snuggles between my feet. I knew I needed to bring this little one home. She picked us and I think that was the best way for us to find a dog.
Why is Luna Being Rehomed?
Her maintenance needs are too high for our busy household. She sheds so much and isn't getting the attention she deserves. With our 8 month old on the move we are constantly busy, but lately it's been busy making sure he isn't eating Luna's hair that is scattered around our house. We can clean the house top to bottom, take her out for a good bath and brush and the moment she comes inside, the house is covered. We just can't keep up with it and it's driving my wife insane and our son is now eating and breathing in all this untameable dog hair.
Luna's Perfect Adoptive Home Will Be:
A nice family with kids that want to run and play with Luna, maybe even another dog. A big one would be somewhere she can have more space to be active. But most importantly is a family that is capable of taking on her maintenance needs
Additional Comments:
How To Adopt Luna
If you are interested in adopting this special Shepherd Cross Dog For Adoption in Langley BC, please fill out our online meeting request here. Once received and reviewed, our staff will ask the pets owner to reach out to you and arrange a meeting to determine for certain if b is a good fit for you – and you are a good fit for this pet.
If you have any questions about our careful pet rehoming process, feel free to get in touch.
Luna – Shepherd Cross Dog For Adoption in Langley BC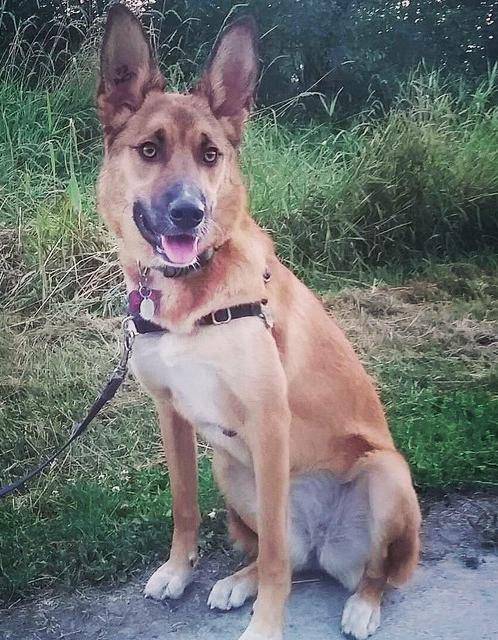 Luna is a  Shepherd mix dog for adoption in Langley BC, near Maple Ridge, Maple Ridge, Lynden, WA, Surrey, Mission, Pitt Meadows, Abbotsford, White Rock, Ferndale, WA, Port Coquitlam, Coquitlam, New Westminster, Delta, Bellingham, WA, Burnaby, Tsawwassen, Surrey, Burnaby, Vancouver, Victoria, Seattle, WA,
Adopt this very special female German Shepherd mix dog today.