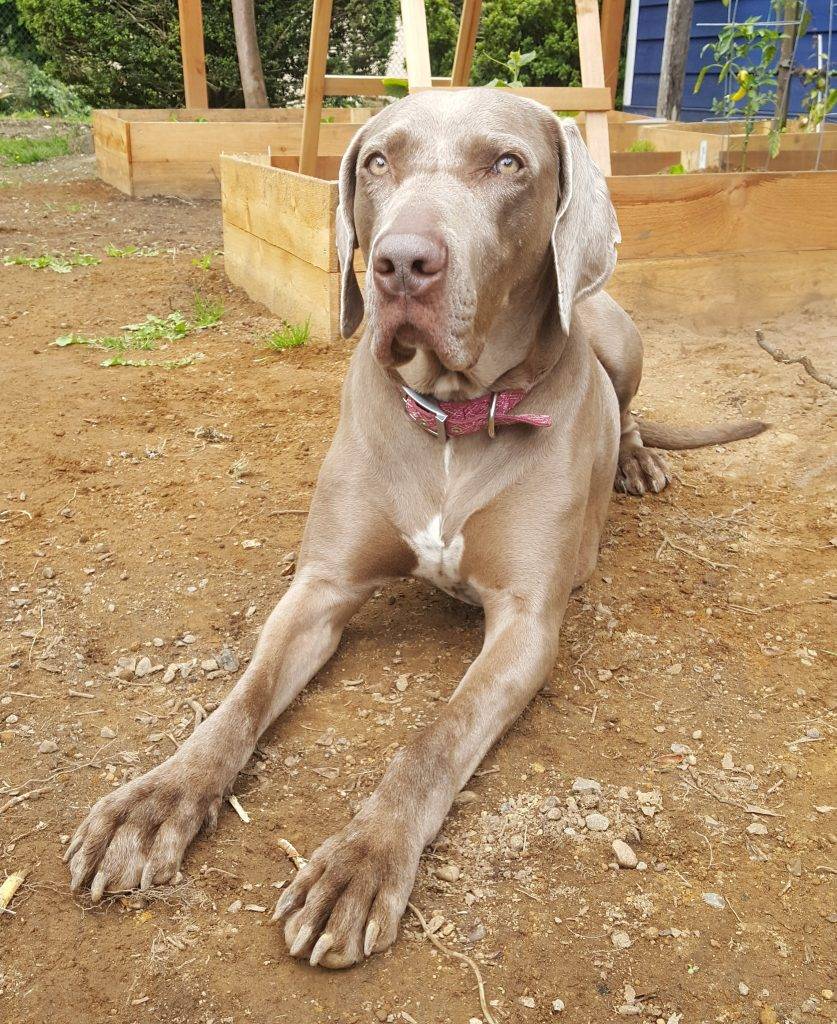 Meet Lady – Weimaraner Great Dane mix Dog For Adoption in Granite Falls WA
[button link="https://pet-net.net/adopt-a-pet/" size="large" variation="hotpink" align="center"]Request to Meet Lady Here![/button]
There is a $100 adoption processing fee. Supplies and vet records will be included.
Questions About Lady?? Text "Interested In Lady" to (888) 833-2128 or email AdoptLady@pet-lover.us
---
Location: Granite Falls, WA 98252
Type of Pet: Dog
Breed: Weimaraner – Great Dane mix
Age: 4
Color/Coat Type: gray short hair
Size: 80
Health Issues: none
Behavior Issues: Yes
She needs to with a person who doesn't have any other pets and who won't let her off leash unless in a fenced in area. We adopted her from a rescue who stated she was with an abusive owner. The results of her time with that owner are long lasting. She needs to be with someone who will be understanding and work with her so that she can learn to trust again. I doubt that she will ever be able to go to a dog park or go for walks around groups of people.
Lady is:
Spayed, Microchipped, Fully vaccinated, Crate Trained, House Broken, Leash Trained
Lady gets along with:
Adults Only
Personality
She has done well within our house. If it's just myself and my husband, she is well a mannered and loving dog. It's when she is around other dogs where she is not stable. She seems to favor women over men. She knows basic commands and is potty trained. She has been in both an inside kennel and outside one depending on the weather. For as long as we've owned her, she's never been tethered to a stake in the yard. She likes to sleep in bed with us and most accurately on top of us! She has the cutest snore. If she wasn't so aggressive towards strangers and other animals, we would not be in this situation.
Food and Diet
Lady is currently on Other
We use the "red bag" of Costco Brand to feed her. She's a free-feeder meaning that we just keep her bowl full and she eats when she wants. We work a typical 8am-5pm schedule Monday-Friday and she is in a kennel during those hours. Depending on the weather, she can be kenneled inside or outside. We provide her a "kennel treat" when we put her in it (usually frozen peanut better in a kong toy). She seems to sense when we are getting ready to leave and will wait in her kennel without using forcing her in.
Reason For Rehoming
We have a baby on the way and are unable to give her time she truly needs. She is an awesome dog though. She loves to cuddle under blankets and watch us while we shower. Our neighbors do not feel comfortable with her around now that they have grandkids that coming over. She has shown extreme aggression towards other dogs especially smaller ones.
How to Adopt Lady
If you would like to consider offering Lady a loving, forever home, please fill out our Request To Meet A Pet form here:
https://pet-net.net/adopt-a-pet/
Once received, we will contact you to discuss your request and set up a mutually convenient time to meet Lady and their owner in their home.
Questions About Lady?? Text "Interested In Lady" to (213) 297-7446 or email adoptLady@pet-lover.us
Lady is a Weimaraner Great Dane mix Dog For Adoption in Granite Falls WA within a reasonable drive of
Seattle, WA and
Victoria,
Surrey,
Burnaby, BC
and Vancouver, BC
Portland, OR,
and close to
North Marysville,
West Lake Stevens,
Marysville,
Everett,
Snohomish,
Monroe,
Mukilteo,
Mill Creek,
Martha Lake,
North Creek,
Alderwood Manor,
Lynnwood,
Woodinville,
Bothell,
Mountlake Terrace,
Sobey,
Lake Bosworth,
Lochsloy,
Hyland,
Jordan,
Hartford,
Getchell,
Sisco Heights,
Lake Stevens,
Forest Glade,
Lake Roesiger,
Robe,
Machias,
Sisco,
North Marysville,
West Lake Stevens and Verlot, WA. Adopt this gorgeous 4 year old female Great Dane Weimaraner mix today.
Questions About Lady?? Text "Interested In Lady" to (888) 833-2128 or email AdoptLady@pet-lover.us