Healthy Declawed Black Male Cat For Adoption to Loving Home in Philadelphia – Adopt Inky Today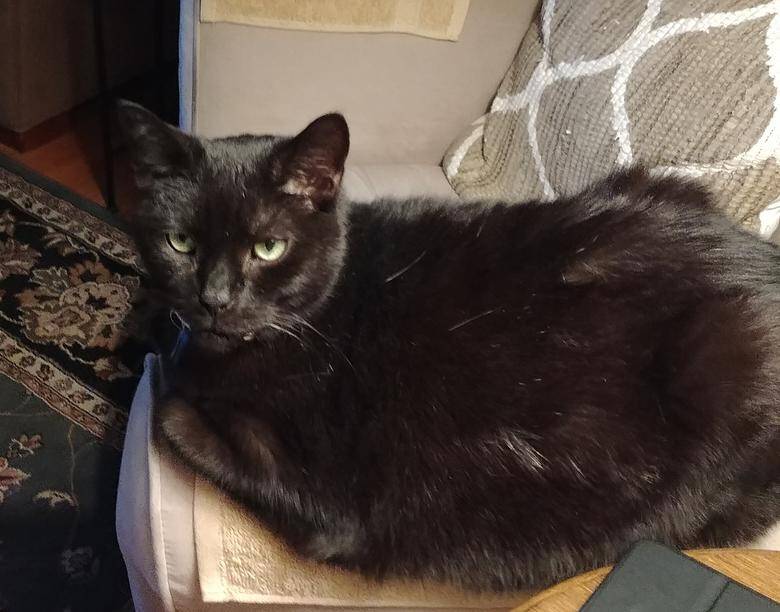 Meet Inky, Declawed Black Male Cat For Adoption in Philadelphia PA
Inky is a declawed Black Male Cat for adoption to a very loving home in or near Philadelphia PA. This very special Cat is 12 years and weighs 10 pounds.
Inky is being placed for adoption by owner for the following reason:
My own health reasons
There is a $25 adoption/rehoming fee. Supplies and veterinary records will be included.
---
All About Inky – Declawed Black Male Cat For Adoption in Philadelphia PA
Name of Pet: Inky
Location: Philadelphia, PA, 19128
Type of Pet: Cat
Breed of Pet: Short Hair American
Sex of Pet: Male
Age of Pet: 12 years
Spayed/Neutered?: Yes
Health Problems: No
Behavior Issues: No
Up To Date on Vaccinations: Yes
Gets along with cats: Unknown
Gets along with dogs: Unknown
Good with Children?: Yes
House Broken or Litter Trained?: Yes
Crate Trained?:
Accessories Included: I have a cage, litter box, and food bowls. You are welcome to any or all of them.
Inky's Personality
1. Waits at the door for me;
2. Very independent;
3. Like to sleep at the foot of the bed;
4. Likes to purr;
5. Doesn't mind being alone for periods of time;
Inky's Current Home Environment
Inky lives with me. It is just him and I.
Inky's Current Family:
I live alone.
Inky's Favorite Toys, Foods, Activities?
Both dry and can food;
"Sometimes" plays with his stuffed toys
Cute Inky Story:
I have 6 grandchildren, ages 12 to 6 months. Inky is very tolerant of them and allow them to pull his tale, or pull his fur.
Why is Inky Being Rehomed?
My own health reasons
Inky's Perfect Adoptive Home Will Be:
Any person who is looking for a "friend".
Additional Comments:
His Vet is Dr, Guth, Owner of Caring for Cats in Philadelphia, PA. She has been his vet since I got him 10 years ago.
How To Adopt Inky
If you are interested in adopting this special Short Hair American Cat For Adoption in Philadelphia PA, please fill out our online meeting request here. Once received and reviewed, our staff will ask the pets owner to reach out to you and arrange a meeting to determine for certain if b is a good fit for you – and you are a good fit for this pet.
If you have any questions about our careful pet rehoming process, feel free to get in touch.
Inky – Short Hair American Cat For Adoption in Philadelphia PA
Inky is a Black Short Hair American Cat for adoption in Philadelphia PA, near , and close to . Adopt this sweet Declawed Black Male Cat today.