Meet Mia, Great Dane Dog For Adoption in Houston TX
Mia is a Black and white Mantle Female Great Dane for adoption in Houston TX  to a very loving home with experienced owners. This very special dog is 2 years old and weighs 100 lbs.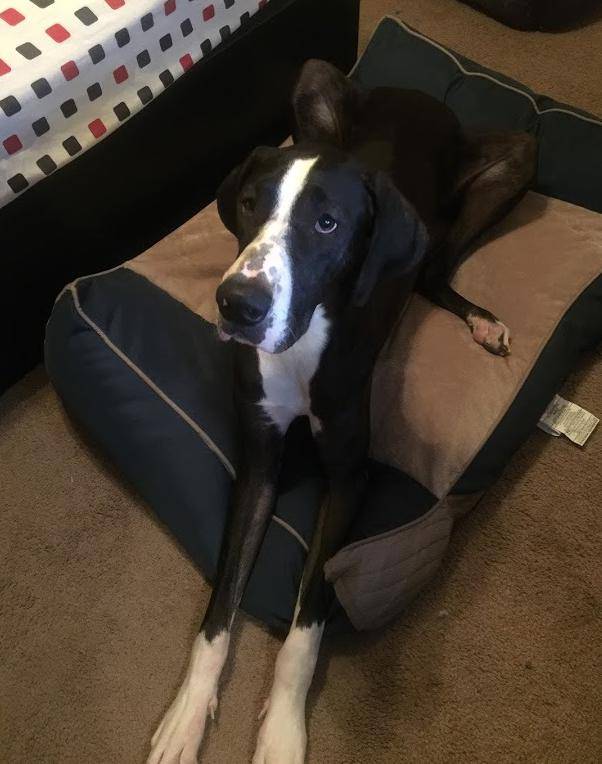 Mia had a very rough start in life. She was confined to a kennel for most of her first 18 months, and did not receive the important socialization that every dog needs. When she was adopted by her foster owners, she had a severe skin infection that was a result of being fed a cheap brand of dog food to which she had a severe allergy. She had to make many vet visits to clear up the skin infection. As a result, she has reactive fear aversion to veterinary clinics.
Mia really is a "Diamond in the Ruff". She is not the dog for everyone, but in the right home, she will shine. Mia needs to be placed as an only dog. She needs confident owners who have past experience owning a 100 pound Great Dane, and who can give her their time, patience and unconditional love. She has come a long way in the loving care of her foster owners, and will need her forever family to continue positively reinforcing correct behavior.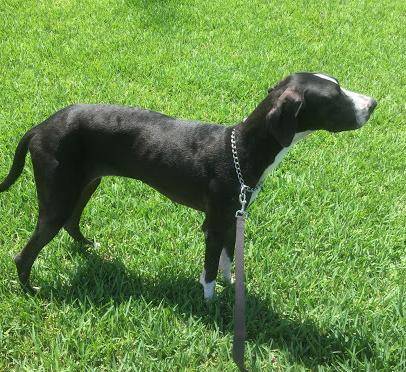 Mia is in urgent need of her forever home. Her fosters live in a small apartment, which she has most definitely outgrown. They also have 2 other dogs, and there have been several scuffles between them. Mia needs to be placed in a home where she can be the only dog. Mia is good with children and cats.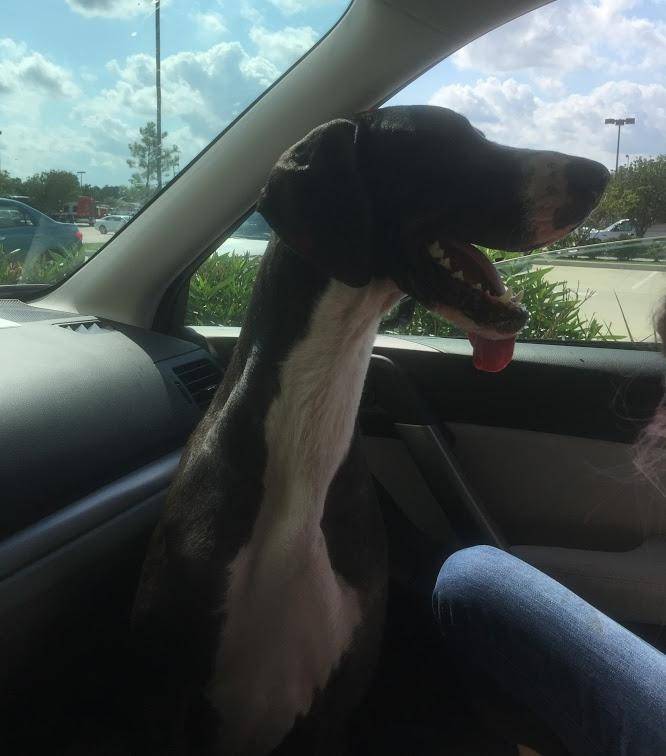 Mia is an absolutely beautiful dog both inside and out. She needs a special forever home with owners who will love her unconditionally and give her the time, attention, exercise and positive reinforcement she needs to grow into the amazing companion she is destined to become. Please offer Mia a loving home today.
There is a $150 adoption/rehoming fee. Supplies and veterinary records will be included.
Questions about Mia? Text "Mia Great Dane" to (888) 833-2128 or email [email protected]. We look forward to hearing from you.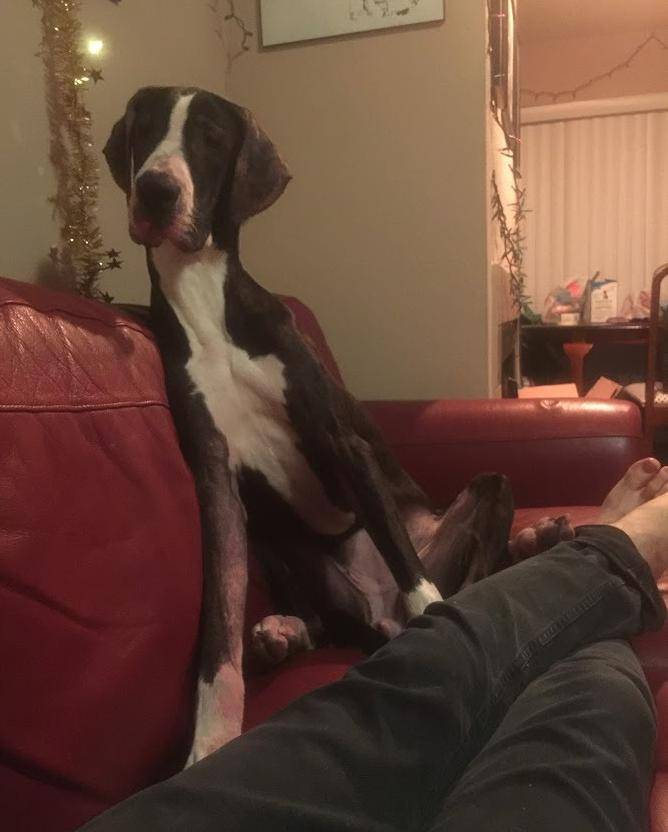 ---
All About Mia – Great Dane Dog For Adoption in Houston TX
Name of Pet: Mia
Location: Houston, TX, 77058
Type of Pet: Dog
Breed of Pet: Great Dane
Sex of Pet: Female
Age of Pet: 2 years – DOB: 11/22/2015
Spayed/Neutered?: Yes
Health Problems: Yes Mia is allergic to yeast.
This makes it very difficult to find dog food that she can eat. She needs to avoid foods that have high amounts of grain/starch (wheat, rice, corn, potato, pea, etc.) which is very difficult.
We use Nutrisca; Salmon and Chickpea recipe which can be found on Chewy.
If she eats regular dog food or treats, she will break out with hives and scratch uncontrollably for days. She will break skin and pull out hair.
Behavior Issues: Yes Mia lived exclusively in a kennel for the first year and a half of her life. This makes her antisocial around other dogs. We have been rehabilitating her and now we take her to the dog park frequently, off-leash, with no issues.
However, at home, at random times, she has snapped at my other dog and they have gotten into nasty fights that only lasted a few seconds but have drawn blood.
She should be relocated to a home with no other dogs because her history makes her unpredictable.
She is also very scared of Veterinary offices. If she sees metal walls or people in scrubs, she has (aversive) behavioral issues that only exist there. This makes things very difficult. However, we have been working with her to get acclimated to Vets and associating Vet offices with good memories. This is a long process, though, and it is the hardest part about her rehabilitation.
Up To Date on Vaccinations: Yes
Gets along with cats: Yes
Gets along with dogs: No
Good with Children?: Yes
House Broken or Litter Trained?: Yes
Crate Trained?: Yes
Accessories Included: Everything needed to take care of a Dane:
XT Large Kennel,
Food Bowls,
Leash,
Her favorite toys and blankets,
Microchip paperwork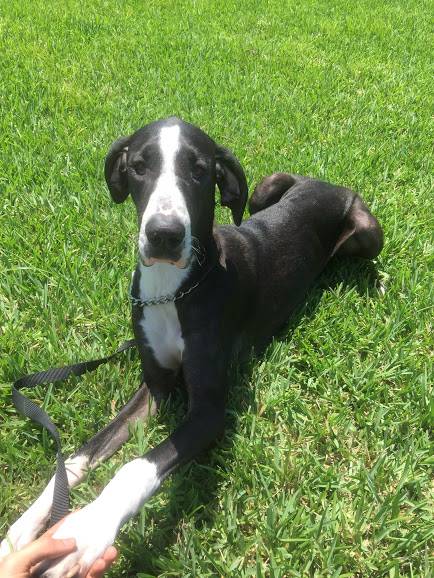 Mia's Personality
I love:
That she is my pillow and my cuddle buddy.
How expressive she is. I can always tell when she is happy, sad, upset, or scared.
How reactive she is. She can tell what mood I am in and she often helps me get out of a funk.
When she is outside and smiling with her big tongue hanging out of her mouth.
Her mannerisms, like moving her leg when I scratch her just right.
Mia's Current Home Environment
My wife and I live in an apartment. We have a cat and three rescue dogs; a Great Dane, a Pit Bull, a Chihuahua.
We rescued Mia from someone who was going to put her down because she was too much work. She is sweet but she is just too big for our home. We don't have a yard and we cannot trust her to be loose with our Pit so she has to be kenneled while we are at work. This is not fair for her.
Mia's Current Family:
My wife and I are both dog lovers. I have a desk job and my wife is a dog groomer at PetSmart.
We never buy dogs or deal with breeders because we know that there will always be a dog in need that falls into our lap.
Mia's Favorite Toys, Foods, Activities?
Mia LOVES cheese!
She loves destroying tennis balls and chewing on filled-bones. (We have never had a problem with her eating our things, which is very good)
Mia loves to go for walks, go to the dog park, run around, and then pass out back at home.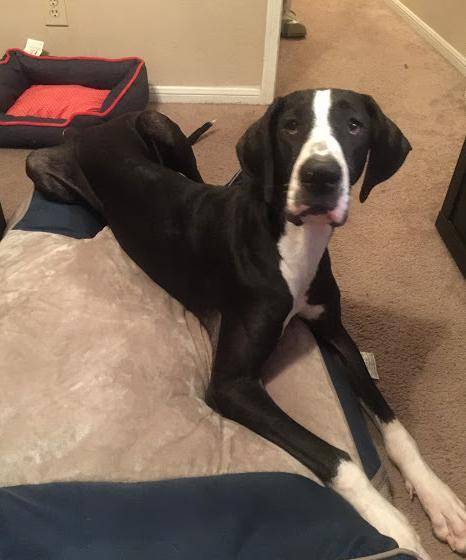 Cute Mia Story:
Mia is very clunky. If you throw a tennis ball in an arc towards her face, she is always one second too slow to catch it. She will try so hard to get it into her mouth but it never happens. When the ball inevitably bounces on the floor, she will swat at it with her big club-like paws and dance around on the floor.
It is funny to see such a large animal flail around over such a tiny ball.
Why is Mia Being Rehomed?
Mia is too big for our house. She has been too big since the first day we took her in, but we didn't feel comfortable re-homing her until her social issues were resolved. At this moment, we feel like she is in a good spot to be in a one dog home. Her health issues are completely gone and she is ready to be taken in.
Mia's Perfect Adoptive Home Will Be:
She is at the end of her rehabilitation process, but she still needs some work. We are looking for someone who will put in the extra time that she needs. It will take her a moment to acclimate to new surroundings and to new people, but she is definitely worth it.
Additional Comments:
We know that personal visits are not a good idea when a dog is trying to connect with a new owner, but my wife and I would love to be able to go online and see that she is still being taken care of months down the road. We want to make sure that she goes to a good home where she is loved.
How To Adopt Mia the Great Dane in Houston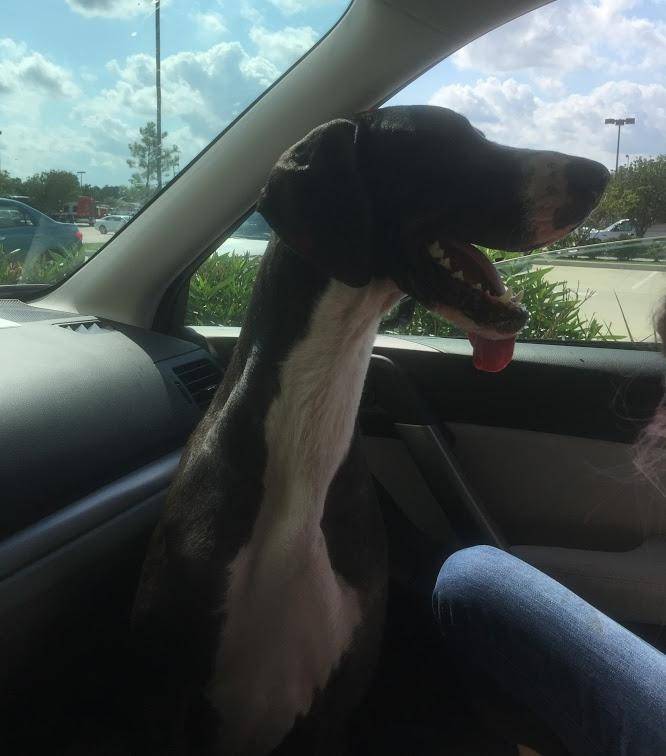 If you are interested in adopting this special GreatDane For Adoption in Houston TX, please fill out our online meeting request here. Once received and reviewed, our staff will ask the pets owner to reach out to you and arrange a meeting to determine for certain if Mia is a good fit for you.
There is a $150 adoption/rehoming fee. Supplies and veterinary records will be included.
Questions about Mia? Text "Mia Great Dane" to (888) 833-2128 or email [email protected]. We look forward to hearing from you.
Mia – Female Great Dane Dog For Adoption in Houston TX
Mia is a Black and white mantle Great Dane Dog for adoption in Houston TX, near Austin, and close to West University Place,
Bellaire,
Jacinto City,
Galena Park,
South Houston,
Pasadena,
Cloverleaf,
Aldine,
Missouri City,
Pearland,
Deer Park,
Channelview,
Stafford,
Humble,
Mission Bend,
Houston Heights,
Riverside Terrace,
Magnolia Park,
Foster Place,
South Lawn,
West University Place,
Bellaire Junction,
South Side Place,
Pecan Park,
Mayfair,
Harrisburg,
Southside Place,
Brookhaven,
Golfcrest,
North Shadydale,
Hawthorne Place,
Clinton Park, Texas.
Adopt this sweet Black and white mantle Great Dane today.