Devoted Maltipoo For Adoption in Aliso Viejo CA – Supplies Included – Adopt Gracie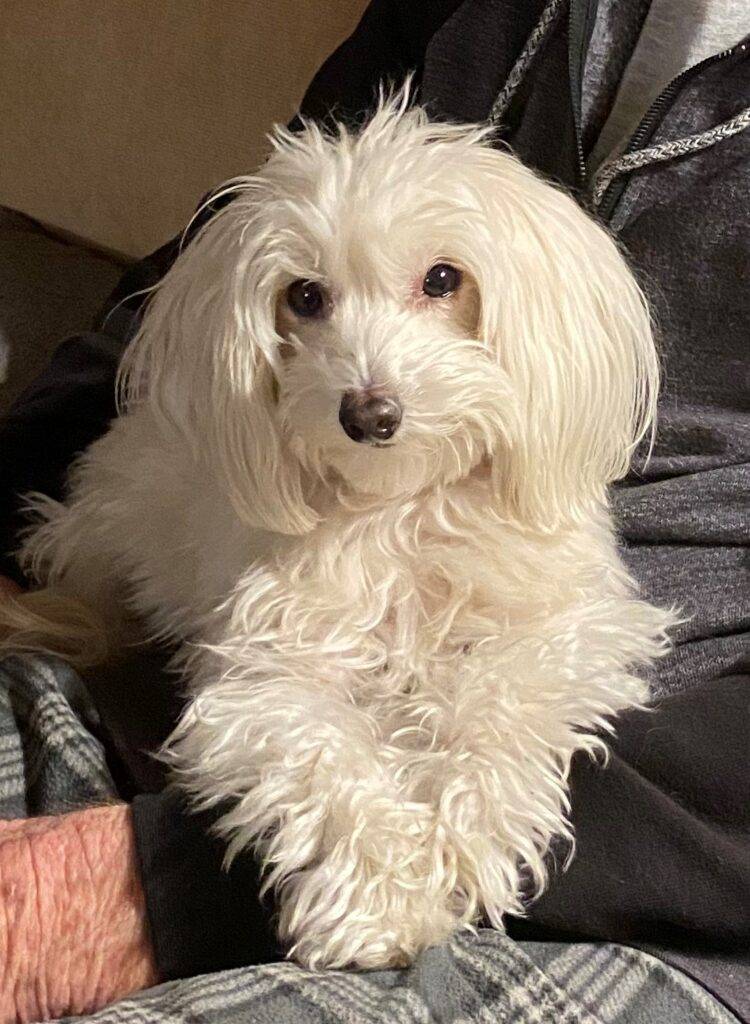 Meet Gracie, a Maltipoo Dog for private adoption by owner in Aliso Viejo CA.
Gracie is a very intelligent and devoted little Maltipoo who will soon be looking for a new home. She is 6 years old and weighs just 5 to 7 pounds. She has been fully vaccinated, litter trained, house broken, and leash trained.
Gracie is looking for someone very special to offer her a home in the near future. Tragically, her owner is a gentleman who has a terminal illness. He and Gracie have been best friends since he adopted her from a rescue years ago. She is a special needs dog, in that she is very wary of adult males. She warms up quickly to females, though, and we feel that the best situation for her will be as an only pet to a senior lady.
Because of the very delicate nature of this rehoming situation, we are hoping to find someone who will be on "stand-by" to take Gracie into her loving care when the time arises. We are looking for someone who will be very sensitive and empathetic to the owner, who wants to spend as much time as he has left with Gracie, but with the peace of mind in knowing that her future will be bright and that she will be well-cared for the rest of her life.
If you have the right situation, and would like to be considered as Gracie's forever owner, please complete our meeting request form below. We look forward to hearing from you.
How To Adopt Gracie
If you are interested in this special Maltipoo For Adoption in Aliso Viejo CA, please fill out our online meeting request below. Once received and reviewed, our staff will ask the pets owner to reach out to you and arrange a meeting.
There is a $150 adoption/rehoming fee. Some supplies and veterinary records will be included.
Questions about Gracie? Contact our Maltipoo Dog rehoming team today.
Text "GracieAliso Viejo" to (888) 833-2128. We look forward to hearing from you.
All About Gracie – Maltipoo Dog For Adoption in Aliso Viejo CA
♥ Name of Pet: Gracie
♥ Location: Aliso Viejo CA,, 92656
♥ Type of Pet: Dog
♥ Breed of Pet: Maltipoo
♥ Color / Coat Type: White – long fur
♥ Age of Pet: 6 yrs old
♥ Size of Pet: 5 to 7 lbs
♥ Health Problems: No
♥ Behavior Issues: Very attached to the owner, who is the only household member. Warms up quickly to human females, but, takes quite a while to adjust to a male.
Very protective of the owner & the household. Very well potty trained, & only barks when she feels it is necessary.
♥ Gets along with: Adults Only
♥ Pet is: Spayed, Fully vaccinated, Litter Trained, House Broken, Leash Trained
♥ Food: Other
Will advise from owner. There is currently a mixture of canned food & frozen dog food that is thawed. I will get back with the exact brand.
---
Gracie – Maltipoo Dog For Adoption in Aliso Viejo CA
---
Gracie's Personality
I think she is a very insecure dog, without her master she would really be lost. On the other hand, I think she would accept a new master in her life, particularly a female. I am not sure, but, she was a rescue dog as a puppy & had her breeding papers. I could be wrong with that info, & can confirm more accurate details if needed.
Why is Gracie Being Rehomed?
I am doing the rehoming for my lifetime close friend. He knows he should have done the arrangements many months ago, but, has procrastinated on this issue. He may only have either weeks, or, months left to live, so I feel it is urgent to make these arrangements, rather than to deal with the unknown.
Gracie lives in Aliso Viejo CA, close to the following towns and cities in Orange County:
12 miles to Santa Ana CA,
19 miles to Anaheim CA,
28 miles to Long Beach CA,
33 miles to Riverside CA,
42 miles to Los Angeles CA,
43 miles to San Bernardino CA,
47 miles to Glendale CA,
70 miles to San Diego CA,
77 miles to Chula Vista CA,
Laguna Woods CA,
Laguna Hills CA,
Lake Forest CA,
Mission Viejo CA,
Laguna Beach CA,
Laguna Niguel CA,
Irvine CA,
Rancho Santa Margarita CA,
San Juan Capistrano CA,
Costa Mesa CA,
Dana Point CA,
Tustin CA,
Newport Beach CA,
Tustin Foothills CA,
Santa Ana CA,
Thank you for your interest in this deserving Maltipoo Dog for adoption in CA.