Dogo Argentino For Adoption in Anaheim CA – Supplies Included – Adopt Trixie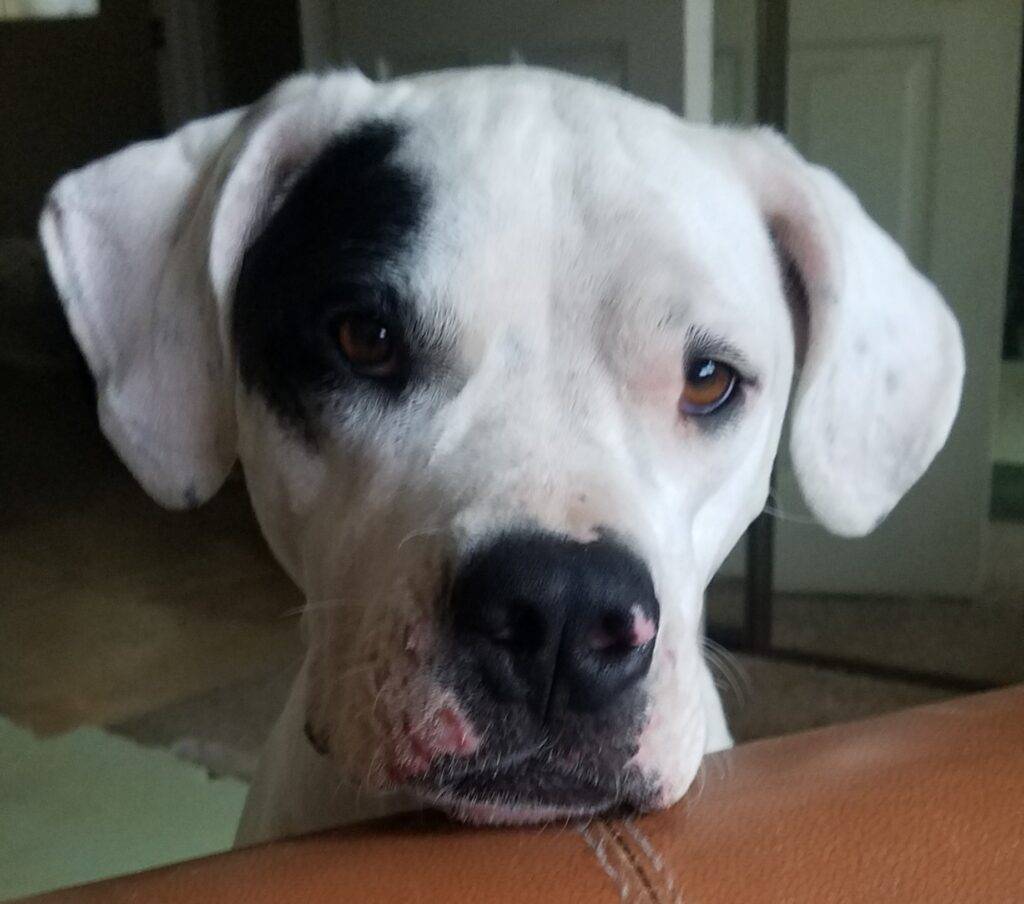 Meet Trixie, a Dogo Argentino Dog for adoption by owner in La Mirada California.
Looking for an Argentine Dogo for adoption in La Mirada California and area? Just 4 years old and weighing 80 lbs, this lovely Dogo Argentino has been Spayed, Microchipped, Crate Trained, House Broken. Trixie is good with children and cats.
Trixie's owners are very sad to have to rehome their beloved dog. They are dearly hoping to find a wonderful new home for Trixie with owners who will cherish and keep Trixie safe, happy, and healthy.
If you have room in your heart and home for Trixie, please complete our online meeting request form. Once received, our San Diego Dog Rehoming team will make arrangements for you to meet the owners and their adoptable La Mirada Dogo Argentino Dog. Adopt Trixie today!
How To Adopt Trixie
If you are interested in this special Dogo Argentino For Adoption in La Mirada California, please fill out our online meeting request below. Once received and reviewed, our staff will ask the pets owner to reach out to you and arrange a meeting.
There is a $450 adoption/rehoming fee. Some supplies and veterinary records will be included.
Questions about Trixie? Contact our Dogo Argentino rehoming team today.
Text "Trixie90638" to (888) 833-2128. We look forward to hearing from you.
All About Trixie – Dogo Argentino Dog For Adoption in La Mirada California
♥ Name of Pet: Trixie
♥ Location: La Mirada CA,lifornia, 90638
♥ Type of Pet: Dog
♥ Breed of Pet: Dogo Argentino
♥ Color / Coat Type: Short hair – white with black eye patch
♥ Age of Pet: 4 years
♥ Size of Pet: 80 lbs
♥ Health Problems: No
♥ Behavior Issues: Yes
She does amazing around people but has started having aggression towards her biological sister. She needs to be in a single pet home with an active, loving family.
♥ Gets along with:
♥ Pet is: Spayed, Microchipped, Crate Trained, House Broken
♥ Food: Other
Diamond Naturals
---
Trixie – Dogo Argentino Dog For Adoption in La Mirada California
---
Trixie's Personality
Active and very loving towards humans. Enjoys hunting and cuddles
I just want her and her sister to be happy and healthy, and on my own it is proving too much to manage
Why is Trixie Being Rehomed?
We have two dogs. After my fiance passed last year, Trixie has become more aggressive with her sister and has engaged in two severe fights in the last two weeks with her.
Trixie is located in La Mirada, California, near the following towns and cities:
Anaheim CA,
Santa Ana CA,
Long Beach CA,
Los Angeles CA,
Glendale CA,
Riverside CA,
San Bernardino CA,
San Diego CA,
East La Mirada CA,
South Whittier CA,
Buena Park CA,
La Habra CA,
Norwalk CA,
Whittier CA,
Santa Fe Springs CA,
Cerritos CA,
La Palma CA,
Artesia CA,
Hacienda Heights CA,
Fullerton CA,
Brea CA,
Bellflower CA,
Pico Rivera CA,
Thank you for your interest in this deserving Dogo Argentino Dog for adoption in California.