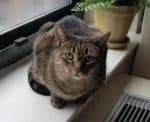 Denville NJ – Sweet Senior Tabby Cat Urgently Needs Ongoing Foster Care Home
Olive is a sweet 13 year old grey tabby cat in urgent need of a loving foster home in or near Denville NJ. She is a low-maintenance cat who needs a quiet, kid and pet free home where she will be kept safe, happy and healthy. Her owner is having to move in with her aging parents, who have severe cat allergies. She is willing to offer a care stipend of $150 per month, and supply all food, litter and supplies, as well as any vet care needed. This will be an ongoing situation until a permanent home can be found for Olive.
If you would enjoy the company of this sweet little cat, please offer to foster Olive today.
...