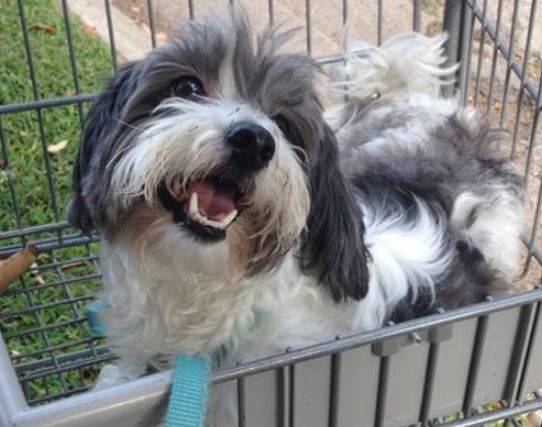 Lhasa Apso Shih Tzu Mix Dog For Adoption in Pittsburgh PA – Adopt Rennie Today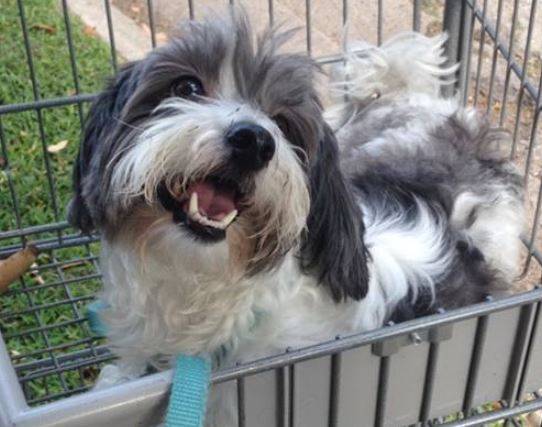 Meet Renny, Lhasa Apso Shih Tzu Mix Dog For Adoption in Pittsburgh Pennsylvania
Questions About Renny?? Text "Renny in Pittsburgh" to (213) 297-7446 or email [email protected]
With his bright smile and luxurious long white and grey coat, Renny has to be one of the cutest little dogs in Pittsburgh. Rennie is likely a mix of Lhasa Apso and Shih Tzu, but his ancestry is rather uncertain. What is certain, is that this adorable little guy needs a very loving home with an understanding owner who will cherish him and keep him safe, happy and healthy.
At about 6 years of age, Renny is a healthy little fellow. He is neutered, up to date on his shots and microchipped. Renny is perfectly house trained and also crate trained.
Renny is a little sweetheart MOST of the time. Like most Lhasa Apsos, Lenny is a tiny guard dog first and foremost. He barks whenever he senses that "strangers are near", and he is dedicated to keeping his owner safe – even when there is no danger. These may be habits he learned as a stray on the mean streets of Houston, TX. For the most part, Renny is an adorable little clown, full of love and joy.
Renny was adopted from a local rescue. They told the owner that he was a terrier mix with a calm and very gentle personality. This is true a good part of the time, but when Renny becomes anxious, he can be barky, nippy and nervous. Living in an apartment complex with people constantly coming and going is causing Renny a good bit of anxiety, and the more anxious he becomes, the more barking he does.
As much as his owner loves this sweet little boy, she is worried about the effect his barking is having on her neighbors. She cannot take Renny for walks without worrying that he may bark at or try to nip passers-by, particularly children, should they try to pet him.
Renny's owner wants to find him a home where he will be cherished – warts and all. He will need a quiet, adults only home where there are no children visiting. He seems to be good with other small dogs, but cats are not his cup of tea. Ideally, he would be best suited as an only pet for a calm, patient, retired dog lover with all the time in the world for him.
Someone familiar with the Lhasa Apso breed and it's traits, and who is willing to overlook Renny's occasional lapses in good manners will be his ideal owner. He is a sweet little guy who really deserves to be loved. If you have room in your heart and home for Renny, please request to meet him today.
There is a $75 adoption/rehoming fee. Supplies and veterinary records will be included.
Questions About Renny?? Text "Renny in Pittsburgh" to (213) 297-7446 or email [email protected]
---
All About Renny – Lhasa Apso mix Dog For Adoption in Pittsburgh Pennsylvania
Name of Pet: Renny
Location: Pittsburgh, Pennsylvania, 15206
Type of Pet: Dog
Breed of Pet: Lhasa Apso Shih Tzu Mix
Sex of Pet: Male
Age of Pet: ~6 years
Spayed/Neutered?: Yes
Health Problems: Sensitive skin. Uses a topical spray and special shampoo, which works well.
Behavior Issues: Care needs to be taken when picking him up. His skin can be sensitive, and he has nipped his owner a few times – but always when he is in an anxious, alerted state. He tends to do a lot of barking, but living in an apartment, the sounds of people coming and going are constantly present. He would be better suited to a house with a securely fenced yard for him to "guard".
Up To Date on Vaccinations: Yes
Gets along with cats: No
Gets along with dogs: Yes
Good with Children?: No
House Broken or Litter Trained?: Yes
Crate Trained?: Yes
Accessories Included: crate and pad; toys (stuffed squeaky toys, plastic bones, balls), puzzle food dispensers (including a Kong), food and treats, grooming tools (nail clippers, brush, clippers, eye wipes), sensitive skin shampoo and medicated shampoo, collar and leash, food bowls, and medicated spray for hot spots (caused by scratching sensitive skin)
Renny's Personality
– his morning request for cuddles as soon as I wake up
– his resilience – he is extremely tough
– how much fun he has eating a meal out of a puzzle food dispenser
– when he licks my feet dry when I get out of the shower
– he's a great walking companion! He loves to explore and sniff every flower
Renny's Current Home Environment
I live alone in a small, quiet apartment. When I'm not at home Renny stays in the bedroom where he has his crate and a cushion to sleep on. There are about 10 other people living in the building and passing by in the hallways. Renny goes outside 2-3 times a day for walks.
Renny's Current Family:
I work full-time and live alone. I am easy-going and probably am not a strong enough 'leader' for Renny to obey, so he ends up ruling the 'pack'! I use positive reinforcement training techniques and love dogs, but this is my first rescue and I think his months/year of roaming the streets of Houston have caused him to develop some behaviors that aren't good for urban apartment living.
Renny's Favorite Toys, Foods, Activities?
Toys: his stuffed sea creatures, for playing tug-of-war; occasionally he likes to chase around a tennis ball
Foods: he will eat anything! He loves bully sticks and any other smelly chew toys
Activities: playing tug-of-war, playing chase, going on walks, and sitting, laying down, and dancing for kibble.
Cute Renny Story:
The cutest thing Renny does is rub his face into you when he wants to be pet and cuddled, and he will move his body around until your hands are petting where he wants to be pet!!
Why is Renny Being Rehomed?
Because of Renny's barking and anxiety around strangers/children, his owner is concerned that she is causing her neighbors inconvenience and upset. Taking Renny for walks in the area is a bit challenging, as the owner is worried that a child will try to pet him, and he may nip.
He really is a wonderful little dog that in the right home will do well – where these behaviors will not be an issue. He definitely needs someone who will be patient and firm with him, but love him unconditionally.
Renny's Perfect Adoptive Home Will Be:
I think Renny would be an excellent pet to an owner who can create firm boundaries with him and who is looking for an alert dog, rather than a dog to cuddle and lounge with (even though Renny sometimes likes to cuddle and lounge!). I think Renny would do best in a house with a yard where his barking wouldn't disturb anyone.
Since he does really well at doggy day care, he might do well in a house with other dogs, as long as they give him his space (he rarely wants to play with other dogs but respects them). An owner with lots of experience with dogs – especially with Lhasa Apsos or similar breeds – who can be Renny's pack leader, and who doesn't have children, would be the best.
Additional Comments:
I would be happy to stay in touch with Renny if the owner was open to it, but if not, that is fine too.
I am also happy to meet with the new owner, show my strategies for managing his behaviors, and anything else that would help someone make a decision on whether or not Renny will be a good fit.
How To Adopt Renny
If you are interested in adopting this special Lhasa Apso mix Dog For Adoption in Pittsburgh Pennsylvania, please fill out our online meeting request here. Once received and reviewed, our staff will ask the pets owner to reach out to you and arrange a meeting to determine for certain if Renny is a good fit for you – and you are a good fit for this pet.
Questions About Renny?? Text "Renny in Pittsburgh" to (213) 297-7446 or email [email protected]
Renny – Lhasa Apso mix Dog For Adoption in Pittsburgh Pennsylvania
Renny is a white with large gray spots Lhasa Apso mix Dog for adoption in Pittsburgh Pennsylvania,  close to Dormont, Dormont, Brentwood, Wilkinsburg, Munhall, Swissvale, Mount Lebanon, Baldwin, , ONeville Township, Bethel Park, West Mifflin, North Versailles, Franklin Park, Plum, Lower Burrell, New Kensington, Uptown, Downtown, Soho, Hill Distrct, South Side Flats, North Shore, Mount Washington, Allegheny Center, Strip District, East Allegheny, Allegheny, North Side, Duquesne Heights, Beltzhoover, Arlington, Southside Slopes, Polish Hill, . Adopt this sweet white with large gray spots Lhasa Apso mix Dog today.