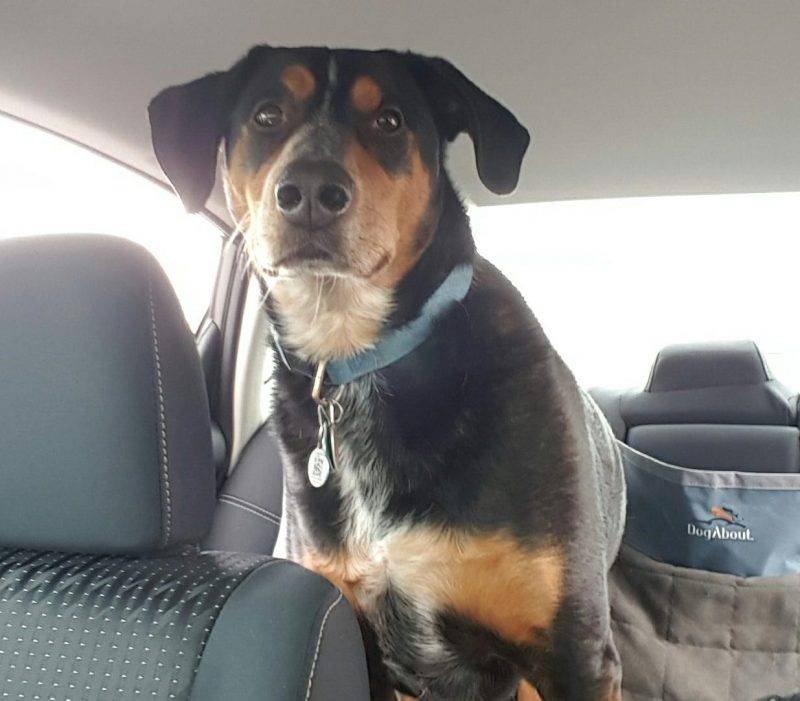 Cleveland OH – Rottweiler Labrador Retriever Mix For Adoption With Supplies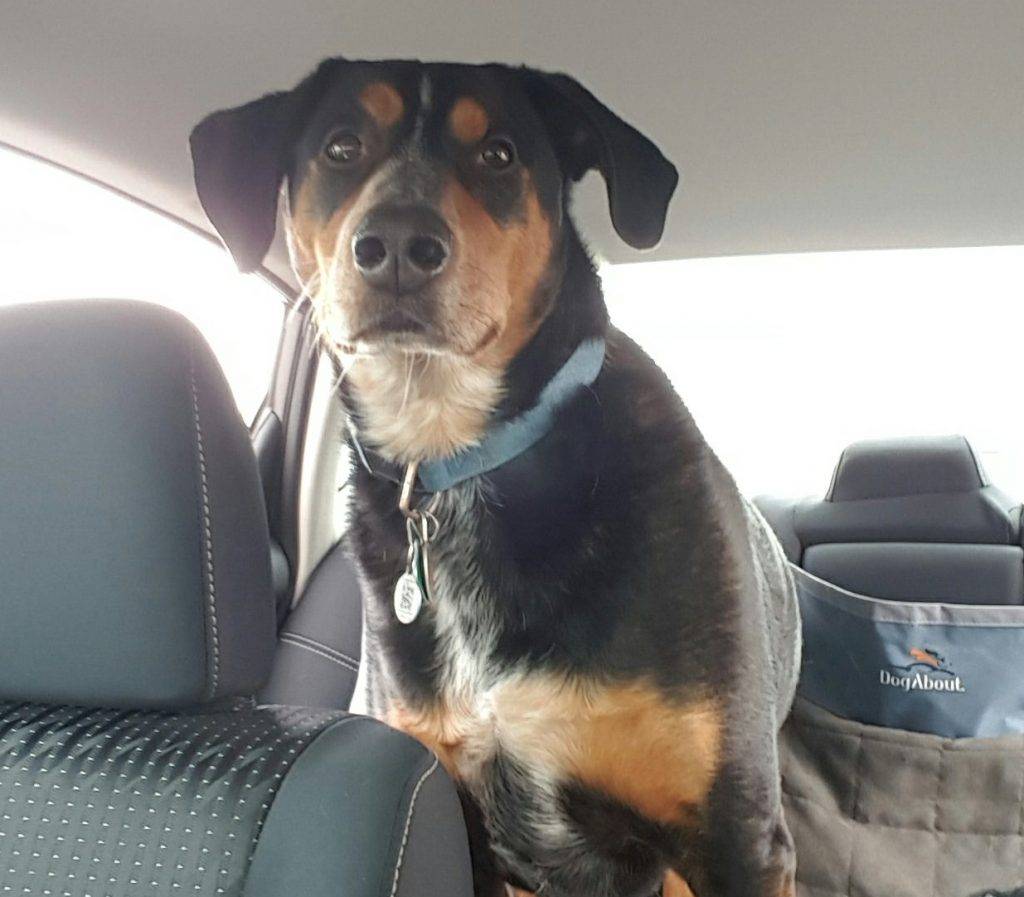 Meet Bane – Handsome 5 YO Rottweiler Labrador Retriever Mix For Adoption in Wellington Ohio Near Cleveland
Bane is, quite literally, an 80 pound bundle of love. Some people might find this level of adoration a bit too intense, but for others, basking in the glow of such sheer devotion is pure bliss.
Bane is very handsome. He has Rottweiler markings in black and tan with some Black Lab softness added to the mix. He is 5 years old, very healthy, fixed, microchipped and house broken.
Bane is very smart and so incredibly affectionate. He is content to be with you – whatever you are doing. If you are outdoors, he is outdoors – either soaking up the sun or catching snowflakes on his tongue. If you are sleeping, he is snuggled up beside you. If you are doing laundry, he is providing much-needed affirmation that you are doing a great job, and if you are feeling sad, he is there to let you know he cares.
The only problem with this scenario is that Bane simply hates to be left alone. He has separation anxiety, and becomes very anxious if left alone. This has become a problem in his current home, because his owners must work, and also have a busy family life that takes them away from the home quite a bit.
They have tried medication (Prozac), Thunder Shirts, and many other things to try and help Bane's fear of being alone, but to no avail. His veterinarian has suggested that Bane needs to be in a home with folks who are at home most of the time. He would be an ideal companion for a retired or stay at home family (home school, work from home, farmers, etc.). He would also be an excellent candidate for becoming an emotional support dog. He is so attentive and loving!
Bane loves to go in the car and is great meeting new people and other pets. He is sweet and gentle with children. He would also make an exceptional visiting dog to take to visit seniors homes and other long term care facilities.
Bane is such a good boy with so much love to offer.  He has a very special personality and forms a deep bond with his favorite humans (and he has never met a human he didn't adore!). Please offer this sweet, sweet boy his forever home today.
Questions About Bane? Text "Interested in Bane" to (213) 297-7446 or email [email protected]
[button link="https://pet-net.net/adopt-a-pet/" size="large" variation="hotpink" align="center"]Request to Meet Bane Here![/button]
There is a $75 adoption/rehoming fee. Supplies and vet records will be included.
---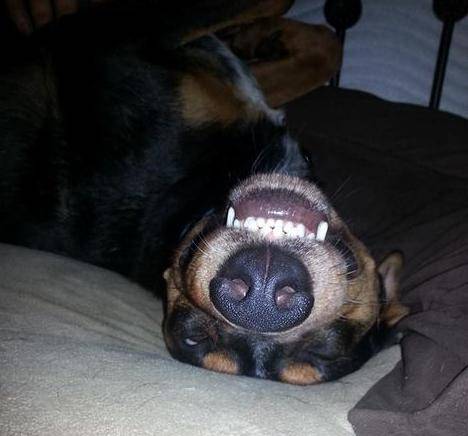 All About Bane – Rottweiler Lab Mix Dog For Adoption Near Cleveland OH
Location: Wellington, Ohio, 44090
Type of Pet: Dog
Breed: Rottweiler/Lab
Age: 5
Color/Coat Type: Brown/black short hair
Size: 75-80 lbs
Health Issues: No
Behavior Issues: Separation anxiety – needs a home with retired or stay-at-home owners.
Bane is:
Neutered, Microchipped, Fully vaccinated, House Broken
Bane gets along with:
Babies, Toddlers, Small Children, Older Children, Dogs, Adults, Strangers
Personality
Loving. He loves to be around people and kids and other dogs. He loves to be outside soaking up the sun while you are doing yard work. He loves to snuggle with you while you are sleeping. He also loves car rides, so much that you just have to jingle his collar and he gets excited. He is just an overall goofy, loving dog. A great dog, except for the fact that he can't be left alone.
Food and Diet
Bane is currently on Other
He eats simply nourish from pet smart. He used to eat 1 cup twice a day, but the Prozac that he is on has made it so he only eats when we are home, so once a day.
Reason For Rehoming
His anxiety has reached a point where we can no longer care for him. We have tried Prozac and calming remedies and nothing seems to help. He needs a family that can give him the attention and companionship to help his anxiety.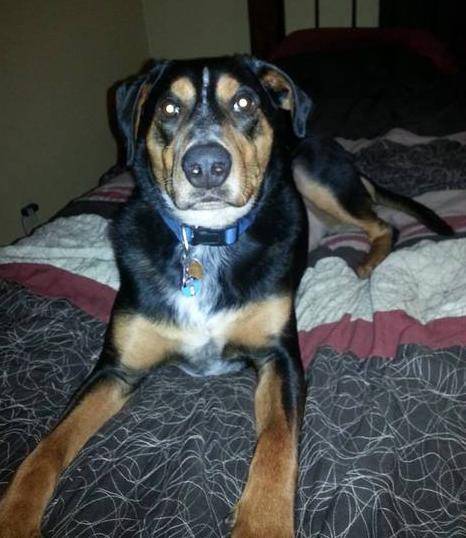 How to Adopt Bane, Black Lab Rottweiler Mix Dog in Wellington OH, Near Cleveland
If you would like to consider offering Bane a loving, forever home, please fill out our Request To Meet A Pet form here:
https://pet-net.net/adopt-a-pet/
Once received, we will contact you to discuss your request and set up a mutually convenient time to meet Bane and his owner in their home.
Questions About Bane? Text "Interested in Bane" to (213) 297-7446 or email [email protected]
Bane is a 5 year old healthy male Rottweiler Labrador Retriever mix dog Labweiler Labrottie for adoption in Wellington OH near Elyria Amherst North Ridgeville Medina Vermilion Lorain Brunswick Norwalk Ashland Avon Strongsville Sheffield Lake North Olmsted Berea Middleburg Heights Pheasant Run Village Huntington Pittsfield Brighton Penfield Rochester Spencer Lagrange White Fox Semples Nickelplate River Corners Kipton Shiperd Circle Robin Park Oberlin Risley  and within a reasonable drive of  Cleveland Akron Toledo and Columbus, OH
Windsor ON and Detroit, MI.
Adopt this healthy and very affectionate Rottweiler Labrador Retriever mix Today!