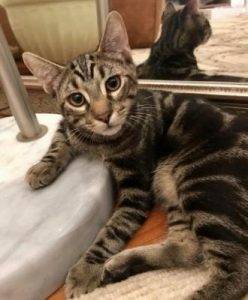 Meet Kenzo – Domestic Tabby Kitten For Adoption in Coral Gables, Florida Near Miami
[button link="https://pet-net.net/adopt-a-pet/" size="large" variation="hotpink" align="center"]Request to Meet Kenzo Here![/button]
There is a $25 adoption/rehoming fee. Supplies  will be included.
---
Location: Coral Gables, Florida, 33134
Type of Pet: Kitten
Breed: Domestic Tabby
Age: 5 months
Color/Coat Type: he has Bengal-like stripes
Size: 8 pounds
Health Issues: no
Behavior Issues: no
Good with: Cats, cat friendly dogs, respectful children
Personality
Kenzo is very sweet & loving to me and my adult male cat (he even suckles on him!). With strangers, he is very shy & nervous at first but then warms up. He LOVES to eat and gets hysterical while waiting for me to prepare his meal & cries & tries to climb up my leg even though he has NEVER not had enough to eat. He also "digs" into his water bowl & splashes around.
Food and Diet
Kenzo is currently on Other
I have been feeding him Evolve crunchy mixed with wet food in the morning, then refill crunchy in the evening
Reason For Rehoming
I lost my job in May and am still unemployed. I have been unable to take him to the vet to get examined, get his shots, or get neutered and cannot afford to continuously clean my furniture & apartment. I am in a desperate situation but will not give him up to a shelter. i want to find him a loving home.
How to Adopt Kenzo
If you would like to consider offering Kenzo a loving, forever home, please fill out our Request To Meet A Pet form here:
https://pet-net.net/adopt-a-pet/
Once received, we will contact you to discuss your request and set up a mutually convenient time to meet Kenzo and his owner in their home.
Kenzo is a Domestic Tabby Kitten For Adoption in Coral Gables, Florida, near South Miami, Coral Terrace, Glenvar Heights, Kendall, Westchester, Pinecrest, Sunset, Olympia Heights, Miami, University Park, Key Biscayne, Miami Springs, Sweetwater, Cutler, Gladeview, Coconut Grove, Sunrise Harbor, South Miami, Gables Estates, South Bay Estates, Ocean View Heights, Ludlam, The Pines, Silver Bluff Estates, Coral Terrace, Gables Trailer Park, Trail Trailer Park, Silver Court Trailer Park, Sunnyside Trailer Park, Alsips Court Mobile Home Park, West Haven Trailer Park and Bay Heights, Florida.
Adopt this adorable Tabby kitten today.