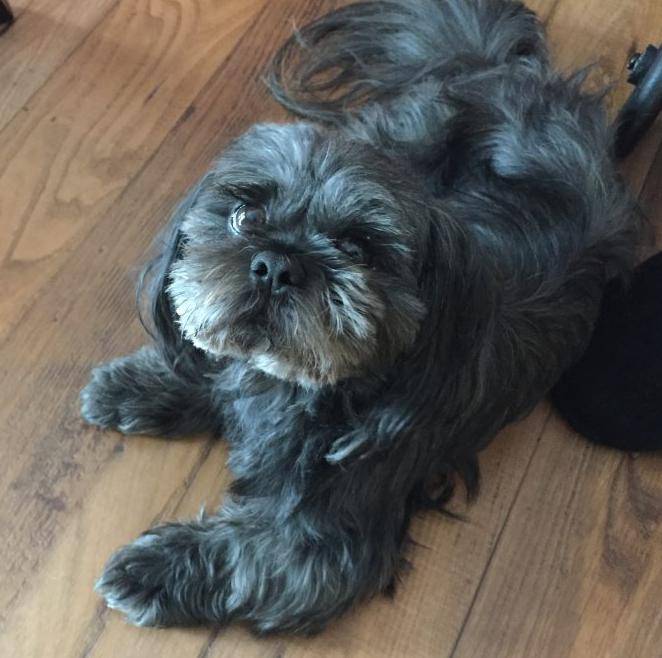 ADOPTED! – Male Shih Tzu Dog in Atlanta Georgia – Noah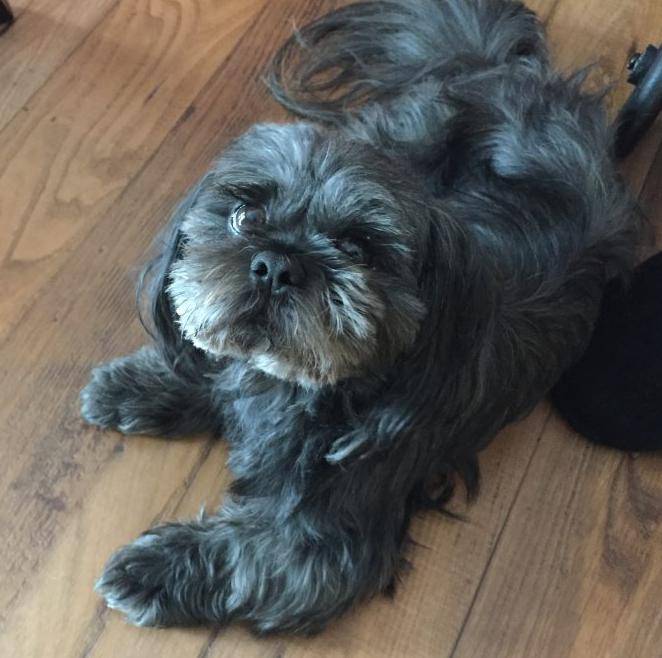 Noah the Shih Tzu Dog in Atlanta Georgia Has been Adopted!
Noah is a Brindle Male Shih Tzu Dog for adoption to a very loving home in or near Atlanta Georgia. This very special Dog is 4 years old and weighs 12 pounds.
Noah is the sweetest little thing. He is so loving and affectionate – a real lap dog.
Noah is looking for an owner who will cherish him. He would love to be the only pet in a home with an owner with all the time in the world for him.
Noah is the ultimate lap dog. He's had a difficult time recently after being rehomed to an owner who used negative reinforcement with his potty training. As a result, he will need an owner who will patiently and positively help him relearn his once-impeccable potty habits.
Ideally, Noah would be best suited to an owner who lives in a house with a back yard for him to play in, preferably fenced.
Noah is looking for his forever owner who will love him unconditionally and use gentle, positive training methods.
---
Noah has found a good home through the efforts of our Atlanta dog rehoming team. If you need to find a good home for your Shih Tzu or other breed of dog or puppy, please get in touch with us.
---
All About Noah – Shih Tzu Dog For Adoption in Atlanta Georgia
Name of Pet: Noah
Location: Atlanta, Georgia, 30339
Type of Pet: Dog
Breed of Pet: Shih Tzu
Sex of Pet: Male
Age of Pet: 4 years
Spayed/Neutered?: No
Health Problems: No
Behavior Issues: Yes Afraid of thunder.
Up To Date on Vaccinations: Yes
Gets along with cats: Unknown
Gets along with dogs: Yes
Good with Children?: Yes
House Broken or Litter Trained?: Yes
Crate Trained?: Yes
Accessories Included: A sky blue crate
Noah's Personality
Affectionate
Intelligent
Super adorable
Peaceful
Noah's Current Home Environment
We live in an apartment with no backyard.
Noah's Current Family:
I live with my mother and younger sister.
Noah's Favorite Toys, Foods, Activities?
He love to go for walks.
Why is Noah Being Rehomed?
He needs to be in an environment that will offer more attention than we can.
Noah's Perfect Adoptive Home Will Be:
We want him to be in a home where he will get all of the attention he deserves. Somewhere with room for him to run around.
How To Adopt Noah
 Noah has been adopted. Thank you for your interest.
Noah – Shih Tzu Dog For Adoption in Atlanta Georgia
Noah is a Brindle Shih Tzu Dog for adoption in Atlanta Georgia, near  Druid Hills,  Gresham Park,  North Decatur,  Decatur,  East Point,  North Druid Hills,  Belvedere Park,  Panthersville,  College Park,  North Atlanta,  Forest Park,  Chamblee,  Smyrna,  Doraville,  Sandy Springs,  Capitol Homes,  Slabtown,  Five Points,  Shermantown,  Snake Nation,  Summerhill,  Mechanicsville,  Cabbage Town,  Peoplestown,  Vine City,  Inman Park,  Joel Chandler Harris Homes,  Copen Hill,  Ormewood,  Bellwood,  West End and Roseland, GA.