Hi, My name is Indie!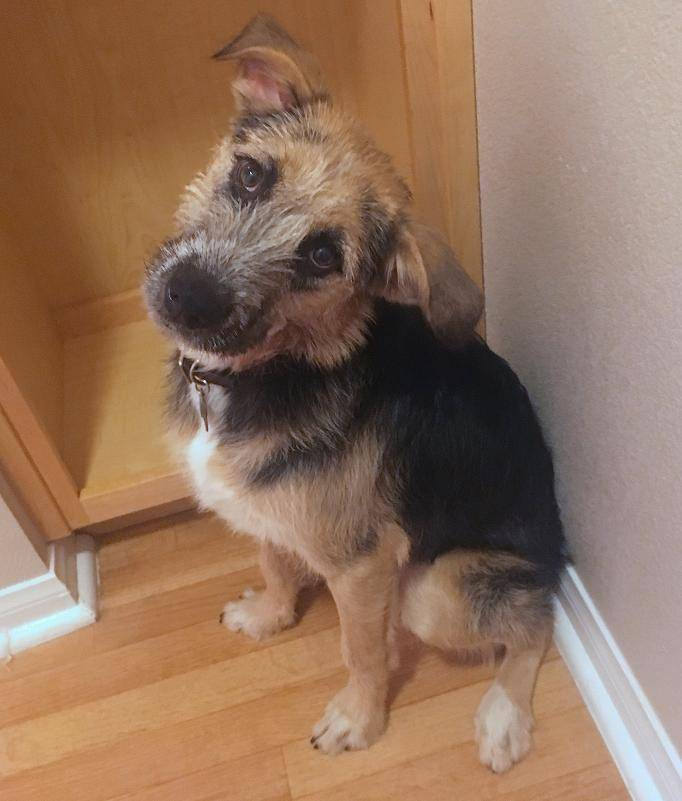 [button link="#adopt" size="large" variation="hotpink" align="center"]Request to Meet Indie Here![/button]
There is a $50 adoption/rehoming fee. All supplies will be included.
Ummm…. how cute am I? I look like a combination between Benji and a German Shepherd! I am a super sweet little guy. I am just a year old and weigh just 30 pounds. I have a thick black and tan coat with white markings.
I am located in Sacramento, but will move to a good home anywhere within a reasonable distance.
My owner loves me so much! She says I am really sweet and the perfect size – not too big, and not too small. I am loyal and devoted. It is so cute when I wiggle my bottom in excitement when I see you – even if you have only been gone a few minutes!
I love my toys and take really good care of them. I have stuffed animals that are my most cherished posessions.
My owner loves me so much and had the best of intentions when she adopted me. She is just out of university, and trying to get a career started while digging her way out of student loan debt. We are living in a small apartment, and she is finding it very difficult to give me the time, attention and exercise I very much need and deserve.
She is also struggling to be able to afford to feed and care for me. She is dearly hoping to find a wonderful new home for me where I will be cherished. I am such a loving dog – I would make a wonderful companion for seniors or retired people who have a house with a securely fenced yard for me to play in.
I have no experience with other pets or children, but I should be fine with dog-friendly cats and dogs, and kids old enough to treat dogs with kindness and respect.
If you have been looking for the cutest and sweetest dog ever, please offer me a loving home today. I can't wait to wiggle my way into your heart!
---
All About Indie
[one_half]
Name of Pet: Indie
Location: Sacramento, Ca, 95833
Type of Pet: Dog
Breed of Pet: Terrier mix
Sex of Pet: Male[/one_half]
[one_half_last]
Age of Pet: 1yr
Spayed/Neutered?: Yes
Health Problems: No
Up To Date on Vaccinations: Unknown
Gets along with cats: Unknown
Gets along with dogs: Unknown
Good with Children?: Unknown
House Broken or Litter Trained?: Yes
Crate Trained?: Yes
Accessories Included: A leash and his small crate that he is somewhat attached to.
[/one_half_last]
Indie's Personality
1) how sweet he is
2) he's the perfect middle between a small and big dog
3) he takes care of his stuffed animals
4) he's extremely loyal to his owner
5) he wiggles his bottom when he's excited to see you
Indie's Current Home Environment
Apartment
Indie's Current Family:
I'm a single female straight out of college living by myself in Sacramento trying to get my career started. My direct relatives are in Texas and the rest are spread across the country
Indie's Favorite Toys, Foods, Activities?
He likes IAMS but honestly isn't picky at all when it comes to food and treats. He likes when you play fetch with him. Every toy I got him he loved and he doesn't typically tear them apart like other dogs
Cute Indie Story:
Right after I rescued him, he was already tall enough to jump on the couch. He would take a running start and to bring me a toy hop so half of his body was on then climb with his back legs the rest of the way. It was adorable so you may need to help him out at times considering he's not the best jumper.
Why is Indie Being Rehomed?
Student loans, debt. Can't afford a dog anymore 🙁
Indie's Perfect Adoptive Home Will Be:
I want to find a very loving home for my pet that treats him as well as I know he deserves.
Request to Meet Indie Here