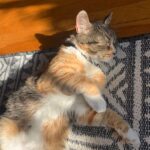 Adopt a Calico Cat Near Oakland CA – Supplies Included – Meet Adorable Tiny Baby the Talico Cat
From her gorgeous multi-colored Orange and Brown Tabby / Calico coat to her tiny little body, Baby is an irresistible little girl looking for a very special home within a reasonable distance of Kensington, CA.
Baby is a little bit older at age 10, but is in good health and has many years of love and joy left to offer her new owners. She weighs just 7 pounds, a sensitive, cuddly little doll.
...