Siberian Husky Border Collie Mix (Border Husky) Dog For Adoption in Bragg Creek AB – Adopt Handsome Duke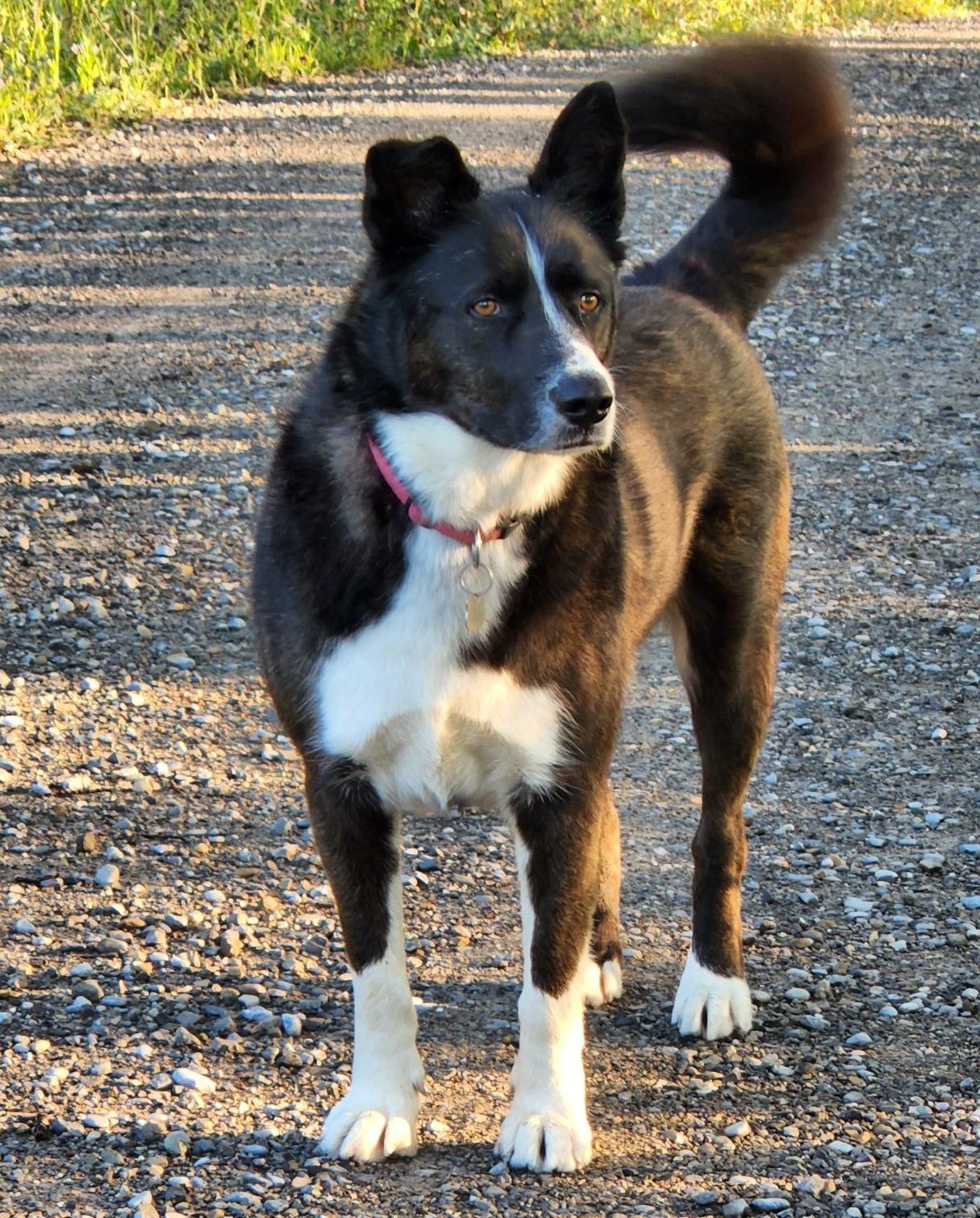 Looking for a Siberian Husky Border Collie Mix dog for adoption in Bragg Creek, Alberta? Introducing Duke the LOVE dog –  a dog so friendly and easy to get along with that he literally "becomes" his doggie friends so that he will be liked, and his buddies will want to play with him.
This sometimes goofy and always warm and loving 6 year old, 80 pound dog gives the best hugs!. He would love to be your family's best friend!
Read on to learn how you can offer Duke his forever home today!
Meet Duke | About Duke | Personality | Why Rehoming? | Location | Adopter Requirements | How to Adopt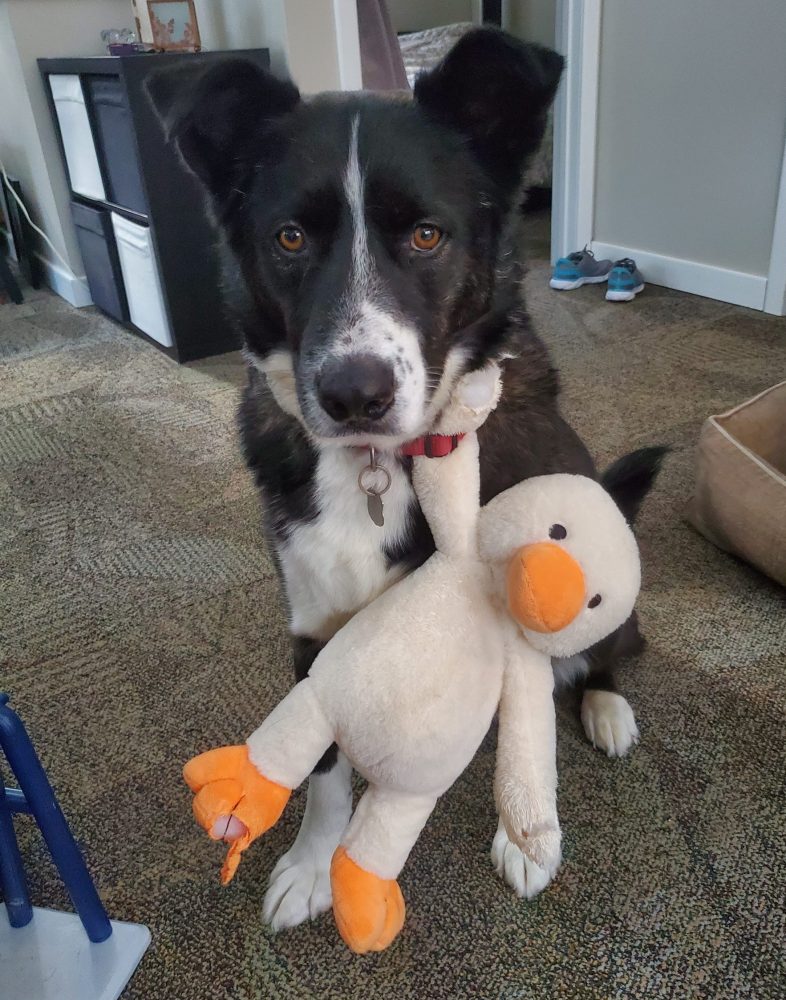 ---
Meet Duke – Pre-Loved Siberian Husky Border Collie Mix dog For Adoption by Owner in Bragg Creek Alberta
Duke is a Male Siberian Husky Border Collie Mix dog for adoption to a very loving home in or near Bragg Creek, Alberta. This very special dog is about 6 years old and weighs 80 lbs.
5 Amazing Things About Duke:
Duke is a leaner, a dogs hug.
He is quite and patient when I am working and will sleep in until I get up, every time.
He gets silly when we are alone and play Peek-a-boo.
He loves his dog friends, and is even a mediator when they don't get along.
Duke is definitely a Beta and will let any Alpha have their way, but he also does not back down when they are forceful.
He picks up the personality trait of his doggy friends and is gentle with the shy ones and roughhouses with his big friends.
Duke's owners are very sad to have to rehome their cherished dog, but circumstances beyond their control have made rehoming a must-do.
Duke's owners are hoping to find the right home for their cherished dog, where this deserving dog will be loved unconditionally and kept safe, happy, healthy and well-cared-for.
If you have room in your heart and home for this deserving Siberian Husky Border Collie Mix dog, then please offer Duke a loving, forever home today. Duke can't wait to show you the true meaning of unconditional love.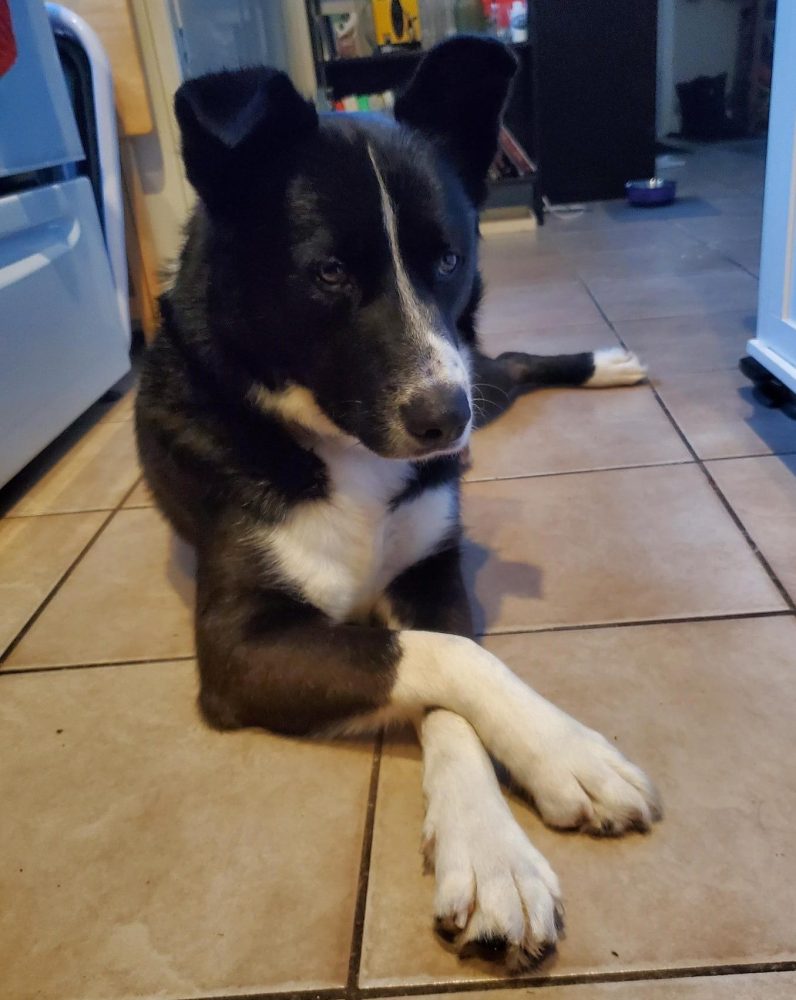 ---
How To Adopt Duke
Please fill out our online meeting request form via the button below. Once your application is received and reviewed, our staff will ask the pets owner to reach out to you and arrange a meeting.
There is a $150 adoption/rehoming fee. Supplies and veterinary records will be included.
Questions about Duke? Contact our Calgary dog rehoming team today.
Text "DukeBRAGGCREEK" to (888) 833-2128.  
OR
Email [email protected]
We look forward to hearing from you!
---
Name of Pet: Duke
Location: Bragg Creek, Alberta, T0L 0K0
Type of Pet: dog 
Breed of Pet: Siberian Husky Border Collie Mix (Border Husky)
Sex of Pet: Male
Age of Pet: about 6
Spayed/Neutered?: Yes
Health Problems: Not a problem but the vet is monitoring his kidneys after last bloodwork completed. He is encouraged to drink lots of water (I add to his food) and vet wants him to have yearly bloodwork to keep and eye on this potential issue.
Behavior Issues: No
Up To Date on Vaccinations: Yes
Gets along with cats: Yes
Gets along with dogs: Yes
Good with Children?: Yes
House Broken or Litter Trained?: Yes
Crate Trained?: No
Accessories Included: Duke has it all. Two beds (day and night), toys and a toy box, leashes, harness and a walking/hiking pack for you to hold his gear. He also has a pulling harness (he was not so thrilled with chores when I tried to get him to haul wood). He also has a vibrating/shock collar we used when we were training off leash. He may need that while he settles in.
Duke's Personality
Duke is a gentle soul. He was a rescue from the streets of Texas two years ago. I was only going to foster him but fell in love right away.
He loves pets and will take them from anyone. He likes to be around people so a home with a family would be great.
Duke's Favorite Toys, Foods, Activities?
Duke's go to toys are all soft, squeeky ones. He loves you to thrown them, and most times be brings them back for more. He loves to hike with me and just be around when I am outside working on the property. He often gets the zoomies while playing and needs a good size yard to complete his circuit.
He loves all food, bar none, but gets super excited at the word Supper and when he gets his soup bone.
Cute Duke Story:
I was looking after my Neighbor's smaller dog for the day, one Duke knows very well and we spend a lot of time with them. Another friend and her medium sized alpha dog came to walk with us, one of Duke's good buddies. We walk off leash often on crown land behind our property on a well-marked trail. We were on this trail and my friends' dogs was constantly pushing and charging at the smaller dog and we had to keep correcting her. About 20 mins into the walk she was about to charge at the smaller dog again and Duke just stepped in between them and kept at the side of the smaller dog. The alpha dog finally lost interest and went on her way on the trail.
Why is Duke Being Rehomed?
I have taken a new position at work and need to relocate to Calgary. The apartments I had available close to my work do not take dogs of Duke's size. I also want a good life for Duke and want him to enjoy the open space of an acreage if possible.
Duke's Perfect Adoptive Home Will Be:
I think Duke would thrive in any home that he could get the love and affection he craves. I would love to see him on an acreage with a family with kids who would be willing to play with him a lot. He lives inside but stays off the furniture. He has no issue with livestock and will alert to anyone coming on to the property that he does not know. Currently it is just Duke and I, so I know he is okay with that setting too.
In reality I would be happy to see Duke in a loving home where there is always someone around. Even if it was in an urban area as long as he would get lots of walking and playtime. He walks well on a leash and has never had an issue at a dog park.
Duke is a loving and handsome dog. Once he trusts you, he will tolerate anything from you. I bath him and clip his nails without issue. He loves a good brushing and of course, belly rubs.
---
Duke – Siberian Husky Border Collie Mix Border Husky dog For Rehoming in Bragg Creek Alberta
Duke is a Siberian Husky Border Collie Mix dog for private adoption by owner in Bragg Creek Alberta. Duke is located close to the following towns and cities in Alberta, and can be adopted from anywhere within a reasonable distance.
Airdrie AB,
Calgary AB,
Cochrane AB,
Crossfield AB,
Okotoks AB,
Irricana AB,
Black Diamond AB,
Strathmore AB,
Carstairs AB,
High River AB,
Didsbury AB,
Olds AB,
Nanton AB,
Sundre AB,
Three Hills AB,
Vulcan AB,
Adopt this deserving Siberian Husky Border Collie Mix Border Husky dog in Bragg Creek Alberta today.