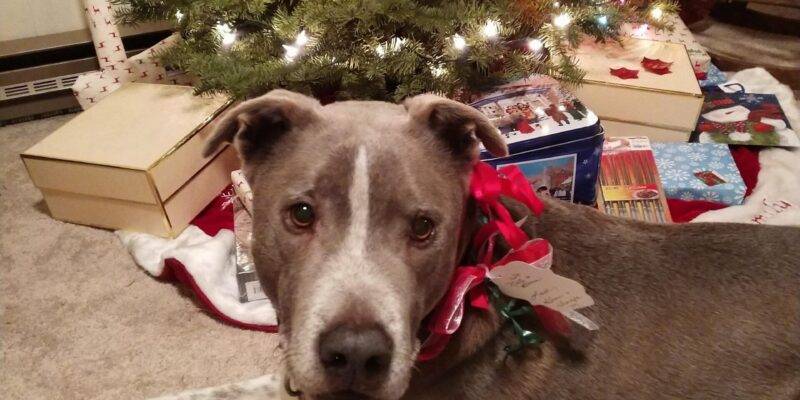 Handsome Staffordshire Terrier Mix For Adoption in Fort Worth TX – Supplies Included – Adopt Ace
American Staffordshire Terrier Mix for Adoption in Fort Worth, TX
Looking for a American Staffordshire Terrier Mix to adopt in Fort Worth, TX? Just about 10 years old and weighing 60 lbs, Ace has been fixed, housebroken, microchipped, and leash trained, and is good with babies and children, dog-friendly cats, and small animals.
Ace has demonstrated some anxiety since losing his feline friend and his move to Texas. For this reason, he will require a home where his people will be home most of the time. This handsome boy is affectionate and knows basic commands. He is especially enthusiastic about treats and will happily show off his obedience skills when snacks are available. Ace loves playing outdoors – take him for a swim or play ball with him and you will be his best friend. Ace is excited to meet his furever family – will you take him home?
Ace's owners are very sad to have to rehome their cherished dog. They are hoping to find a new home for Ace where this special dog will be cherished and kept safe, happy, and healthy for life.
If you have room in your heart and home for Ace, please complete our online meeting request form. Once received, our Fort Worth Dog Rehoming team will make arrangements for you to meet Ace and his owners. Adopt Ace today!
There is a $150.00 adoption processing fee. Supplies, accessories, and veterinary records will be included.
How To Adopt Ace
If you are interested in adopting this special American Staffordshire Terrier Mix in Fort Worth TX, please fill out our online meeting request below. Once received and reviewed, our staff will ask the pets owner to reach out to you and arrange a meeting.
Questions about adopting Ace?
Text AceFortWorth to (888) 833-2128. We look forward to hearing from you!
---
All About Ace – American Staffordshire Terrier Mix For Adoption in Fort Worth TX
♥ Name of Pet: Ace
♥ Location: Fort Worth, TX, 76132
♥ Type of Pet: Dog
♥ Breed of Pet: American Staffordshire Terrier Mix
♥ Color / Coat Type: Grey/white speckles
♥ Age of Pet: ~10
♥ Size of Pet: 60 lbs
♥ Health Problems: No
♥ Behavior Issues: Anxiety, he hates being left alone, especially since our move to TX when his cat buddy ran away. He has started to cry when left alone on days we've been unable to take him on his long walks, or wander his former large yard. He has never been good with other dogs for us but loves cats (a little too much they think!) and herded our chickens. Knows basic commands, but gets distracted.
♥ Gets along with: Babies and children, dog-friendly cats, small animals
♥ Pet is: Fixed, Housebroken, Microchipped, Leash Trained
♥ Food: Other – Current brand is Wholsomes.
Ace – American Staffordshire Terrier Mix Dog For Adoption in Fort Worth TX
---
Ace's Personality
Can be stubborn without treats on the line. Wants to snuggle your feet and chill on the couch, but is trained to stay down. Has always had anxious tendencies since we got him at about four year old. Loves to play outside, specifically pulling things and chasing laser pointers. Balls are cool but he'll make you chase him for a year to get it. If you take him swimming you'll have a hard time getting him to stop swimming in loops around your area, and chasing ocean waves are a favorite.
Why is Ace Being Rehomed?
We are unable to adequately tend to his energy needs or soothe his anxiety with one toddler and a baby due soon. We also anticipate another move soon.
Nearby Locations
Ace is located in Fort Worth, TX, close to the following towns and cities:
Haltom City TX,
Richland Hills TX,
White Settlement TX,
Saginaw TX,
Forest Hill TX,
North Richland Hills TX,
Watauga TX,
Benbrook TX,
Hurst TX,
Crowley TX,
Bedford TX,
Arlington TX,
Colleyville TX,
Keller TX,
Burleson TX,
Dallas TX,
Plano TX,
Garland TX.
Thank you for your interest in this deserving American Staffordshire Terrier Mix for Adoption in TX.