Sweet Special Needs Grey Tabby Cat For Adoption in Saanichton BC – Vet Records Included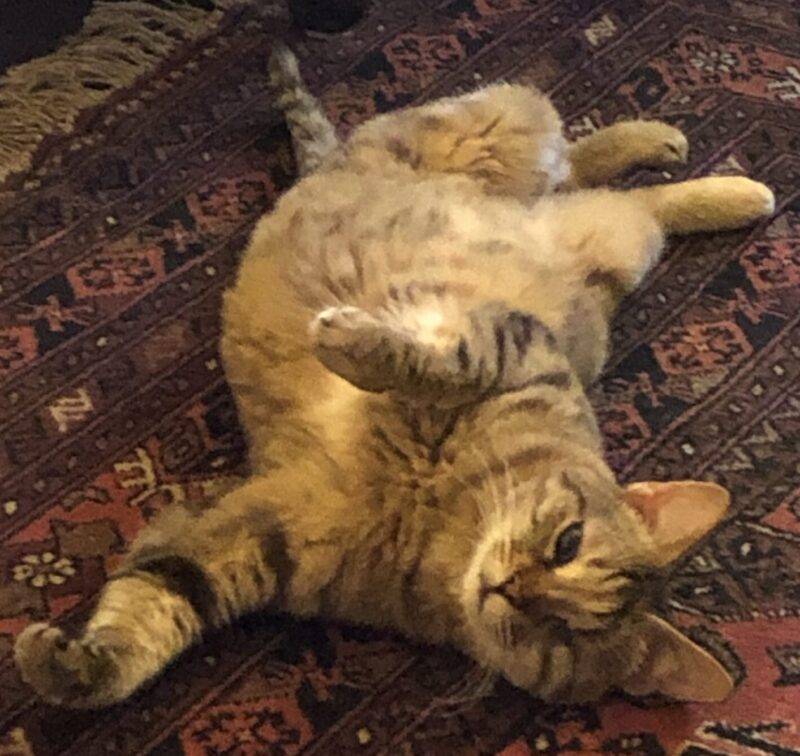 Meet Mia Jackson, Domestic Shorthair Tabby Cat For Adoption in Saanichton BC
Mia is a sweet grey tabby cat for adoption in Saanichton on Vancouver Island. A senior at age 12, Mia is fixed, fully vaccinated, micro-chipped and litter box trained.  She is a well-behaved cat looking for a home where she can be the only cat. She prefers to live in a home where there are no small children.
Mia's owners are dealing with a serious health issue that made it necessary to move in order to be close to the hospital where the family member is undergoing surgery and ongoing treatment. Mia was placed in a small cattery with the expectation that it would be temporary.
Unfortunately, they are not able to take her back, and are dearly hoping to find her a loving home where she will be cherished and kept safe, happy and healthy for the rest of her life. If you have room in your heart and home for this very special tabby cat, please reach out. We look forward to introducing you to her owners.
Request to Adopt Mia Jackson Here
There is a $25 adoption/rehoming fee. Supplies and veterinary records will be included.
Questions about Mia? Contact our BC Cat rehoming team today.
Text "Mia" to (888) 833-2128 or email Mia@Cat-lover.us. We look forward to hearing from you.
---
All About Mia – Domestic Shorthair Grey Tabby Cat For Adoption in Saanichton BC
♥ Name of Pet: Mia
♥ Location: Saanichton, BC, V8M 1S2
♥ Type of Pet: Cat
♥ Breed of Pet: Grey Tabby
♥ Color / Coat Type: Tabby brown black white stripes
♥ Age of Pet: 11 years
♥ Size of Pet: 7 lbs approx
♥ Health Problems: Yes but is well and fit on her medication
Mia has cat asthma and had to have her damaged left eye removed in 2016 after diagnosis was that it was deteriorating and causing her pain and discomfort.
Since then she recovered very well and has been healthy and her asthma has continued to be fully controlled with prednisolone oral tabs every other day crushed in her food. She eats well and has lived with us as the only cat in our large house on Vancouver Island until mid September 2020.
When we moved out after selling our house, we decided to temporarily place Mia in a lovely Cattery on Bowen Island so she was safe and well looked after whilst we went through the move and worked out where our next permanent home was going to be.
♥ Behavior Issues: Not now
When she was initially with us as a rescued cat [aged approx 4 months old] from a place where she was badly treated as a kitten and tethered around the neck, she initially was very hyperactive and defensive.
When she had been with us for 1-2 years she was much more settled and relaxed and she got used to being an only cat, staying indoors all the time.
When we moved to BC, she initially went to Bowen Island Cats Pyjamas Cattery in September 2014 and she had a full medical check, chip and inoculations prior to her move. In January 2015 we collected her and took her to our new house and she lived with us there happily until September 2020, settling really well and getting used to also going outside during the warmer days.
Dawn Riley at Cats Pajamas has said she is very settled, sleeps a lot during the day and does not go outside in the pen very much. She has also had another cat in the adjoining pen who she can see and she purrs when Dawn goes to feed her, so she is doing really well.
♥ Gets along with: Adults Only, Cats
♥ Pet is: Spayed, Microchipped, Fully vaccinated, Litter Trained
♥ Food: Other
Weruva sachets half per meal twice daily, Hartz sachets one per meal twice daily. Snappy Toms half per meal twice daily.
Kibbles – most brands fish varieties
Mia Jackson's Personality
Mia is a very bright and inquisitive cat, she has bouts of liveliness and meows a lot when she has your attention to get strokes and will walk by the side of your leg touching as she goes. She makes great eye contact and since having her operation she has still thrived and does not seem to have had any problems with vision. I am biased of course but in my experience, she bonds really well with humans and tolerates other animals as long as they don't try to take over her territory.
Mia has always loved being warm and when she is relaxed she will stretch out and fall asleep on her back. The rest of the time when she is ready for a snooze she curls up in a ball on a cushion or blanket. I will miss her because she has always been vocal and responsive and she often curled up on our laps [myself mostly but also my husband Tony].
Mia is very clean and likes to groom herself; she also likes being brushed on her back and will stand and purr. She is not usually a fast eater and will go back to her food and kibbles when she is hungry rather than eat everything quickly at mealtimes.
We are able to arrange for Mia to be brought across from Bowen Island with her travel crate, food dishes, snuggle blankets, toys and cushions. There will also be some Prednisolone tablets for her medication supply depending on when she is brought across.
We would recommend that she would be great company for an older couple or older person living on their own who has had cats before and likes a feline around that can be a friend and pet.
Why is Mia Jackson Being Rehomed?
When we sold our property in September last year and due to my husband's illness we moved into a small suite whilst my husband went through major surgery in October.
Now we have had to extend our stay in the small rental suite we are in for three months and will not be able to move to a permanent residence until summertime.
As Mia has been in the Cattery now for 4 months, we have regrettably had to decide it is kinder to her to find a new forever home where she can be free to roam and enjoy life.
---
How To Adopt Mia
If you are interested in adopting this special grey tabby cat For Adoption in Saanichton BC, please fill out our online meeting request below. Once received and reviewed, our staff will ask the pets owner to reach out to you and arrange a meeting.
There is a $25 adoption/rehoming fee. Some supplies and veterinary records will be included.
Questions about Mia? Contact our cat rehoming team today. Text "Mia" to (888) 833-2128 or email Mia@Cat-lover.us. We look forward to hearing from you.