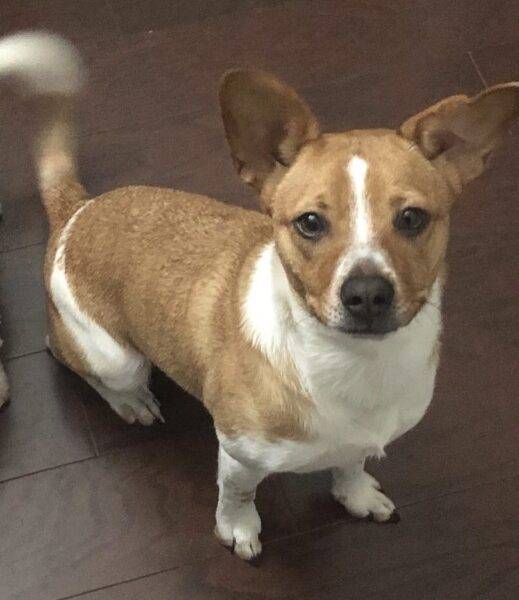 Welsh Corgi Beagle Mix Dog For Adoption in Houston TX – Adopt Nova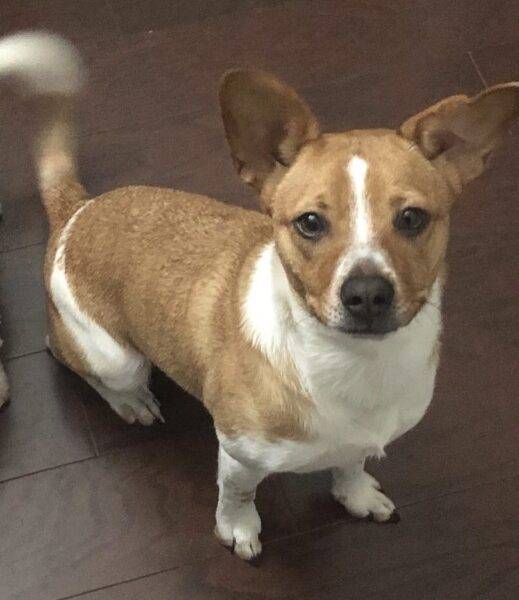 Meet Nova, Welsh Corgi Beagle Mix Dog For Adoption in Houston Texas
Nova is such a good girl! This Welsh Corgi Beagle mix dog is just three years old and weighs 30 pounds. A small dog for adoption, Nova has been fixed, is up to date on shots, very healthy, house trained and crate trained. She is good with babies, toddlers, small children, older children and dogs. Nova is wary of strangers and needs to be introduced properly.
Nova's owners love her very much, but believe that she would be less anxious in a home with a stronger routine. She would be a great fit for a family with older kids who have a large, securely fenced yard. Nova is a "fetch-a-holic" and is really good at convincing kids to put down their electronics and come outside and throw the ball for her.
She has had some problems when out on walks; she can be fearful of other people and dogs that she doesn't know, and will react by barking and her hair stands up on end. The owners have been working on this with a trainer, and it has gotten somewhat better.  It would be great if her new family will work on this issue with her.
If you have room in your heart and home for this amazing 30 pound Beagle Corgi mix dog, please offer her forever home today. She can't wait to meet you and steal your heart.
How To Adopt Nova
If you are interested in this special Beagle Welsh Corgi mix dog for adoption in Houston Texas, please fill out our online meeting request below. Once received and reviewed, our staff will ask the pets owner to reach out to you and arrange a meeting.
There is a $150 adoption/rehoming fee. Some supplies and veterinary records will be included.
Questions about Nova? Contact our Welsh Corgi Beagle mix dog rehoming team today.
Text "NovaHouston" to (888) 833-2128 or email [email protected]. We look forward to hearing from you.
---
All About Nova – Welsh Corgi Beagle mix dog For Adoption in Houston Texas
♥ Name of Pet: Nova
♥ Location: Houston, Texas, 77055
♥ Type of Pet: Dog
♥ Breed of Pet: Beagle Cardigan Welsh Corgi
♥ Color / Coat Type: Short hair – brown and white color. She does shed
♥ Age of Pet: 3
♥ Size of Pet: 30 lbs
♥ Health Problems: None known
♥ Behavior Issues: Yes
Our training program believes her to have fearful aggression. We are currently enrolled in training classes. She is scared of people and dogs right away and barks and hair sticks up. It has gotten better since training but we are still working on it.
♥ Gets along with: Babies, Toddlers, Small Children, Older Children, Dogs
♥ Pet is: Spayed, Microchipped, Fully vaccinated, Crate Trained, House Broken
♥ Food: Other
American Journey Beef and sweet potato – 1
Cup twice a day.
Nova's Personality
Nova is a rescue dog. She is so so sweet and loving and just wants to please. She wants attention and love. She is high energy and absolutely loves playing fetch with a tennis ball. She will not stop until we make her. She is really good with our 20 month old. He hugs and hangs on her.
Nova is fearful of new people and dogs. She has never bitten anyone but she initially reacts by barking and hair sticking up on her back. We have been in training since late January and it has gotten better but we are still having a hard time preventing the initial reaction. Honestly if we had more time to work with her on our own outside of training I think we would be much further along.
This has been the most difficult decision I have ever had to make. I love Nova so much and wish I could give her the environment she needs to thrive. I feel so much guilt that I have failed her but I think I have finally realized this is the best thing I can do for her.
She needs someone who can give her more attention and focus. Someone who can help build her confidence and find trust that she does not have to be so fearful. She is so sweet I want her to have the love and attention she deserves. I want to be as open and honest as possible so we can find her the best place for her.
Why is Nova Being Rehomed?
I hate that we have come to this point. I love Nova she is such a sweet loving dog. We have a 20 month old and another on the way and with her behavior issue we do not have the capacity to keep working with her the way she needs to correct.
She is highly trainable and high energy. We do not have the space she needs for her energy levels. She really just wants to please and needs guidance. I wish I could give her the time and attention she needs.
---
Nova – Welsh Corgi Beagle Mix Dog For Adoption in Houston Texas
Nova is a Welsh Corgi Beagle mix dog for rehoming in Houston, Texas. She is located near the following towns and cities in Texas:
West University Place TX,
Bellaire TX,
Jacinto City TX,
Galena Park TX,
South Houston TX,
Pasadena TX,
Aldine TX,
Cloverleaf TX,
Missouri City TX,
Pearland TX,
Stafford TX,
Deer Park TX,
Channelview TX,
Humble TX,
Mission Bend TX,
Adopt this Welsh Corgi Beagle mix dog in Houston Texas today.