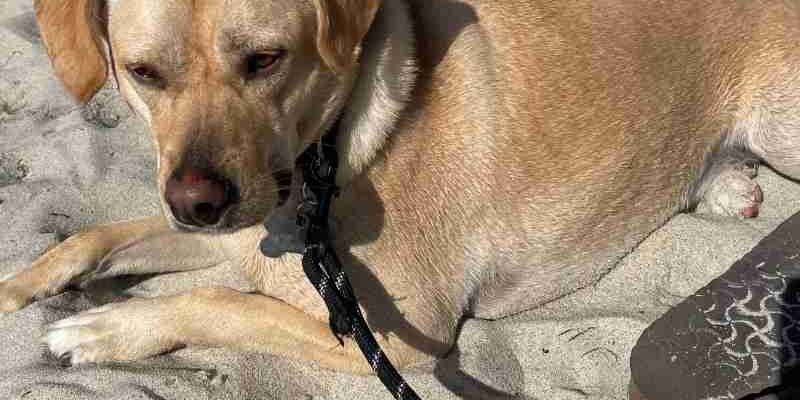 Obedience Trained Yellow Labrador Retriever Mix Dog For Adoption in San Diego CA – Supplies Included – Adopt Captain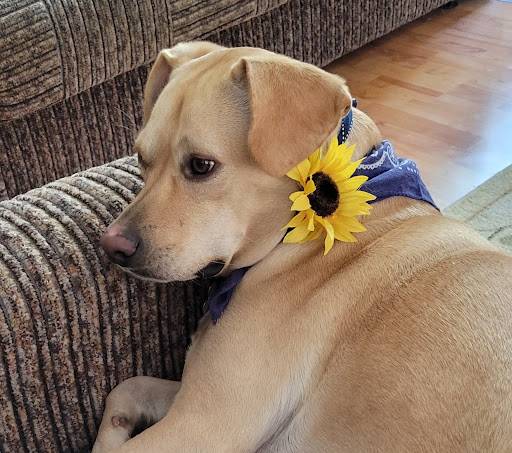 Yellow Labrador Retriever Mix Dog for Adoption in San Diego, CA
Looking for a Yellow Labrador Retriever mix Dog to adopt in San Diego, CA? Just 18 months old, Captain is a healthy, happy dog. He is a big boy weighing 65 pounds. He has been fixed, fully vaccinated, microchipped,  crate trained, housebroken,  as well as leash and obedience trained.
Captain has an amazing personality! He's the quintessential happy Lab, spreading sunshine everywhere he goes. Cap loves children, and is great with slightly older kids. Cap likes to meet new people and other dog-friendly dogs. He's a real social butterfly!
Cap likes to stay active, and really enjoys going for walks on the beach. active as he enjoys daily walks, as well as hiking and trips to the beach. Cap is a friendly boy who is always excited to meet new people and other dog-friendly dog, offering lots of kisses and cuddles. Though playful and energetic, he also enjoys lazing around in the sun and naps with his people. Cap has worked on his manners and obedience, and has proven he will work hard to earn yummy treats.
Cap's owners are very sad to have to rehome their cherished dog. They are hoping to find a new home for Cap where this special dog will be cherished and kept safe, happy, and healthy for life.
If you have room in your heart and home for Cap please complete our online meeting request form. Once received, our San Diego Dog Rehoming team will make arrangements for you to meet Cap and his owners. Adopt Cap today!
There is a $150.00 adoption processing fee. Supplies, accessories, and veterinary records will be included.

How To Adopt Cap
If you are interested in adopting this special Yellow Labrador Retriever mix in San Diego CA, please fill out our online meeting request below. Once received and reviewed, our staff will ask the pets owner to reach out to you and arrange a meeting.
Questions about Adopting Captain?
Text CaptainSANDIEGO to (888) 833-2128. We look forward to hearing from you!
---
All About Captain – Yellow Labrador Retriever mix Dog For Adoption in San Diego CA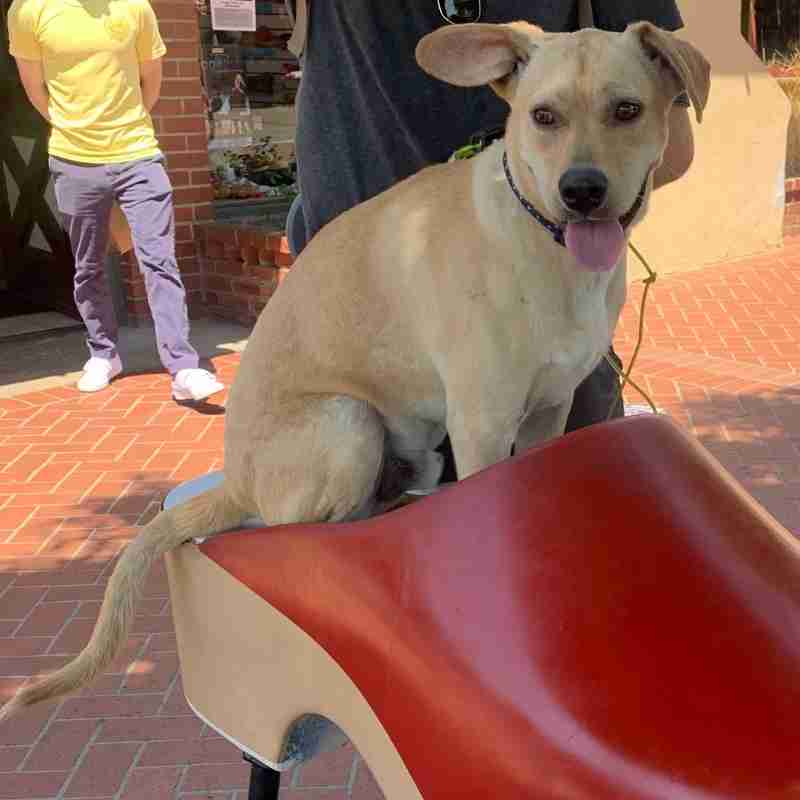 ♥ Name of Pet: Cap (Captain)
♥ Location: San Diego, CA, 92121
♥ Type of Pet: Dog
♥ Breed of Pet: Yellow Labrador Retriever mix
♥ Color / Coat Type: yellow short hair
♥ Age of Pet: 1 year, 6 months
♥ Size of Pet: 65 lbs
♥ Health Problems: None
♥ Behavior Issues: No
♥ Gets along with: Older children, new people, dog-friendly dogs
♥ Pet is: Fixed, Fully Vaccinated, Housebroken, Microchipped, Leash Trained, Obedience Trained, Crate-trained
♥ Food: He eats the Kirkland brand adult kibble formula, which is mixed with a probiotic powder to help with his digestive system. He needs three scoops of the powder on top of his food. The company is called Probiotic Miracle.
Cap – Yellow Labrador Retriever mix Dog For Adoption in San Diego CA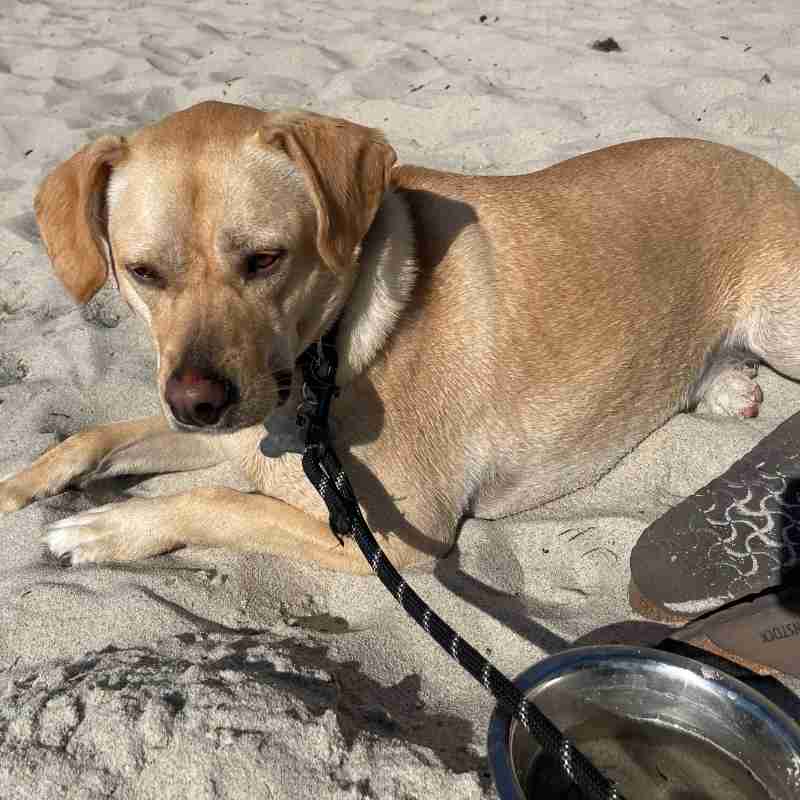 ---
Cap (Captain)'s Personality
I adopted Cap from Second-Chance Dog Rescue when he was seven months old. He is now weighing in at 65 lbs. I believe that this is the biggest he will get as he has not gained weight in quite some time now.
He is a very caring, loyal, kind, and playful dog. He gets along with people and other dogs quite well and gets excited by their presence. He does need some time to warm up to a new environment, but once he adjusts he likes to sunbathe, take long naps, and cuddle with his owners. He likes hikes and visits to the dog park as well! Also note he needs to be walked and fed twice a day (morning and night).
When I first got him, I trained him with Petco training and he has a basic foundation for commands and understanding when he does something wrong (when pointed out by the owner). He is very easily trained to learn new commands and is heavily food-driven, which is great for training any dog! Also, I was able to crate-train him with him being comfortable being put in the crate for long periods of time (2-3 hours). Also, he is trained to sleep in the crate as well! Lastly, Cap is unique in that he does not bark very often, if at all most days. He is more expressive of his emotions with his body language.
He cannot wait to find a new loving home!
Why is Cap (Captain) Being Rehomed?
I am currently a graduating senior from UC San Diego and will be entering the workforce after my graduation in June. As the current outlook is that I will be working 40 hours a week in person, I cannot humanely leave my dog alone for eight hours a day and five days a week. I think he deserves a better life than that and should get the attention that he deserves.

Nearby Locations
Cap is located in San Diego, CA, close to the following towns and cities:
La Mesa CA,
Lemon Grove CA,
Spring Valley CA,
El Cajon CA,
La Presa CA,
Rancho San Diego CA,
Santee CA,
Bostonia CA,
Bonita CA,
National City CA,
Lakeside CA,
Chula Vista CA,
Coronado CA,
Poway CA,
Imperial Beach CA.
Thank you for your interest in this deserving Yellow Labrador Retriever mix Dog for Adoption in CA.