Yorkshire Terrier (Yorkie) For Adoption in Flower Mound Texas – Supplies Included – Adopt Scooter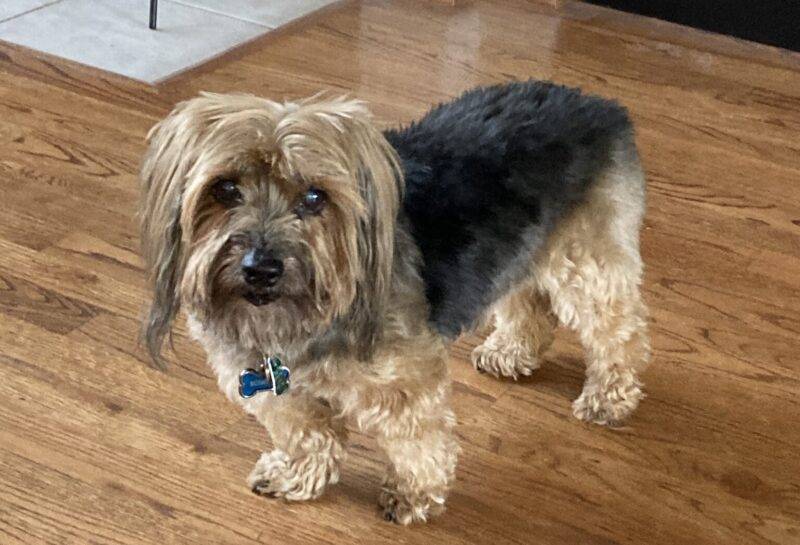 Meet Scooter, a Yorkshire Terrier Yorkie Dog for Adoption by Owner in Flower Mound TX.
Looking for a sweet little Yorkshire Terrier for adoption in Flower Mound  Texas and area? Just 10+ years old and weighing 12 lbs, Scooter is a lovely little Yorkshire Terrier Yorkie Dog that has been Neutered, Fully vaccinated, Crate Trained, Leash Trained and house trained. Scooter is good with other small dogs, respectful older children and adults.
Scooter's elderly owner  had to move to assisted living. Unfortunately, the center she was placed in does not allow pets, and her beloved Scooter came to live with the owners relatives. Because they work full time jobs, there is nobody to let Scooter in and out, and there have been some accidents as a result. They have come to realize that this little guy needs to have an owner that is home during the day to give him attention and allow him to go outside to potty and patrol the back yard.
Scooters' family are dearly hoping to find a wonderful new home for Scooter with owners who will cherish and keep Scooter safe, happy, and healthy for the rest of his life. At just 11, Scooter should have many years of love left to offer his new owners.
If you have room in your heart and home for Scooter, please complete our online meeting request form. Once received, our Flower Mound Dog Rehoming team will make arrangements for you to meet Scooter and his owners. Adopt Scooter today!
How To Adopt Scooter
If you are interested in this special Yorkshire Terrier Yorkie For Adoption in Flower Mound TX, please fill out our online meeting request below. Once received and reviewed, our staff will ask the pets owner to reach out to you and arrange a meeting.
There is a $150.00 adoption processing fee. Supplies, accessories, and veterinary records will be included.
Questions about adopting Scooter?
Text "ScooterTX" to (888) 833-2128. We look forward to hearing from you!
---
All About Scooter – Yorkshire Terrier Yorkie Dog For Adoption in Flower Mound TX
♥ Name of Pet: Scooter
♥ Location: Flower Mound TX,, 75028
♥ Type of Pet: Dog
♥ Breed of Pet: Yorkshire Terrier Yorkie
♥ Color / Coat Type: Black and Brown medium length
♥ Age of Pet: 10+
♥ Size of Pet: 12 lbs
♥ Health Problems:
poor hearing and vision
♥ Behavior Issues: no
♥ Gets along with:
♥ Pet is: Neutered, Fully vaccinated, Crate Trained, Leash Trained
♥ Food: Other
Nutro Ultra Small Breed Senior
---
Scooter – Yorkshire Terrier Yorkie Dog For Adoption in Flower Mound TX
---
Scooter's Personality
Due to his hearing and vision issues he is kind of in his own little world. He is friendly enough when you get his attention. it is just sometimes hard for him to interact.
Unsure about things like children and cats as we have none. I think he would be fine with either.
We have had some housebreaking issues due to our schedule but our elderly aunt did not seem to have any problems. I think he would do well with the house broken thing if we were home more.
Why is Scooter Being Rehomed?
we took him in when an elderly relative had to go in to assisted living and could no long4r are for him. He prefers to go outside and putter around the backyard for long periods of time but unfortunately we both work full time and we have a pool and he cannot be left alone unattended in the backyard.
Scooter is located in Flower Mound, Texas, close to the following towns and cities:
Southlake TX,
Grapevine TX,
Highland Village TX,
Coppell TX,
Lewisville TX,
Keller TX,
Corinth TX,
Colleyville TX,
Bedford TX,
Euless TX,
Carrollton TX,
The Colony TX,
Farmers Branch TX,
Little Elm TX,
Hurst TX,
Thank you for your interest in this deserving Yorkshire Terrier Yorkie Dog for adoption in TX.