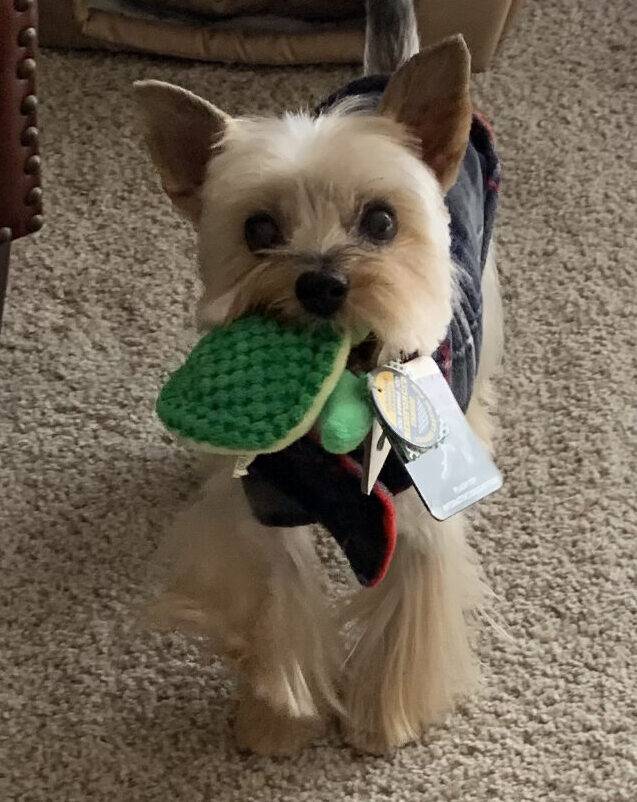 Yorkshire Terrier (Yorkie) For Adoption in Columbus Ohio – Supplies Included – Meet Ace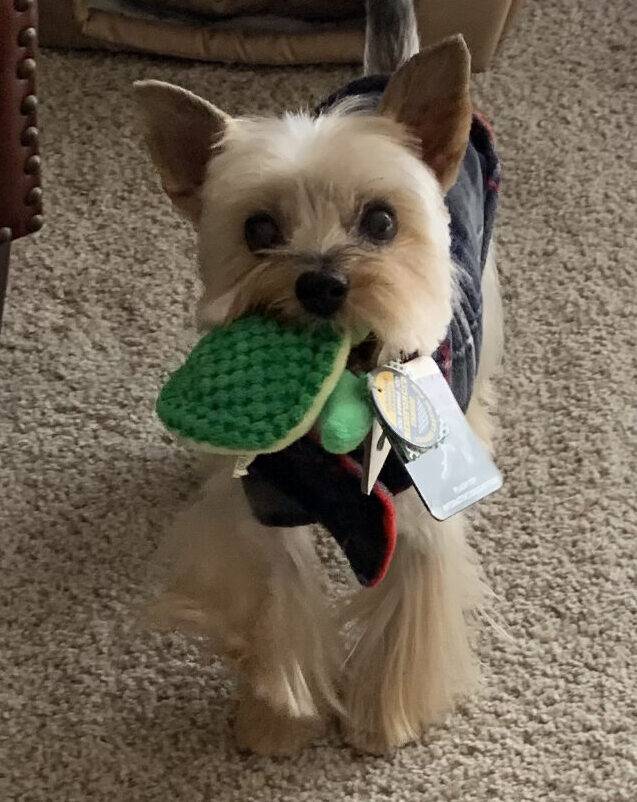 Ace has been adopted. Thank you for your interest in this adorable Yorkshire Terrier Dog for Adoption in Columbus, Ohio
If you would like to be notified when we have another Yorkshire Terrier available for adoption in Columbus and area, please complete our online waiting list form. Once received, our team will be in touch as soon as we have a potential match for you – before we begin to advertise for a home. There is no cost for this service – we simply ask that you inform us if you have found a dog so that we can take you off our list.
Complete Our Waiting List Form    Request Rehoming Services for Your Yorkie
---
Looking for a Yorkshire Terrier (Yorkie) to adopt in Columbus, Ohio? Just 13 years old and weighing just 5 pounds, Ace has been fixed, fully vaccinated, housebroken, leash trained, and crate-trained. Ace does well with other dogs and people of all ages.
Ace's owners are very sad to have to rehome their cherished tiny dog. They are hoping to find a new home for Ace where he will be cherished and kept safe, happy, and healthy for life. Ace is looking for a senior dog lover who will be home with him most of the time. He really does not like being home by himself in his crate. The days are so long and he really misses the attention and cuddles of his owner. He would be a great companion for a senior dog lover looking for a tiny dog to spoil!
---
All About Ace – Yorkshire Terrier Dog For Adoption in Columbus Ohio
♥ Name of Pet: Ace
♥ Location: Columbus, Ohio, 43230
♥ Type of Pet: Dog
♥ Breed of Pet: Yorkshire Terrier
♥ Color / Coat Type: short tan/grey
♥ Age of Pet: 13yrs
♥ Size of Pet: 5lbs
♥ Health Problems: No
♥ Behavior Issues: Needs to be in a home with a senior so he has someone with him. He doesn't like being home alone
♥ Gets along with:

Babies and Small Children
Older Children
New People
Dogs
♥ Pet is:
Fixed
Fully Vaccinated
Housebroken
Leash Trained
Crate-trained

♥ Food: Hills Science Diet
Ace eats science diet. He is fed in the morning and evening. Snacks in between (carrots, apples)
Ace – Yorkshire Terrier Dog For Adoption in Columbus Ohio
---
Ace's Personality
Ace is a quiet yet very playful dog. He is vey nosey as he follows you around the house out of curiosity my son and I have had Ace since he was a puppy. Ace loves attention! His personality adapts to me and my son.
He sleeps when we sleep, he is ready to play at all times. He's ready for whatever his owner is up to do. He doesn't take much to tire. Whether short or long walks he's okay with taking any walk. Ace is a great pet and he only barks if left in crate.
He loves car rides and tends to get upset when I crate and leave him alone. As Ace has gotten older, he has developed a uncontrollable cough when he gets too excited (ie playing chase or playing with other dogs) However without knowing his age, people tend to think he's a puppy by his playfulness.
Ace would do great in a home with a person or family that isn't always on the go, or that can take him with them to most places or that have other dogs.
Why is Ace Being Rehomed?
My son and I lives have changed. My son is away as a college student and I no longer have required time to care for Ace as he needs more TLC and time at home with the person who cares for him. This is not an easy decision but I will feel better placing Ace in care of someone who can genuinely take him in and care for him like his first family.
Nearby Locations
Ace is located in Columbus, Ohio, close to the following towns and cities:
Bexley OH,
Upper Arlington OH,
Whitehall OH,
Lincoln Village OH,
Gahanna OH,
Grove City OH,
Blacklick Estates OH,
Worthington OH,
Hilliard OH,
Reynoldsburg OH,
Dublin OH,
Westerville OH,
Pickerington OH,
Pataskala OH,
Delaware OH,
Thank you for your interest in this deserving Yorkshire Terrier Dog for adoption in Columbus Ohio.