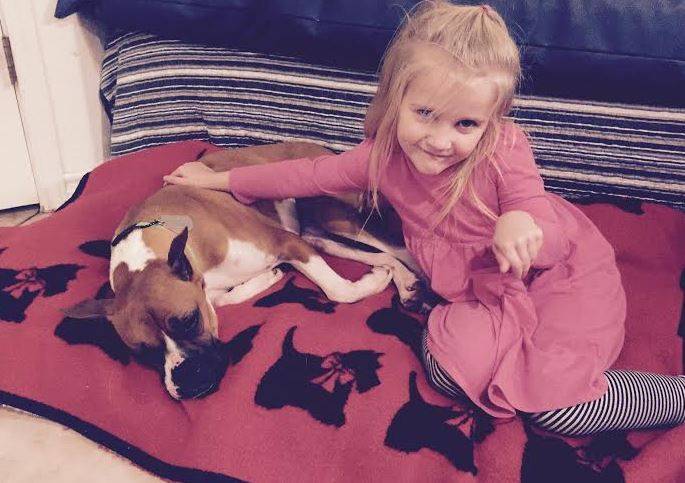 REHOMED – Zoe – Purebred Female Boxer Near Houston
[margin10]
Zoe has found her forever home with Peggy and her big, dog loving family in San Antonio! Zoe had a false start with Michael, who quickly realized that this girl can jump! His 4 foot high fence was not enough to keep Zoe safe, so we found her a fantastic home with Peggy.
Zoe now has lots of playmates of the two and four-footed kind, and she has already stolen the hearts of her new family, who drove all the way to Houston to pick her up. She has a great big, securely fenced back yard to play in, and a family who spends almost all of their time with her.
Here are some photos of Zoe's homecoming!
Here's how we presented ZOE to attract the perfect new home for this beautiful Boxer:
---
Hi, My name is Zoe!
2 Year Old Female Boxer For Adoption Near Houston, Texas.
I am an absolutely gorgeous purebred female Boxer, just 2 years old. I am medium sized at just 45 pounds and amazingly charming! I have such a wonderful personality and love everyone. I have been spayed and am up to date on shots. I am very healthy, house broken and full of love.
My owners are very sad to have to look for a new home for me, but unfortunately they have been unable to obtain rental housing that will allow my breed. Being an energetic Boxer and living in a cramped apartment is not an ideal situation. They are hoping to find me a loving family that will cherish me as much as they do.
My perfect home will be one with a securely fenced back yard to play in, some great kids to hang out with, and people who will give me the time, attention affection and exercise I need and deserve.
---
All About Zoe
[one_half]
Name of Pet:
Zoe
Location:
Webster, Texas, 77598
Type of Pet:
Dog
Breed of Pet:
Boxer
Sex of Pet:
Female[/one_half] [one_half_last]
Age of Pet: 2 years
Spayed/Neutered?: Yes
Health Problems: No
Up To Date on Vaccinations: Yes
Gets along with cats: Unknown
Gets along with dogs: Yes
Good with Children?: Yes
House Broken or Litter Trained?: Yes
Crate Trained?:
Accessories Included: Crate. Leash. Collar. Dog food to help transition to new food if needed. Microchip information.
[/one_half_last]
Zoe's Personality
Very energetic and goofy. Always trying to lick and play.
Zoe's Current Home Environment
Clean, happy, lots of laughing, respect, nurturing
Zoe's Current Family:
Family of three. Two adults and one child. Very loving and respectful to one another. Caring.
Zoe's Favorite Toys, Foods, Activities?
doesn't really play much with toys. Will eat any type of treat/food as long as its edible. Enjoys being chased around.
Cute Zoe Story:
My husband was walking with her around the apartment complex. When my husband took her off her leash. At the same moment she took off running with my husband chasing after her.
Why is Zoe Being Rehomed?
currently living in an apartment.
not able to give her the attention she needs. Not much space for her to roam around. Having a difficult time finding a rental home or a different apartment complex that will accept dogs larger than 10 lbs. Cannot financially purcchase a home at the moment.
Zoe's Perfect Adoptive Home Will Be:
Loving, caring. lots of space for her to get her energy drained. Attention. Must be kept indoors.
---
Need to Rehome a Boxer Dog?