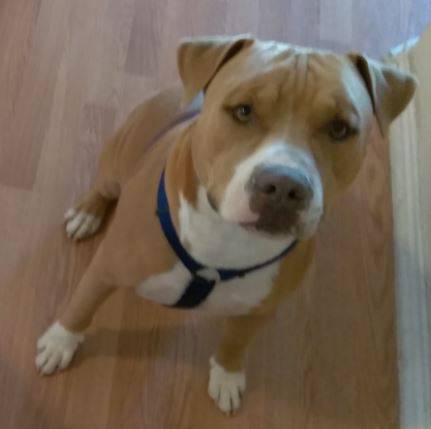 Meet Copper – Amstaff Pitbull Mix Dog For Adoption in San Antonio TX
[button link="https://pet-net.net/adopt-a-pet/" size="large" variation="hotpink" align="center"]Request to Meet Copper Here![/button]
There is a $75 adoption/rehoming fee. Supplies and vet records will be included.
Questions about Copper?? Text "Copper" to (888) 833-2128 or email AdoptCopper@dog-lover.us
Copper is such a handsome and healthy dog. This 18 month old American Staffordshire Terrier mix dog is so laid back, playful and affectionate. He is so smart, you sometimes forget that he is not human.
Coppers owners love him very much, but have come to realize that they bit off a bit more than they could chew in adopting Copper and his brother, . as puppies. Both males, as they have matured, it has become apparent that they cannot co-exist in peace.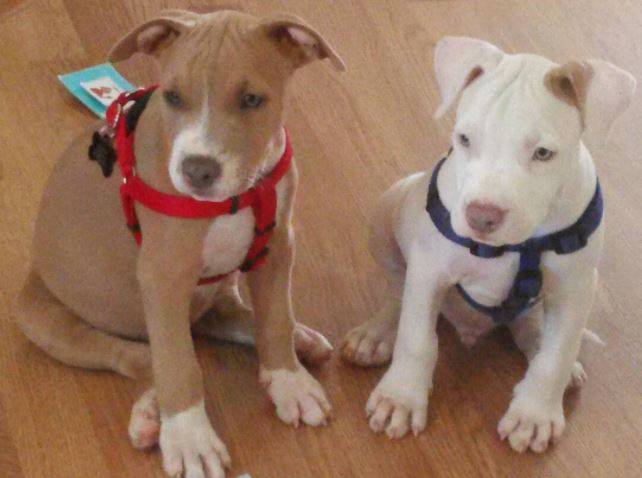 The boys as puppies. So Cute!
They love to play together, but as of late their play sessions have turned into contests, and they have each received minor injuries as a result. The family has been informed that having two adult males live in harmony is not likely.
Coppers' family is dearly hoping to find him a loving home where he will be cherished. He is so good with people of all ages and sizes. He will need a home with people who have a securely fenced yard. Ideally, someone who can give Copper more positive reinforcement and training to help him reach his full potential and get past any remaining puppy foolishness.
Copper has not yet been neutered, so a condition of adopting him will be to have him neutered immediately.
If you are looking for a very handsome family dog that will add plenty of love, joy and laughter to your life and home, please offer Copper a loving home today. He can't wait to charm you with his sweet smile and loving personality.
Questions about Copper?? Text "Copper" to (888) 833-2128 or email AdoptCopper@dog-lover.us
---

All About Copper – 18 Month Old Amstaff Pitbull Mix Dog For Adoption San Antonio Texas
Location: San Antonio, Texas, 78254
Type of Pet: Dog
Breed: Pit Bull/ American Staffordshire Terrier
Age: 1.5 years
Color/Coat Type: Brown
Size: 50-60 lbs.
Health Issues: No
Behavior Issues: Needs to be the only pet in the home.
Copper is:
Microchipped, House Broken
Copper gets along with:
Toddlers, Small Children, Older Children, Adults, Strangers
Personality
Copper is a fairly laid back dog. Friendly to all humans, family or visiting, young or old. He is not neutered, needs behavioral training in the form of being on a leash, etc. Our dogs are happiest when they play together however it is not hard for play to turn in to a disagreement. He does not fight over toys but prefers to eat alone.
Food and Diet
Copper is currently on Other
Reason For Rehoming
We bought two pit bull brothers at 8 weeks old. In the last year life has been extremely busy with 5 kids, work, owning a home, and the like. Recently, we learned, from a local trainer, that it is not reasonable to keep to sibling brothers from the same litter.
In the last two months we have had more and more sibling rivalry fights with the last resulting in wounds that were more than simple surface level nips. We are now keeping them separate as anytime they see each other in passing they feel the need to lunge, growl, bark, and in general show aggression towards each other. This is not realistic for them in the long term or healthy for them.
How to Adopt Copper
If you would like to consider offering Copper a loving, forever home, please fill out our Request To Meet A Pet form here:
https://pet-net.net/adopt-a-pet/
Once received, we will contact you to discuss your request and set up a mutually convenient time to meet Copper and their owner in their home.
Questions about Copper?? Text "Copper" to (888) 833-2128 or email AdoptCopper@dog-lover.us
Copper is an 18 month old male Amstaff Pitbull mix dog For Adoption in San Antonio, Texas, close to Austin and near Kirby,
Leon Valley,
Converse,
Live Oak,
Universal City,
Schertz,
New Braunfels,
Pleasanton,
Seguin,
Canyon Lake,
Hondo,
San Marcos,
Kyle,
Kerrville,
Lockhart,
Olmos Park,
Phoenix,
Columbia Heights,
Terrell Hills,
Alamo Heights,
Salado Junction,
Balcones Heights,
San Jose,
Terrell Wells,
Bergs Mill,
Castle Hills,
Palo Alto Park,
Kirby,
Withers,
North Loop,
Palo Alto Heights and Heafer, TX.
Adopt Copper the Amstaff Pitbull mix dog in San Antonio Texas today.