Teacup Yorkie For Adoption Near Portland Oregon – Adopt Sofie Today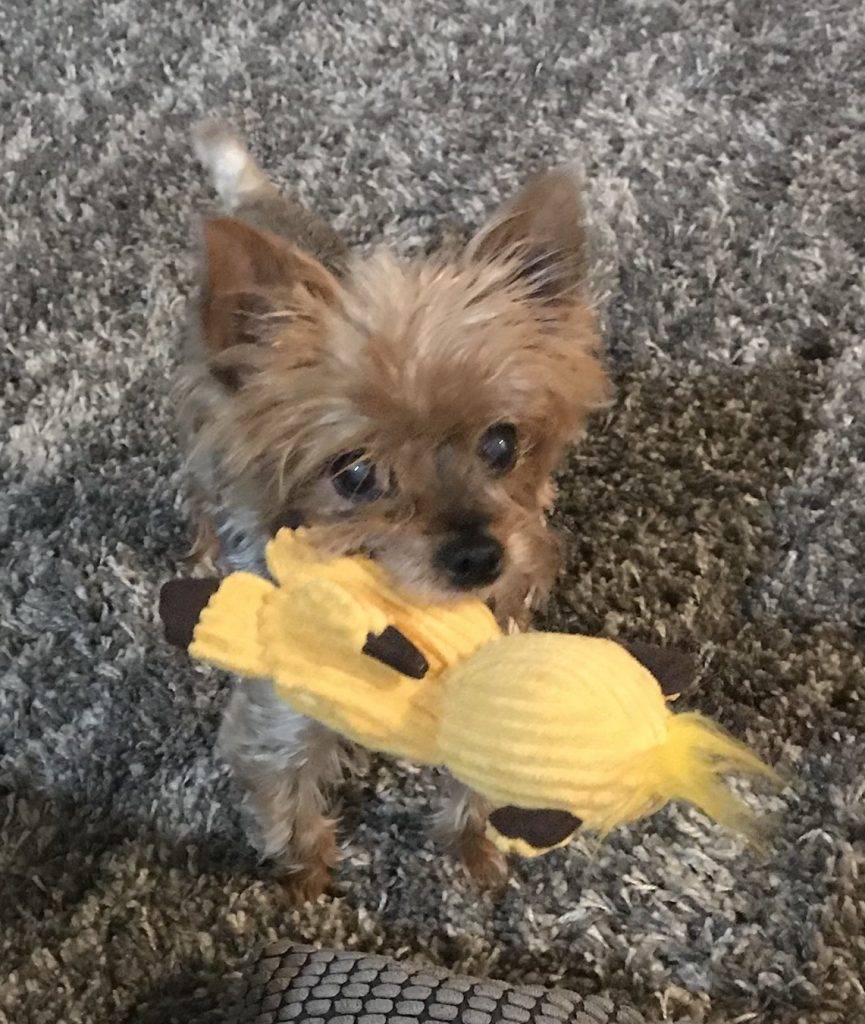 Meet Sofie, 11 YO Female Yorkshire Terrier Dog For Adoption in Banks Oregon
Sofie is a Tan (silver back) Female Yorkie Dog for adoption to a very loving home in or near Banks OR. This very special Dog is 11 years old and weighs just 5lbs.
A very special, "special needs dog", Sofie has Diabetes, and needs to have medication given to her on a regular schedule. She is otherwise very healthy, and has a charming personality. She is spayed and up to date on shots. She is very pretty and so adorable. Despite being only 5 pounds, in her mind, Sofie is a much bigger dog. She considers her self to be the queen of your lap, and likes to be with her favorite person constantly. She is extremely cute, and will steal your heart within moments of meeting her.
Sofie is looking for a very good home where she will be cherished and kept safe, happy and healthy. Her ideal home will be with a Yorkie lover who is looking for just one lap dog to adore. She is a lap dog that was born to be spoiled.
Her family loves Sofie very much. Unfortunately they are finding it difficult to give her the time, attention and
schedule that she very much needs, given her Diabetes. They want the very best for this tiny terrier, and are dearly hoping to find Sofie a loving home with a retired or work from home dog lover who can make Sofie their focus, give her meds on time, and enjoy her deep need to be cuddled up in a warm lap.
There is a $75 adoption/rehoming fee. Supplies and veterinary records will be included.
---
All About Sofie – Yorkie Dog For Adoption in Banks
Name of Pet: Sofie
Location: Banks, Oregon (near Portland)
Type of Pet: Dog
Breed of Pet: Yorkie
Sex of Pet: Female
Age of Pet: 11
Spayed/Neutered?: Yes
Health Problems: Yes Diabetic
Behavior Issues: No Nippy with small children
Up To Date on Vaccinations: Yes
Gets along with cats: Yes
Gets along with dogs: Yes
Good with Children?: Yes, No
House Broken or Litter Trained?: Yes
Crate Trained?: Yes
Accessories Included: Cage, bowls, leash, food, toys, bed
Sofie's Personality
Like walks
Easy going
Loves company
Snuggles
Early riser
Lap dog!!
Sofie's Current Home Environment
Busy,
Sofie's Current Family:
2 adults, one teen – adults work, teen goes to school and has extra curricular activities
Dads allergic to animals (includes sofie)
Sofie's Favorite Toys, Foods, Activities?
Walks, tugging, chasing balls, squeaky toys
Cute Sofie Story:
Sofie loves our pillows – she will steal our spots,even when we leave to get a glass of water. And she loves to lick toes!! 🙂
Why is Sofie Being Rehomed?
Having a hard time giving sofie the attention she needs. My husband is allergic – she isn't allowed on the couch (she sneaks up and when we're not home) we have to wash everything constantly. With busy schedules – we don't give meds timely enough, don't snuggle enough, or treat her like a lapdog. 🙁 she needs some one to spoil her. She deserves better.
Sofie's Perfect Adoptive Home Will Be:
loving, caring, affectionate – someone that can administer meds timely
Someone who would love a lap dog and give tons of cuddles!!
Additional Comments:
How To Adopt Sofie
If you are interested in adopting this special Yorkie Dog For Adoption in Banks, please fill out our online meeting request here. Once received and reviewed, our staff will ask the pets owner to reach out to you and arrange a meeting to determine for certain if b is a good fit for you – and you are a good fit for this pet.
If you have any questions about our careful pet rehoming process, feel free to get in touch.
Sofie – Yorkie Dog For Adoption in Banks
Sofie is a Tan(silver back) Yorkie Dog for adoption in Banks, near , and close to . Adopt this sweet Tan(silver back) Yorkie Dog today.