Long Island NY – Obedience Trained Mixed Breed Dog For Adoption – Meet Chloe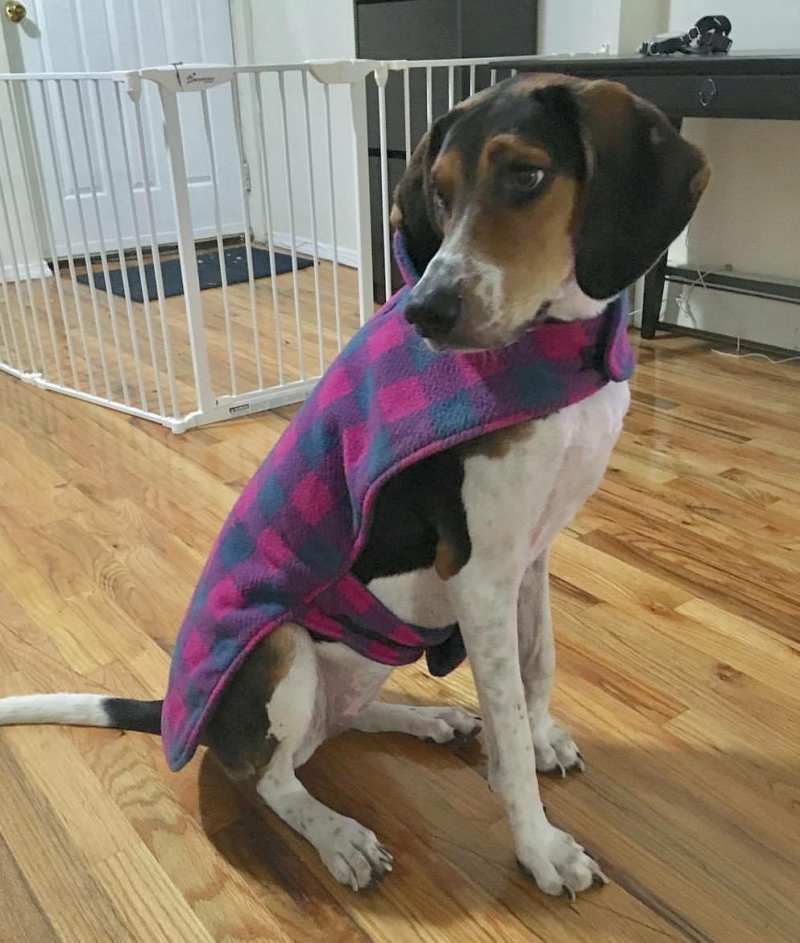 Meet Chloe, Treeing Walker Coonhound Pointer Mix Dog For Adoption in Huntington NY
There is a $150 adoption/rehoming fee. Supplies and veterinary records will be included.
♥ Name of Pet: Chloe
♥ Location: Huntington, NY, 11743
♥ Type of Pet: Dog
♥ Breed of Pet: Hound mix Treeing Walker Coonhound Pointer
♥ Color / Coat Type: Short, tricolor (white, black, brown)
♥ Age of Pet: 2 years (5/22/16 birthday)
♥ Size of Pet: 70 pounds
♥ Health Problems: No
♥ Behavior Issues: Separation Anxiety – well controlled with medication
♥ Gets along with: Babies, Toddlers, Small Children, Older Children, Dogs, Strangers
♥ Pet is: Spayed
♥ Food: Other
Acana
---
All About Chloe – Treeing Walker Coonhound Pointer Mix Dog For Adoption in Huntington NY
Chloe is a very pretty 2 year old mix of Treeing Walker Coonhound and Pointer for adoption on Long Island NY, in Huntington. She is very healthy, fixed, up to date on shots and house trained. She has been house trained and has undergone extensive obedience training. She is such a wonderful companion. Chloe is good with other dogs and children.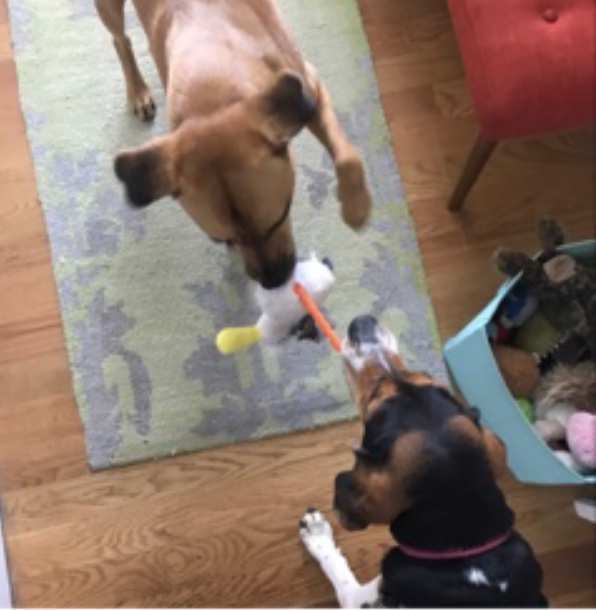 If Chloe were a person, she would be that kind, generous and very loving friend who always listens and is on your side. This 2 year old hound mix has the most amazing personality. She literally lives to spend time with her people, and is so happy when she has her people all to herself.
Chloe's owners are very sad to have to make the difficult decision to find a new home for her. Unfortunately, with working full time hours with a 2 hour commute, and having a new baby, the time they can spend with Chloe is becoming less and less. It breaks their hearts to watch her moping on the couch via their doggie video monitoring system – she just seems so sad. They want a better life for Chloe, and are dearly hoping to find owners who have a lot more time to cherish this sweet dog.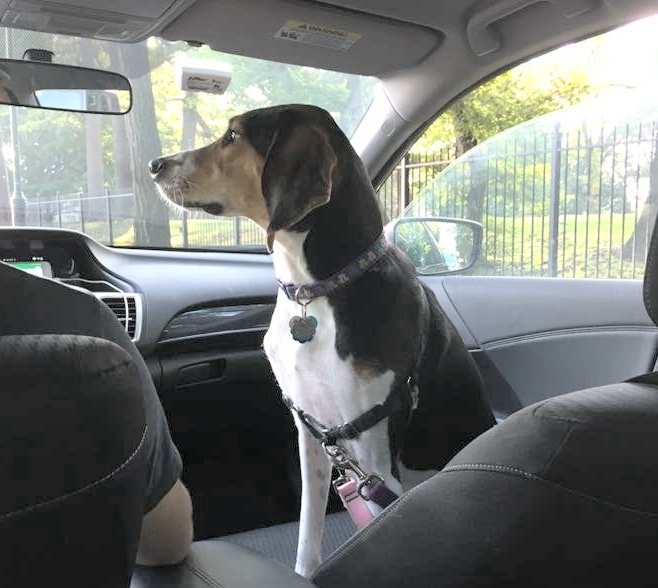 Chloe is looking for relatively active owners who own their own home and have a securely fenced yard for her to play in. She would love to have a dog-friend, but at the very least, she needs owners who are home a lot more than her current owners. Retired or work-from-home dog lovers, or a home-school family would be ideal to give her the time, companionship, attention and exercise she needs and very much deserves.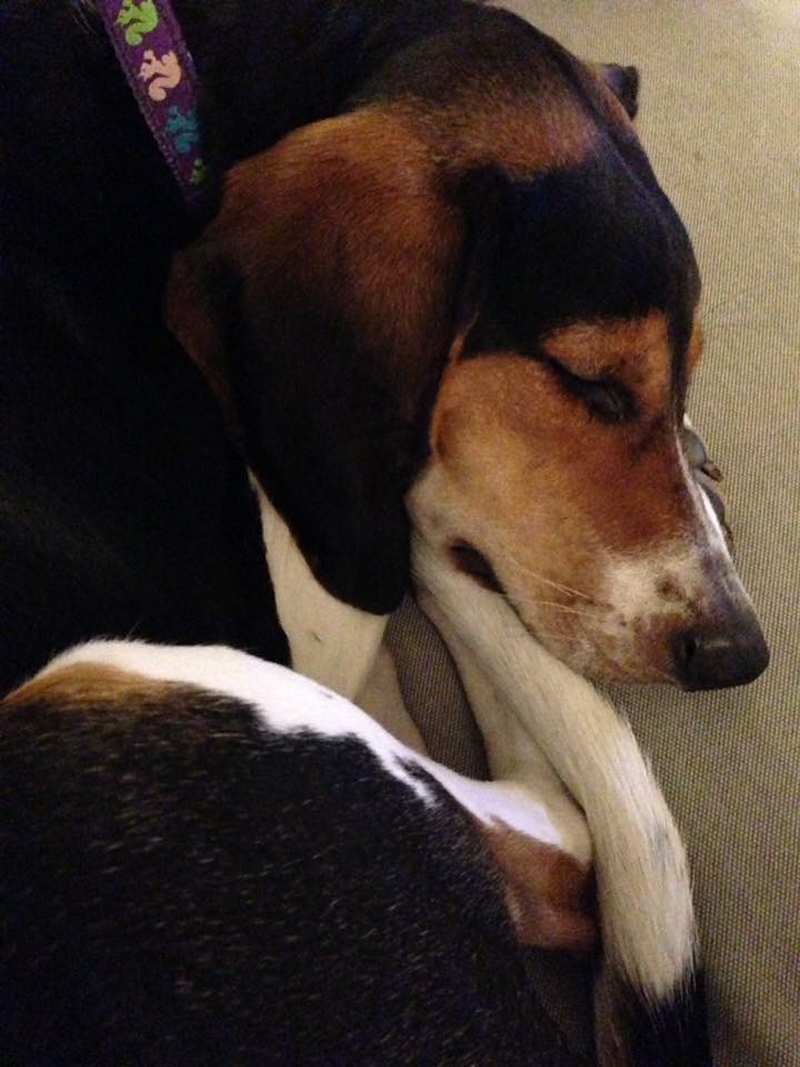 Chloe has some separation anxiety for which she has sometimes taken medication. In a home where there would not be as much separation, the medication will most likely not be needed. The vet has recommended that Chloe be given more exercise and mental stimulation to help keep the anxiety at bay.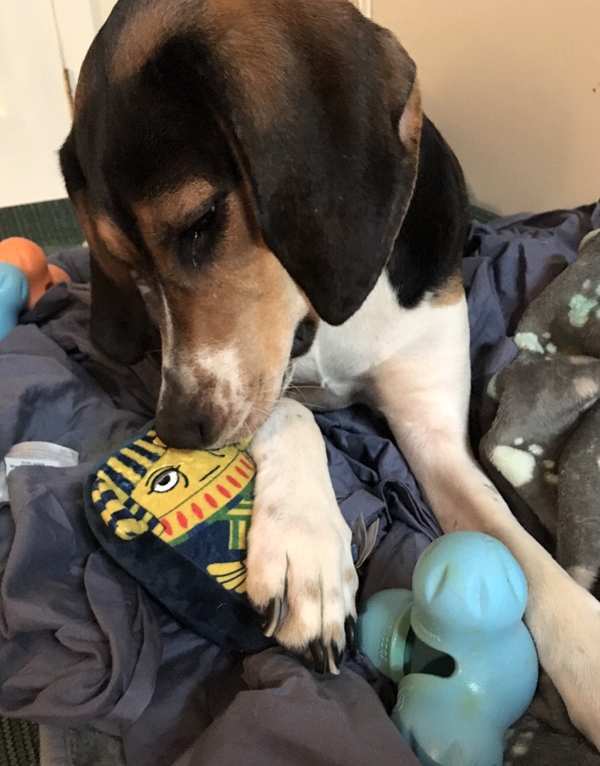 If you are interested in meeting this sweet, beautiful dog, please fill out our online meeting request form here. Once received, we will ask Chloe's owners to reach out to you to arrange a meet up.
Questions about Chloe? Contact our New York dog rehoming team. Text Chloe to (888) 833-2128 or email adoptchloe@dog-lover.us. We look forward to hearing from you.
There is a $150 adoption/rehoming fee. Some supplies and veterinary records will be included.
Chloe's Personality
Silly and loving. She LOVES meeting new people and dogs. She loves to play tug and fetch and get attention. She knows a lot of commands and enjoys practicing them with food rewards (sit, wait, come, down, couch, touch, roll over).
Why is Chloe Being Rehomed?
My husband now has to commute 2 hours to work each day and we have a new baby. We don't have the time to devote to exercising and socializing Chloe at this point, and she has had a tough time with that.
Chloe's Perfect Adoptive Home Will Be:
How To Adopt Chloe
If you are interested in adopting this special Treeing Walker Coonhound Pointer Mix For Adoption in Huntington NY, please fill out our online meeting request here. Once received and reviewed, our staff will ask the pets owner to reach out to you and arrange a meeting.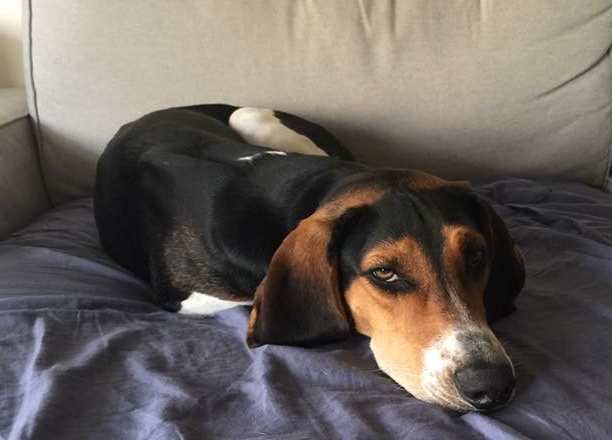 Chloe – Treeing Walker Coonhound Pointer Mix Dog For Adoption in Huntington NY
Chloe is a Treeing Walker Coonhound Pointer Mix Dog for rehoming in Huntington, NY. She is located near the following towns and cities in NY:
Huntington Station, NY
South Huntington, NY
Syosset, NY
Elwood, NY
Melville, NY
East Northport, NY
Dix Hills, NY
Plainview, NY
Commack, NY
Jericho, NY
Hicksville, NY
Kings Park, NY
Deer Park, NY
Bethpage, NY
South Farmingdale, NY
Huntington Station, NY
Fort Hill, NY
Halesite, NY
Cold Spring Harbor, NY
Huntington Bay, NY
Laurel Hollow, NY
Lefferts Mill, NY
Wincoma, NY
Centerport, NY
Lloyd Harbor, NY
Huntington Beach, NY
Greenlawn, NY
Little Plains, NY
South Huntington, NY
West Hills, NY
Cove Neck, NY
Oyster Bay Cove, NY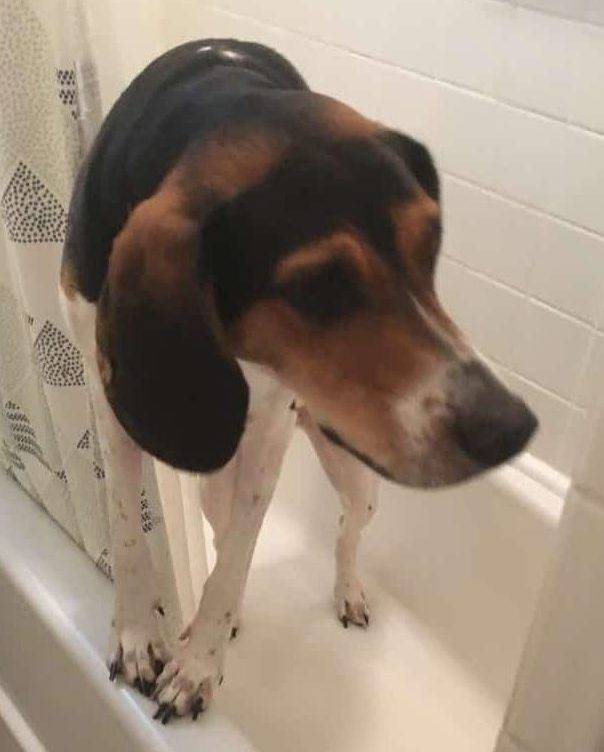 Adopt this Treeing Walker Coonhound Pointer Mix Dog Today