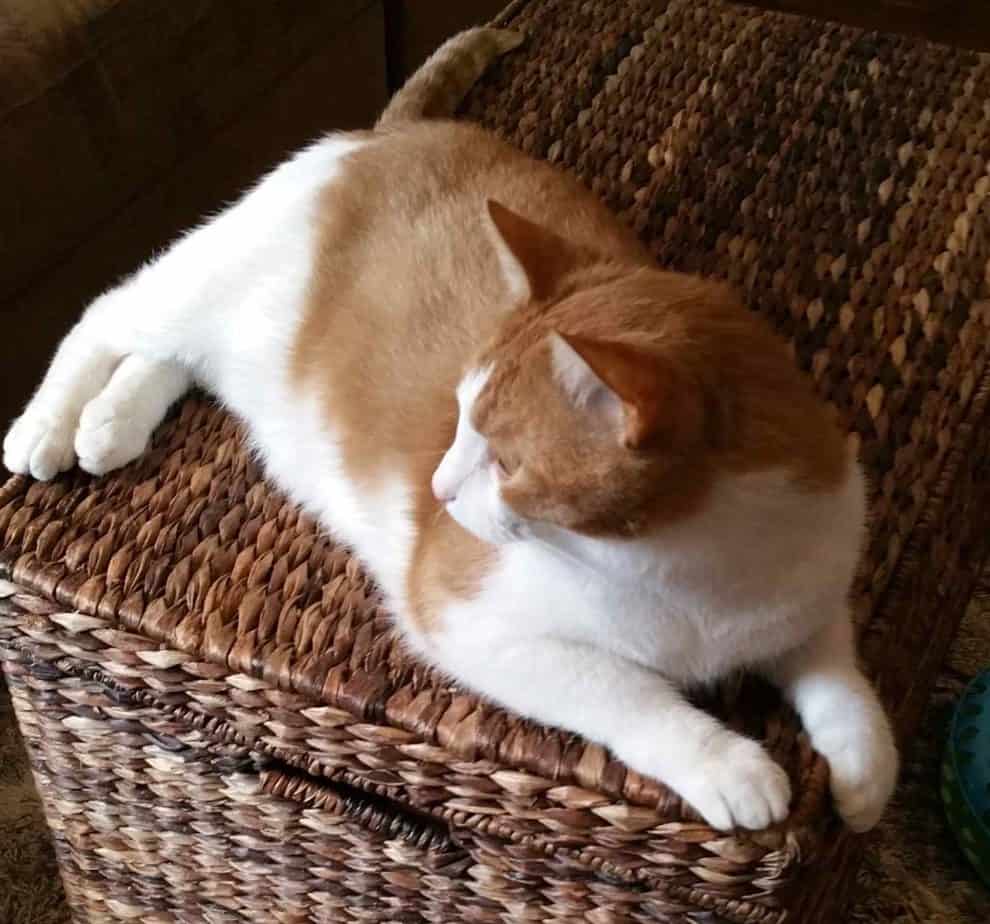 Meet Cowboy, Butterscotch Tabby Cat For Adoption in Saint Louis Missouri
If you are looking for a cat with personality, you have to meet Cowboy. This handsome Orange Tabby cat has white Tuxedo markings and gorgeous green eyes. At just 2 years old, Cowboy weighs around 13 pounds and is very healthy. He has been fixed, is up to date on shots, micro-chipped and litter trained. Cowboy is a ready-to-love cat, and will be rehomed with all supplies and vet records.
Cowboy is almost human. He is so smart and people oriented. He loves attention, and is anything-but an aloof feline. Some might call him "needy", but others will greatly appreciate a cat as companionable and loving as Cowboy.
Cowboy loves his toys. He considers many things to be his toys: Barbie dolls, stuffed toys and other toddler remnants. It's comical to see him proudly carry them from room to room. His favorite toy is a plush stuffed Elephant called "Baby".
Cowboy is looking for a very special home. This is a cat that needs attention the way some cats need water. He is dog-like in the way he follows you around the house. He is a very vocal cat and can carry on a conversation about almost any topic. He is looking for a home with cat lovers who will give him plenty of attention, care, playtime and snuggling.
Cowboy is good with kids and would be fine with cat-friendly dogs and cats.
Cats like Cowboy are one in a million. Offer this "YouTube Star to be" a loving, forever home today. He can't wait to purr his way into your heart and home.
Request to Adopt Cowboy Here
There is a $40 adoption/rehoming fee. Supplies and veterinary records will be included.
Questions about Cowboy? Contact our Saint Louis Cat rehoming team today. Text "Cowboy" to (888) 833-2128 or email [email protected]. We look forward to hearing from you.
---
All About Cowboy – Orange Tabby Tuxedo Cat For Adoption in Saint Louis Missouri
♥ Name of Pet: Cowboy
♥ Location: Saint Louis, Missouri, 63128
♥ Type of Pet: Cat
♥ Breed of Pet: Domestic Shorthair
♥ Color / Coat Type: Orange Tabby Tuxedo Cat
♥ Age of Pet: 2
♥ Size of Pet: 13 pounds approx
♥ Health Problems: No
♥ Behavior Issues: No
♥ Gets along with: Babies, Toddlers, Small Children, Older Children, Cats, Strangers
♥ Pet is: Neutered, Microchipped, Fully vaccinated, Litter Trained
♥ Food: Other
He is fed Purina One Hairball control food. But I suspect he'll eat anything! He LOVES Temptations cat treats, but unlike our other cat, he'll eat ANY kind of treat as well!
Cowboy's Personality
He seems incredibly bored most days, even with tons of toys to play with. We think he would do great in a busy household with younger children who can keep him occupied & play with him far more than we're able to. He's friendly to strangers, kids, & curious about other pets.
Never lived with dogs, but I doubt he'd mind! He's the most vocal cat I've ever owned, and very much knows his name. He's a very early riser (6am 7 days a week) and demands a lot of attention. Loves to play one on one with toys or objects, and even at 2 years old will chew up paper of any kind.
Doesn't throw up much at all, good eater, great with litter box. Loves to drink from faucet in the sink! Gets into things like a toddler, & if you think you're being clever hiding something before leaving the house, I promise he'll find it before you come back home!
Hates being left alone, but happy just to be in the room where the most people are. Loves to nap with you, but if he wants up, he wants you to be up, too! I'd be happy to give you all of his toys and his favorite tiny stuffed elephant that we call "his baby" that he loves to carry from room to room.
He frequently brings up Barbie or American Girl items from our basement upstairs to play with! He once brought an entire Barbie doll upstairs and walked past us like it was no big deal!
Once when cleaning up dinner dishes, he got up on dining room table and helped himself to a bite of chicken parm, a pea, and a crescent roll! He'd be a great addition to any household that's active and busy, and probably great with small dogs or other cats who also enjoy playing.
Why is Cowboy Being Rehomed?
We got Cowboy when he was about 2 months old from a friend. We thought our other cat would be happy with a buddy. She wasn't. Cowboy is super playful and very intelligent. She just wants to be left alone and sleep all day.
He continuously attacks her (in a playful manner), which has left her (Sweetie) with anxiety, hair loss, and stress. It's not fair to her, and since she was here first, we feel like he should be the one rehomed.
---
How To Adopt Cowboy
If you are interested in adopting this special Orange Tabby cat for rehoming in Saint Louis Missouri, please fill out our online meeting request below. Once received and reviewed, our staff will ask the pets owner to reach out to you and arrange a meeting.
There is a $40 adoption/rehoming fee. Some supplies and veterinary records will be included.
Questions about Cowboy? Contact our Orange Tabby Cat rehoming team today. Text "Cowboy" to (888) 833-2128 or email [email protected]. We look forward to hearing from you.
---
Cowboy –  Orange Tabby Cat For Adoption in Saint Louis Missouri
Cowboy is an Orange Tabby Tuxedo Cat for rehoming in Saint Louis, Missouri. He is located near the following towns and cities in Missouri and Illinois:
East Saint Louis, IL
Cahokia, IL
Granite City, IL
Richmond Heights, MO
Clayton, MO
Maplewood, MO
University City, MO
Jennings, MO
Lemay, MO
Bellefontaine Neighbors, MO
Webster Groves, MO
Affton, MO
Ferguson, MO
Overland, MO
Mehlville, MO
Sauget, IL
National City, IL
East Saint Louis, IL
Brooklyn, IL
Hathaway Meadows, MO
Venice, IL
Tower Grove, MO
Maplewood Park, IL
Newport, IL
Eagle Park, IL
Cahokia, IL
North Venice, IL
Cabanne Place, MO
Madison Station, IL
Madison, IL
Gratiot, MO
Alorton, IL
Adopt this awesome Tabby Cat in Missouri today.