Adorable 5 Mo Chihuahua Puppy For Adoption To Loving Home – Adopt Mia Today!
Hi, My name is Mia!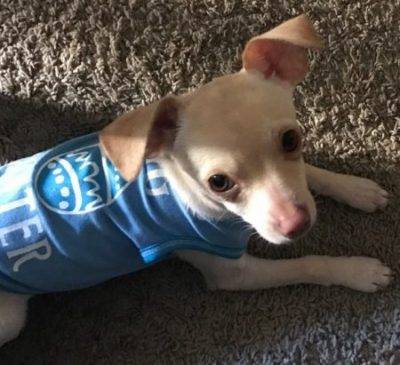 There is a $75 adoption/rehoming fee. All supplies will be included.
Not enough cuteness in your life? We have the answer in this 5 pound bundle of love and licks. Mia is so cute. She can put a smile on your face no matter what kind of day you are having. She is spunky and playful, sweet and affectionate. She loves to lap – almost as much as she loves to play.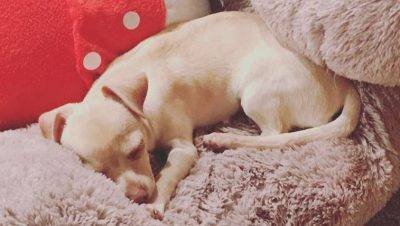 Mia is being rehomed by her owner, who bit off more than she could chew in adopting a puppy. She wasn't prepared for the work involved in raising a puppy, and is hoping to find Mia a loving home where all her needs will be met.
Mia's ideal home will be with a single or couple who have plenty of time to devote to this little princess. She is a lap puppy, and wants her owner with her most of the time. She is one of those tiny dogs that will be her owners constant companion. She loves going places, and thrives on human companionship.
Because of her age of just 5 months, Mia has a lot of energy. She is also still bitey, and loves to gnaw on anything she can get her mouth on (including fingers!). She is going to need gentle guidance to help her understand that people are not food, and also liberal use of chew toys and other items to help with her teething discomfort.
This little puppy is such a sweetheart, and deserves the very best home. If you have a safe, happy home where she will get tons of love and attention, and you can love her unconditionally while she grows up through her puppy phase, please offer Mia the home she needs and deserves today.
---
Location: La Jolla, CA, 92037
Type of Pet: Puppy
Breed: Chihuahua
Age: 5 months
Color/Coat Type: Apricot
Size: 5 lbs
Health Issues: No
Behavior Issues: No (She is a puppy, so she has lots of energy and likes to chew on things. She is very vocal, too)
Mia is:
Fully vaccinated, Crate Trained, Litter Trained, Leash Trained
Mia gets along with:
Toddlers, Older Children, Adults Only, Dogs, Cats, Small Animals
Personality
Energetic, smart
Food and Diet
Mia is currently on Other
Puppy chow
Reason For Rehoming
I don't have enough time, and I can't afford the cost.
How to Adopt Mia
If you would like to consider offering Mia a loving, forever home, please fill out our Request To Meet A Pet form here:
https://pet-net.net/adopt-a-pet/
Once received, we will contact you to discuss your request and set up a mutually convenient time to meet Mia and their owner in their home.