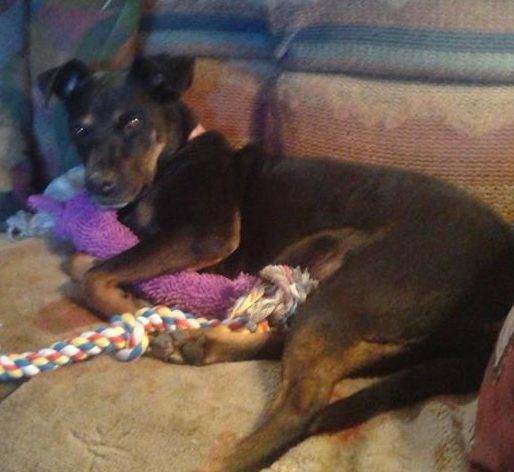 ADOPTED – Albuquerque NM – Labrador Retriever Rottweiler Mix (Labrottie) – Sadie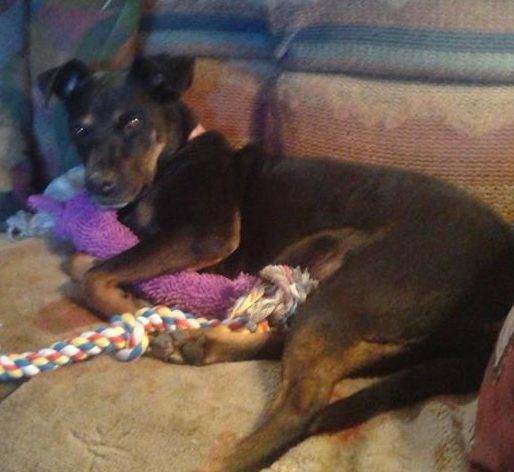 Meet Sadie – Labrador Retriever / Rottweiler Dog For Adoption in Albuquerque NM
Sadie is a sweet Labrador Retriever Rottweiler mix (Labrottie) with a heart of pure gold. She is 7 years young, and is about the most devoted and loving dog you will find. Sadie has been sent from foster home to foster home for most of her life. She found her forever Mom about 3 years ago, and has been the cherished companion of a kind, disabled woman throughout the past three years. Sadie and her owner live in an apartment complex in Albuquerque.
Tragically, Sadie slipped out of her owners apartment on Thursday, and got into a fight with a much smaller dog. As a result, the smaller dog required veterinary care. Because of this incident, Sadie's owner has been given a very small window of time to find Sadie a good home. She is no longer permitted to keep Sadie in her home.
Sadie has so many qualities that more than make up for her distrust of other dogs. She is very loving, quiet, and devoted. She is happy just to be with her people, and has added so much joy and companionship to her owners' life.
Her owner is devastated by having to find Sadie a good home, but is dearly hoping to find this amazing dog the home she deserves; one in which she will be cherished, and kept safe, happy and healthy for the rest of her days.
Sadie's ideal home will be with seniors or retired dog lovers who own their own home and have a securely fenced yard. She is best suited for a quiet life with people who have a strong daily routine. She has so much love to offer – please offer her a loving home today.
---
All About Sadie – LabRottie For Adoption in Albuquerque NM
Location: Albuquerque, NM  87109
Type of Pet: Dog
Breed: Labrador Retriever Rehoming / Rottweiler Rehoming Labrottie Labweiler
Age: 6-7 years old
Color/Coat Type: black and tan, short, smooth coat
Size: medium
Health Issues: no
Behavior Issues: Sadie is not always ok with some other dogs–unpredictable. Needs to be an only dog in a home with a securely fenced yard.
Sadie is:
Fixed, Up to Date on Shots, House Trained, Micro-chipped, Obedient, Affectionate, Devoted
Sadie gets along with:
Cats, Adults
Personality
Sadie has come so far since she came to me. She's always been very timid, never aggressive towards people, and only sometimes towards some other dogs. She is a loyal, gentle, very sweet with people. She jumps when she hears loud noises. Very shy. It took her 2 and a half years to wag her tail and approach other people, but now she is much better!!
Food and Diet
Sadie is currently on Blue Buffalo
Reason For Rehoming
On Thursday, my foster dog, Sadie, slipped out of my apartment (only time in 3 years) and attacked another dog. The other dog is fine but required emergency vet care. The Apt. Manager gave me 7 days notice to remove Sadie from the premises (I've had her 3 years with no problems). I'm heartbroken and do not want to give her up or send her back to the rescue place, Watermelon, or any shelter. She needs a stable home environment with a fenced in yard and dog door to go in and outside.
Sadie is a Labrador Retriever / Rottweiler Dog For Adoption in Albuquerque NM near the following towns and cities:
South Valley, NM
Los Ranchos de Albuquerque, NM
North Valley, NM
Rio Rancho, NM
Corrales, NM
Bernalillo, NM
Los Lunas, NM
Belen, NM
Santa Fe, NM
Los Alamos, NM
Grants, NM
Espanola, NM
Socorro, NM
Las Vegas, NM
Taos, NM
Martinez Town, NM
Barelas, NM
Old Town, NM
Five Points, NM
San Jose, NM
Atrisco, NM
Los Duranes, NM
Kirtland Addition, NM
Armijo, NM
Los Candelarias, NM
Hahn, NM
Arenal, NM
Los Griegos, NM
Lee Acres, NM
Vista Encantada, NM
Kinney, NM
South Valley, NM
Adopt Sadie the Labrottie (Labweiler) today.