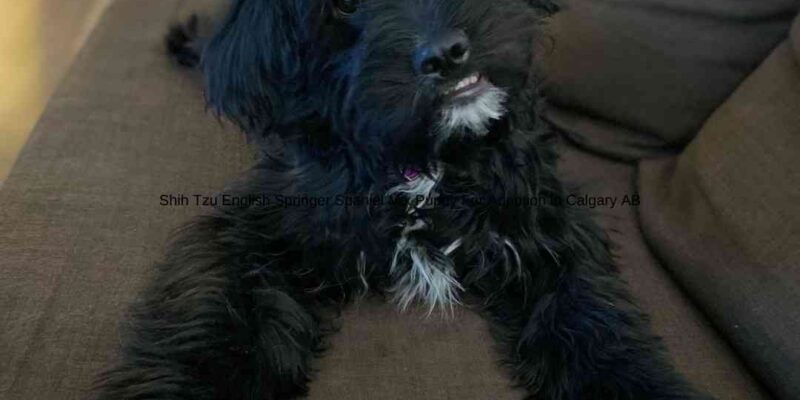 Exquisite Shih Tzu English Springer Spaniel Mix Puppy For Adoption in Calgary AB – Supplies Included – Adopt CJ (Coco Jewel)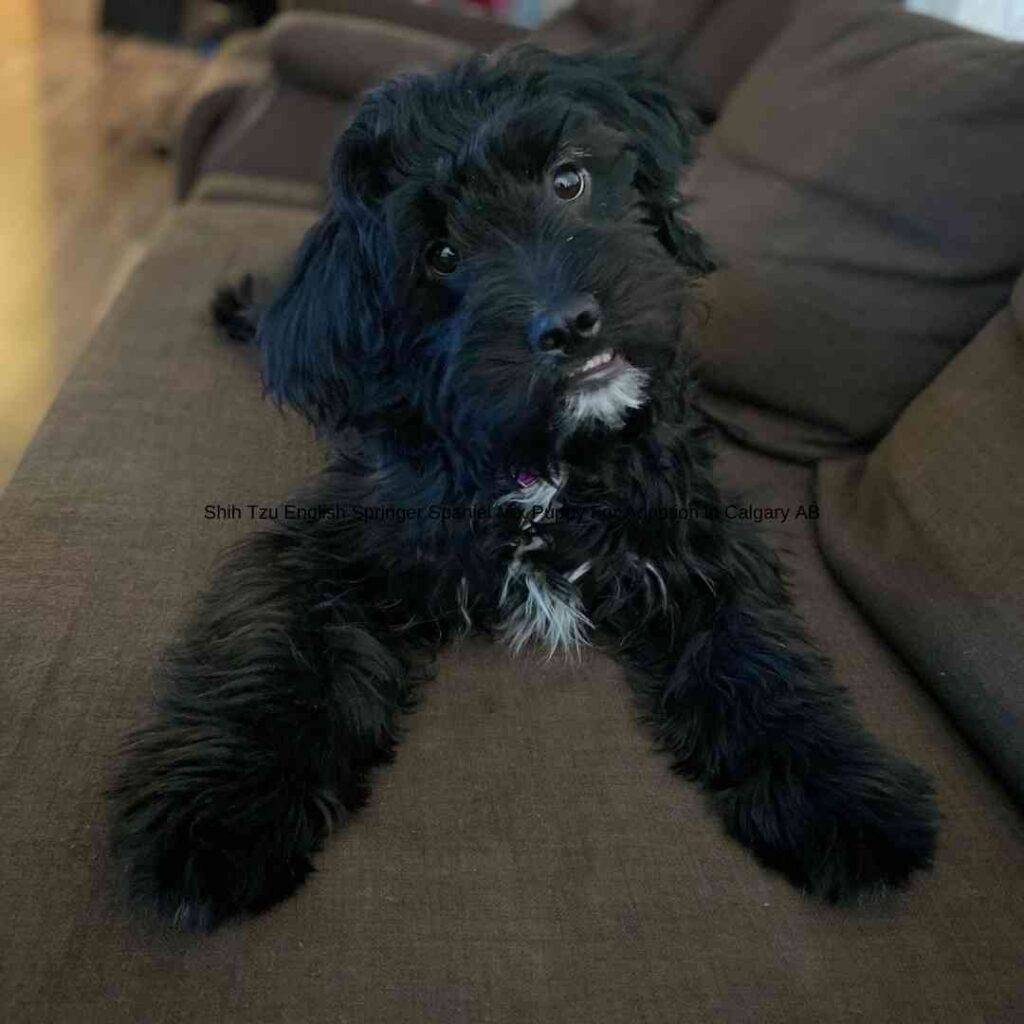 English Springer Spaniel Shih Tzu Dog for Adoption in Calgary, Alberta
Looking for an English Springer Spaniel Shih Tzu mix dog to adopt in Calgary, Alberta? Just 7 months years old and weighing  around 22 pounds, CJ is a puppy that will steal your heart within moments of meeting her. As with all Springer Spaniels, CJ has energy to spare and needs a home with an active family that will spend lots of time playing with her, taking her for walks and excursions to the dog park, and making sure she is cherished and kept safe, happy and healthy for the rest of her life.
CJ has a very sweet, friendly and happy personality. She is also well behaved, having gone through to Intermediate obedience training. She is completely house trained (she rings a bell when she needs to go outside), and she is gentle and sweet with small children. She will shine in any home where she is well cared for and given lots of attention and playtime.
CJ's owner is a 10 year old girl who is having to make a big sacrifice for the sake of her Dad's health and well-being. Unfortunately, her Dad has health challenges, and recently discovered that he is allergic to dogs (something he did not know about before CJ was adopted at 8 weeks old). The allergy makes him very uncomfortable, and makes his other health issues worse, so rehoming CJ is a must-do for the family.
With this situation in mind, Calgary Pet Adoptions Network has a special request of CJ's new family: We are hoping to find a new family for CJ where her little girl will be kept in her life a little. This could mean occasional visits or dog park meet ups, a Zoom call here and there, and an update from time to time with some photos or video clips of CJ's new life. This will go a long way towards making this unbearable situation easier for her, and her Mom will ensure that it won't be intrusive.
If you have room in your heart and home for CJ, please complete our online meeting request form. Once received, our Calgary Dog Rehoming team will make arrangements for you to meet CJ (Coco Jewel) and her owner. Adopt Coco Jewel today!
There is a $750.00 adoption processing fee. All supplies, accessories, and veterinary records will be included.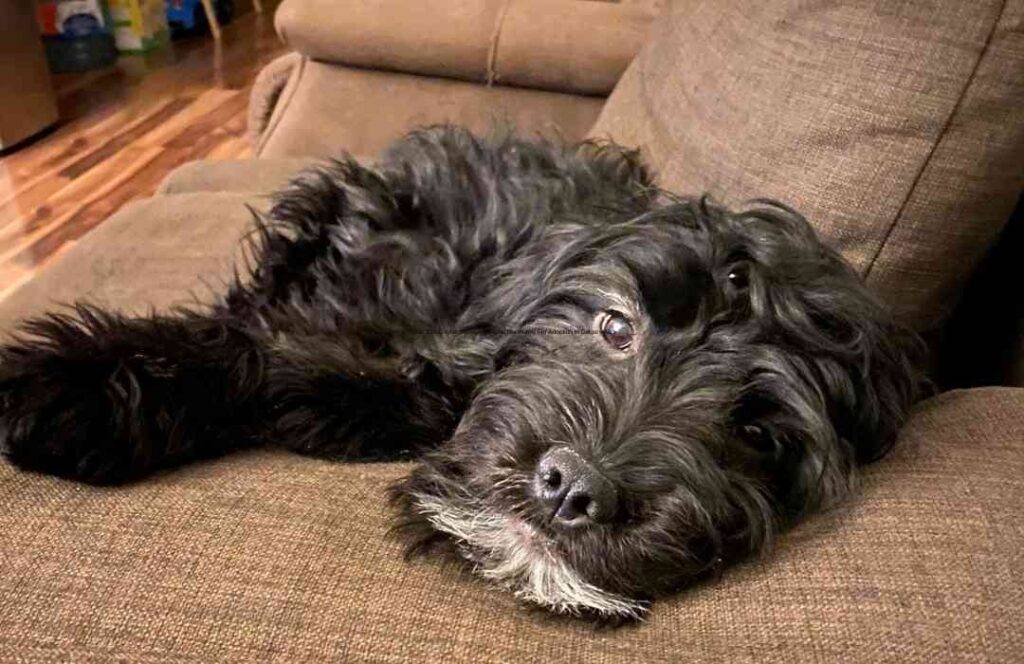 How To Adopt CJ the Shih Tzu English Springer Spaniel Mix in Calgary
If you are interested in adopting this special English Springer Spaniel Shih Tzu mix puppy in Calgary Alberta, please fill out our online meeting request below. Once received and reviewed, our staff will ask the pets owner to reach out to you and arrange a meeting.
Questions about adopting CJ (Coco Jewel)?
Text CJCALGARY  to (888) 833-2128. We look forward to hearing from you!
NO PHONE CALLS, PLEASE!
---
All About CJ (Coco Jewel) – Springer Spaniel Shih Tzu Dog For Adoption in Calgary Alberta
♥ Name of Pet: CJ (Coco Jewel)
♥ Location: Calgary, Alberta, T2E6V3
♥ Type of Pet: Dog
♥ Breed of Pet: English Springer Spaniel x Shih Tzu Mix
♥ Color / Coat Type: Black/ white on the stomach and little white mustach
♥ Age of Pet: 7 months
♥ Size of Pet: Medium around 10kg
♥ Health Problems: No
♥ Behavior Issues: No
♥ Gets along with: Small children, Adults, dog-friendly cats, dogs
♥ Pet is: Spayed, fully vaccinated, house broken, crate trained, leash trained, obedience trained (to intermediate level)
♥ Food: Other
Purine pro plan. Two times a day.
Treats.
CJ (Coco Jewel) – Springer Spaniel Shih Tzu Dog For Adoption in Calgary Alberta
---
CJ (Coco Jewel)'s Personality
Kids friendly. Well behaved. Energetic
People friendly. Trained. Completed beginners lessons
Why is CJ (Coco Jewel) Being Rehomed?
My husband is allergic to fur.
Nearby Locations
CJ (Coco Jewel) is located in Calgary, Alberta, close to the following towns and cities:
Airdrie AB,
Cochrane AB,
Crossfield AB,
Okotoks AB,
Irricana AB,
Black Diamond AB,
Strathmore AB,
Carstairs AB,
High River AB,
Didsbury AB,
Olds AB,
Nanton AB,
Sundre AB,
Three Hills AB,
Vulcan AB,
Thank you for your interest in this deserving English Springer Spaniel Shih Tzu Dog for adoption in Calgary Alberta.