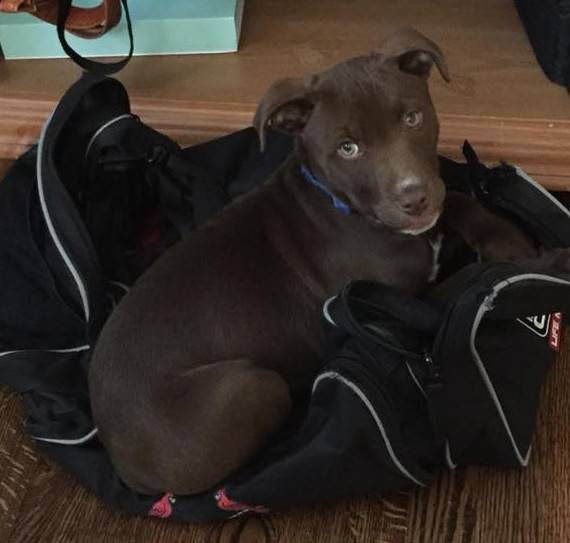 Meet Samson, chocolate lab mix Dog For Adoption in Saint Louis MO
Samson is sweet 4 month old male Chocolate Lab mix puppy for adoption to a very loving home in or near Saint Louis MO. This very special puppy is 4 months and weighs 15 lbs. Samson is very healthy. He will need to be neutered in a few months. He is almost house trained, but is still a puppy and will need further positive reinforecement.
Samson is looking for a loving hime with a large, securely fenced yard, and a family who will have plenty of time to spend with him, and lots of love and patience as he grows up to be the best dog ever.
Samson's owner is a single man, and simply is not able to give Samson the time and attention he needs and deserves. He is hoping to find Samson a loving new home with people who are better situated to raise and train this handsome 3 month old puppy.
There is a $100 adoption/rehoming fee. Supplies and veterinary records will be included.
---
Name of Pet: Samson
Location: Saint Louis, MO, 63116-2160
Type of Pet: Dog
Breed of Pet: chocolate lab mix – likely Pitbull
Sex of Pet: Male
Age of Pet: 4 months
Spayed/Neutered?: No
Health Problems: No
Behavior Issues: Yes sometimes still does little puppy biting. Not totally house trained yet, but almost.
Up To Date on Vaccinations: Yes
Gets along with cats: Unknown
Gets along with dogs: Yes
Good with Children?: Yes
House Broken or Litter Trained?: Almost
Crate Trained?: Yes
Accessories Included: Large new crate, toys, dog food container with recently purchased 25 pound bag of food.
Samson's Personality
lovable, loves to sit in my lap a lot. Always playful! Loves his chewtoys!
Samson's Current Home Environment
Clean. Friendly. I live alone with Samson
Samson's Current Family:
It is just me.
Samson's Favorite Toys, Foods, Activities?
Loves to run in the backyard. Lots of chew toys. Blue mountain dog food and treats.
Cute Samson Story:
Why is Samson Being Rehomed?
I can't devote enough time to Samson.
Samson's Perfect Adoptive Home Will Be:
Family would be nice!
How To Adopt Samson
If you are interested in adopting this special chocolate lab mix Dog For Adoption in Saint Louis MO, please fill out our online meeting request here. Once received and reviewed, our staff will ask the pets owner to reach out to you and arrange a meeting to determine for certain if b is a good fit for you – and you are a good fit for this pet.
If you have any questions about our careful pet rehoming process, feel free to get in touch.
Samson – Chocolate Lab Mix Puppy For Adoption in Saint Louis MO
Samson is a Chocolate Labrador Retriever – Pitbull mix puppy for adoption in Saint Louis MO.