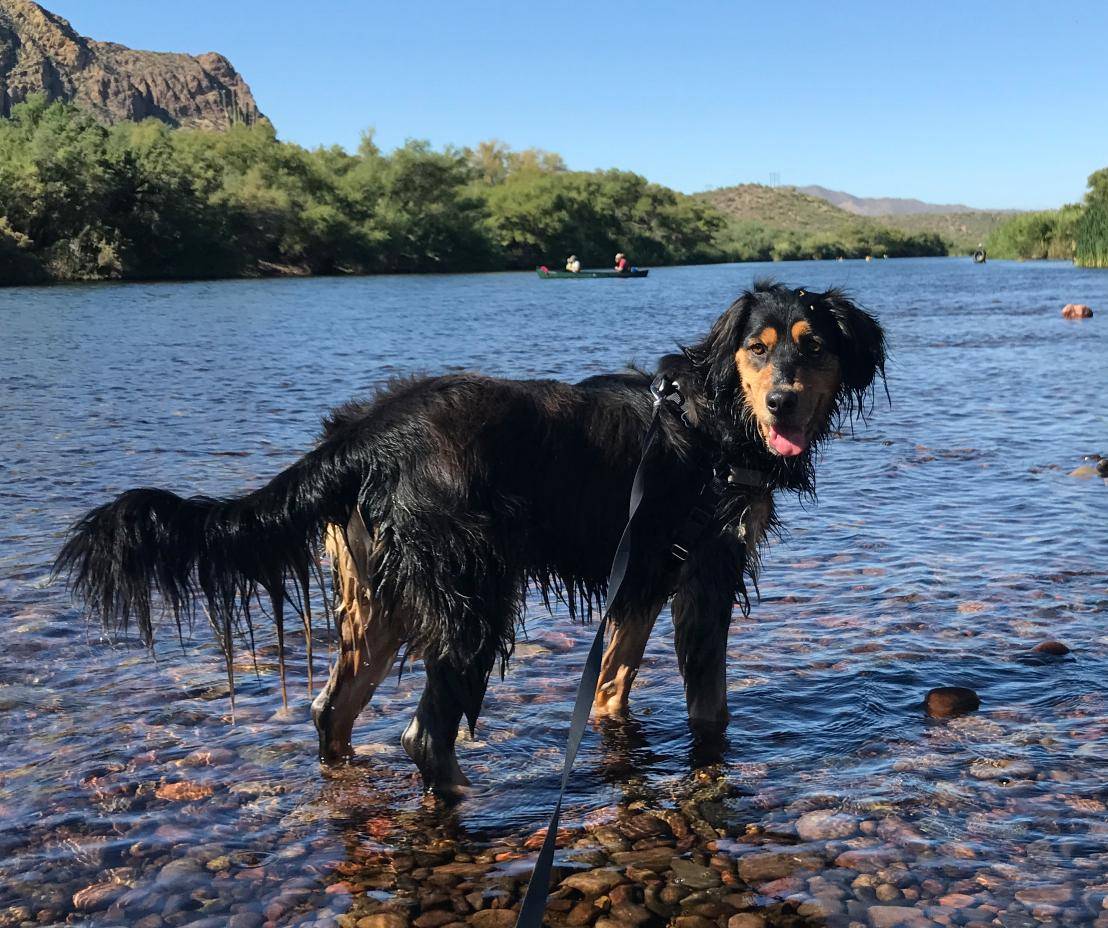 Bear received so many wonderful adoption offers, but his owner decided to keep him and work on his behavior issues. We thank all who reached out to us with offers of homes for Bear.
Meet Bear – Border Collie and Cavalier King Charles Spaniel mix Dog in Mesa Arizona
---
Bear is such a cute little dog. He is a lovely mix of Border Collie and Cavalier King Charles Spaniel. Bear is not quite 2 years old. He is in great health, fixed, up to date on shots and house trained. He is also crate and leash trained.
Bear is a very sweet, devoted, smart and affectionate companion, but like many highly intelligent dogs that are very attuned to their surroundings, Bear is very anxious around small children. Bear wants to be able to predict what is going to happen next, and toddlers and babies are anything-but predictable!
Sadly, Bears' family, who love him so much, have had to make the very difficult decision to rehome him. They have a small child, and keeping the two separate constantly is simply not practical or possible.
They are dearly hoping to find Bear a very loving, adults only home where he will be cherished. He is such a joy to be around. He adds immeasurable love and companionship to life.
Bears' perfect home will be with a retired couple – or someone who works from home. He thrives on spending time with his favorite people, following them around (or should we say "herding them around") and trying to be helpful and show his special kind of moral support as you take care of your daily chores.
Bear loves to go for walks, and enjoys outings in the car. He is good with strangers – just not little ones.
Bear prefers not to share his home with other dogs or pets, so ideally, a home where he can be the only pet and the center of his owner's world would be perfect.
If you have room in your heart and home for this cuddly bundle of fur, please offer Bear his forever home today. He can't wait to wag and wiggle his way into your heart.
---
Location: Mesa, Az, 85209
Type of Pet: Dog
Breed: Border collie and Cavalier King Charles spaniel
Age: 22 months
Color/Coat Type: Tri color long coat
Size: Medium- 45 lbs
Health Issues: No
Behavior Issues: Needs to be in an only pet home with adults only.
Bear is:
Neutered, Microchipped, Fully vaccinated, Crate Trained, House Broken, Leash Trained
Bear gets along with:
Adults Only, Strangers
Personality
Goofy and loving. Very happy and always up for play time, walks, or any adventure.
Food and Diet
Bear is currently on Other
We mix blue buffalo and orijen
Reason For Rehoming
Needs a home with NO children.