ADOPTED – Amazing Border Collie Mix Dog – Langdon AB – Co Co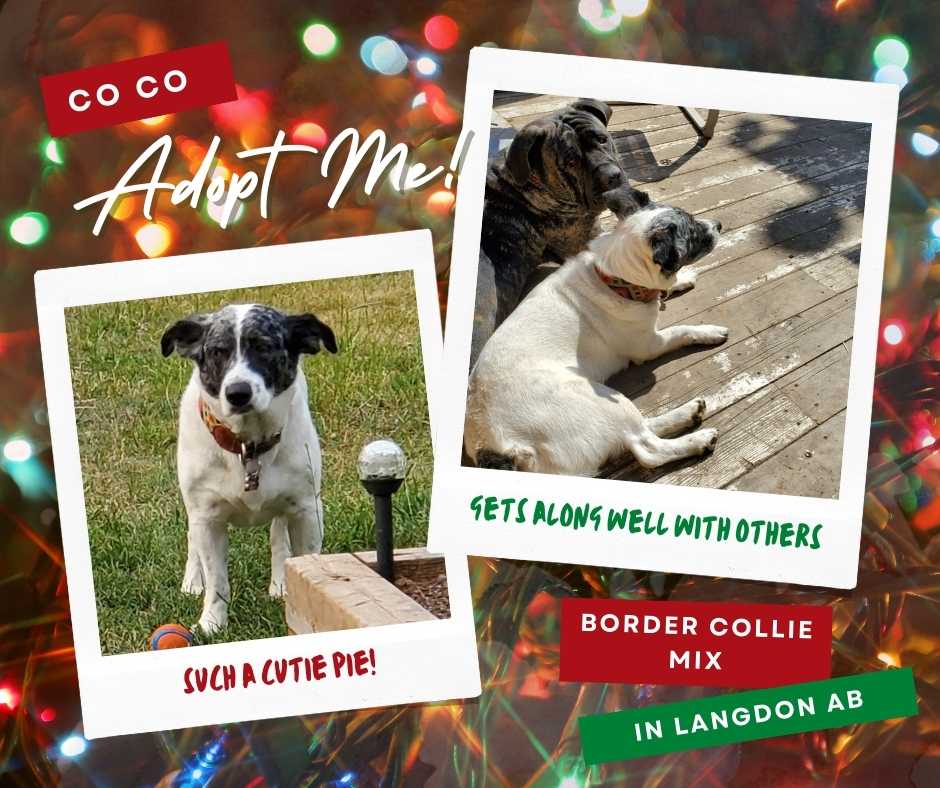 Meet CoCo, a Border Collie Mix dog ADOPTED by owner in Langdon Alberta.
Coco has been adopted. If you would like to be notified when similar dogs are placed for rehoming with our service, please complete our online waiting list form.
---
Looking for a very sweet medium-sized dog ADOPTED near Calgary in Langdon Alberta and area? Just 7 years old and weighing 34 pounds, this healthy Border Collie Mix dog has been spayed, microchipped, fully vaccinated, and house broken. Coco loves senior females and is looking for a quiet home where she will be cherished and kept safe, happy, and healthy.
Coco is a little quirky. She is so good with kids and people she knows and trusts. She has an odd behaviour in that she has been known to nip the ankles of men who come to the door (that she doesn't know). The best solution for this is not to let her answer the door. 🙂 She is a wonderful companion and would be a great pet for a senior couple who live in a house with a fenced yard.
Co Co's owners are very sad to have to rehome their beloved Dog. They are dearly hoping to find a wonderful new home for CoCo with owners who will cherish and keep her safe, happy, and healthy.
If you have room in your heart and home for CoCo, please complete our online meeting request form. Once received, our Calgary Dog Rehoming team will make arrangements for you to meet Coco and her owners. Adopt CoCo today!
All About CoCo – Border Collie Mix Dog ADOPTED in Langdon Alberta
♥ Name of Pet: CoCo
♥ Location: Langdon, Alberta, T0J1X2
♥ Type of Pet: Dog
♥ Breed of Pet: Border Collie Mix
♥ Color / Coat Type: White with patches of grey
♥ Age of Pet: 7 yrs 9 months
♥ Size of Pet: 34 pounds
♥ Health Problems: No
♥ Behavior Issues: Mild
She is a good dog, listens well, doesn't chew or pee in the home. If a stranger comes to the door, she may nip at their ankles. She loves elderly people, she met my dog sitter and elderly lady and took to her right away with kisses.
♥ Gets along with: Babies, Small Children, Dogs
♥ Pet is: Spayed, Microchipped, Fully vaccinated, House Broken
♥ Food: Other
Canadian natural
Deer meat
---
Co Co – Border Collie Mix Dog ADOPTED in Langdon Alberta
---
Co Co's Personality
Very friendly once you meet her, loves women. She is fine with other dogs. Would be a good fit with a single elderly female
Why is Co Co Being Rehomed?
I also have a dominant Cane Corso who went after CoCo twice biting CoCo twice. I can't keep her with the Cane Corso, too worried for her well being
Co Co is located in Langdon, AB, close to the following towns and cities in Alberta:
Langdon AB,
Calgary AB,
Airdrie AB,
Cochrane AB,
Crossfield AB,
Okotoks AB,
Irricana AB,
Black Diamond AB,
Strathmore AB,
Carstairs AB,
High River AB,
Didsbury AB,
Olds AB,
Nanton AB,
Sundre AB,
Three Hills AB,
Vulcan AB,
Thank you for your interest in this deserving Border Collie Mix dog ADOPTED near Calgary Alberta.