ADOPTED – Boston Terrier Pug Border Collie Mix Puppy in Edmonton AB – Meet Diego
Diego Has Been Adopted!
Adorable Diego the Boston Terrier Pug Border Collie Mix puppy has found her forever home. If you are hoping to adopt a Boston Terrier Pug Border Collie Mix dog in Edmonton, please feel free to complete our online waiting list form, and a member of our Edmonton dog rehoming team will contact you when we have an available Mini Eskie.
Need to rehome a Boston Terrier Pug Border Collie Mix dog in Edmonton? Contact our Edmonton dog rehoming team today.
---
Here is how our team presented Diego: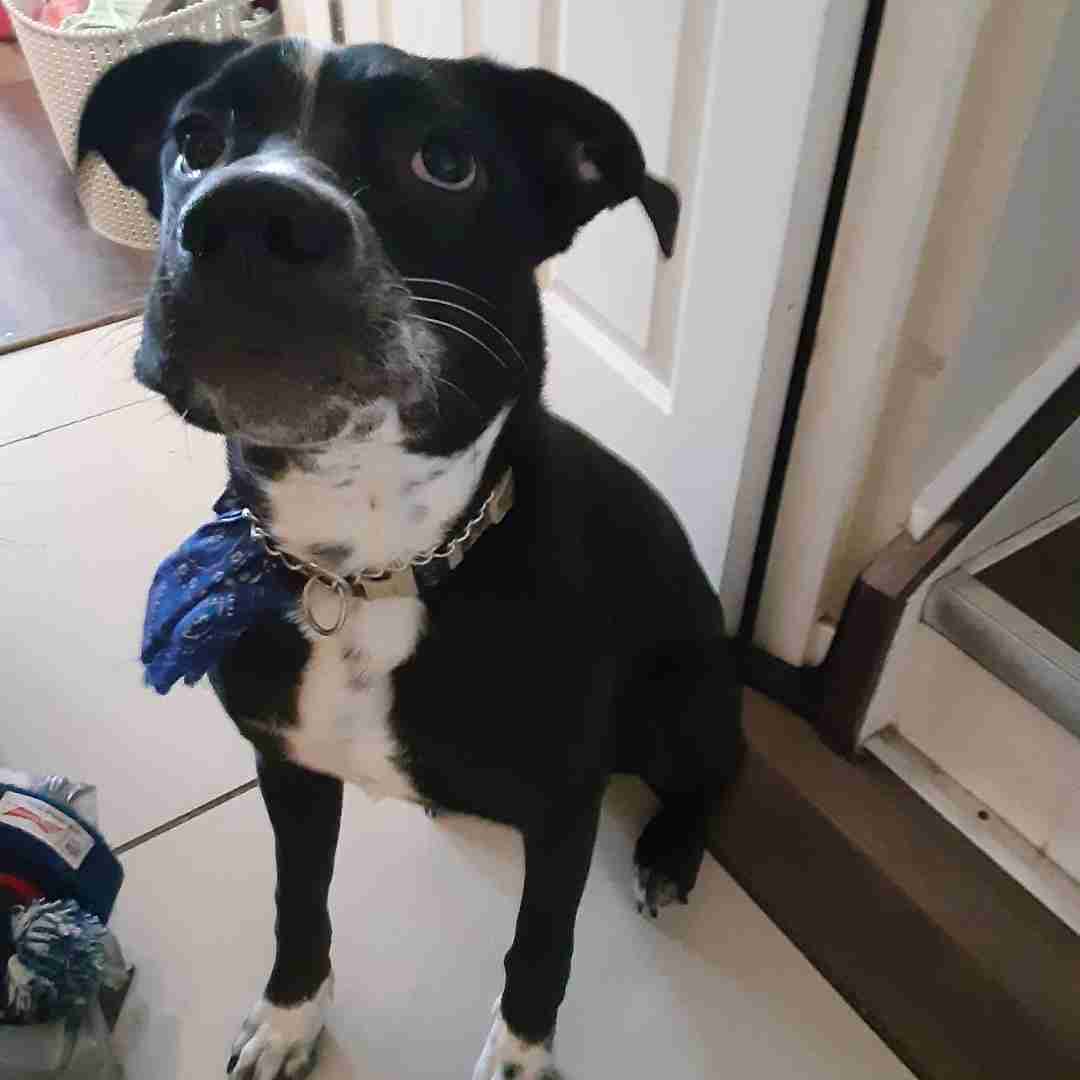 Pug Border Collie Boston Terrier Mix Puppy for Adoption in Edmonton, Alberta
Looking for a Pug mix dog to adopt in Edmonton, Alberta? How about a Boston Terrier mix? Border Collie? If you take all three breeds and mix them together, the adorable result is Diego, a medium sized mix breed dog in need of a very loving home in Edmonton, AB or anywhere within a reasonable distance  Just 9 months old and weighing about  35 pounds, Diego is a very unique little guy. He's part clown, part best friend, part goofball and part adorable Schmoo. Diego loves his people with all his heart, so much that he doesn't like to say Goodbye. Ever.   Some call this "separation anxiety", but Diego says it is just "Extreme Devotion".
Diego's owners are very sad to have to rehome their cherished puppy, but the arrival of their premature baby, in addition to all the other demands of daily living leaves little time for Diego. He's a puppy that needs activity, playtime and companionship. He needs to be someone's baby! Being inactive and indoors all day long is just not good for his health and well-being. Diego needs a new Momma who can make him their focus. He deserves more than his owners are able to give him, despite their best intentions.
Fortunately, spending time with Diego is pure Heaven for dog lover. He is so very sweet and funny, cute and special. He goes out of his way to make you feel like the most important being on Earth, and very much needed. If you have been feeling lonely, adding this little fellow to your life will definitely take care of it.
If your life is missing a medium-sized-furry-snuggle-bunny-top notch cuddle-muffin-love-and-licks-machine, please offer Diego his forever home today. He is the gift that will keep on giving, day after day. He'll take your well-being and happiness to an entirely new level.
Interested in adopting a Boston Terrier Pug Border Collie Mix dog in Edmonton?
Click Here to Complete our Online Waiting List today!
---
All About Diego – Pug Boston Terrier Mix dog For Adoption in Edmonton Alberta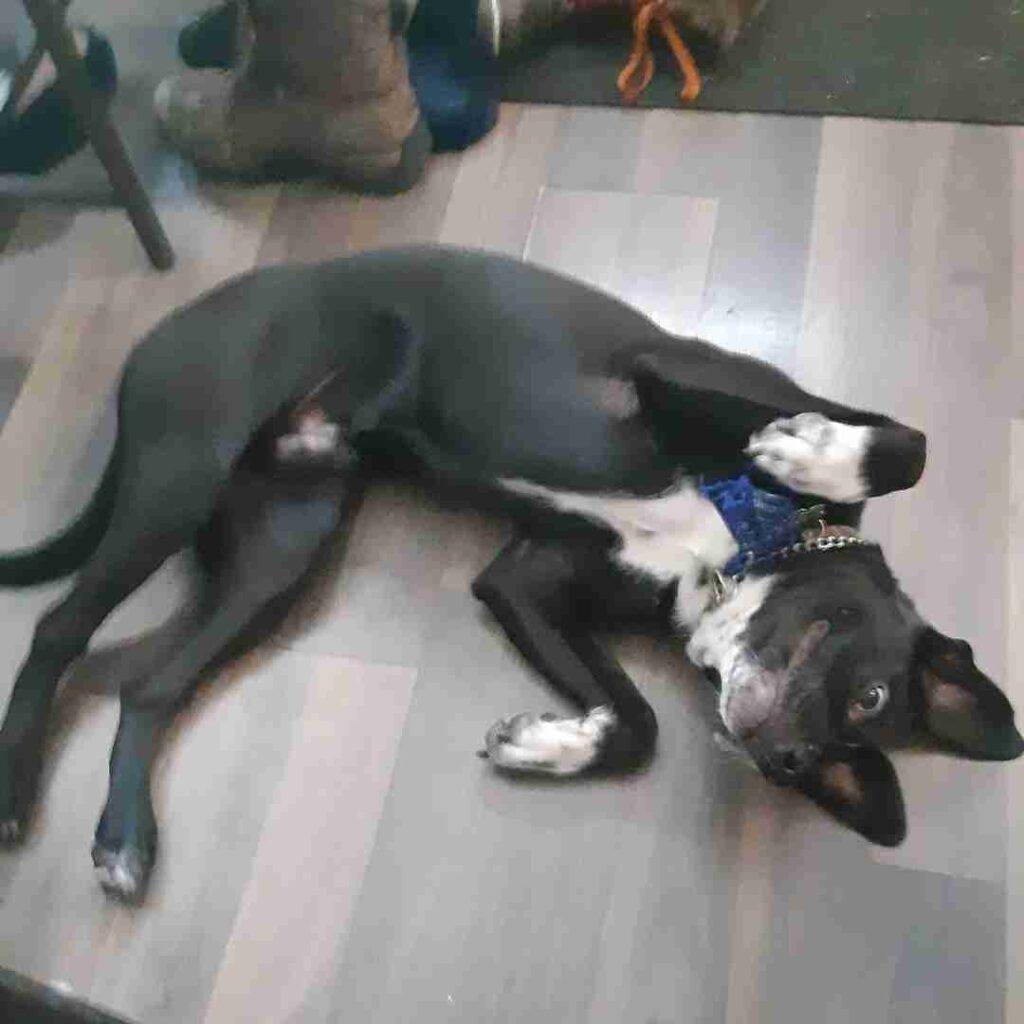 ♥ Name of Pet: Diego
♥ Location: Edmonton, Alberta, T5t1p8
♥ Type of Pet: Dog  Boston Terrier  Border Collie
♥ Breed of Pet: Pug
♥ Color / Coat Type: Short black
♥ Age of Pet: 9 months
♥ Size of Pet: 35lbs
♥ Health Problems: No
♥ Behavior Issues: Anxiety
Diego does not like to be left alone.
♥ Gets along with:
♥ Pet is:
♥ Food: Other
We feed him morning. And night. Ol Roy.
Diego – Pug mix dog For Adoption in Edmonton Alberta
---
Diego's Personality
High energy. Loves to play and is very smart.
Why is Diego Being Rehomed?
We purchased the dog expecting him to be no bigger then 20lbs however is much larger then that. We are not allowed large pets in our rental place. I also had a preemie baby recently and am unable to care and play for him as much as he needs. Also due to having a preemie I am stuck at home indoors and unable to walk him. Which is very unfair to him.
Nearby Locations
Diego is located in Edmonton, Alberta, close to the following towns and cities:
Saint Albert AB,
Sherwood Park AB,
Fort Saskatchewan AB,
Devon AB,
Spruce Grove AB,
Morinville AB,
Leduc AB,
Bon Accord AB,
Stony Plain AB,
Calmar AB,
Millet AB,
Lamont AB,
Tofield AB,
Wetaskiwin AB,
Westlock AB,
Thank you for your interest in this deserving Pug Border Collie Boston Terrier mix dog for adoption in Edmonton Alberta.