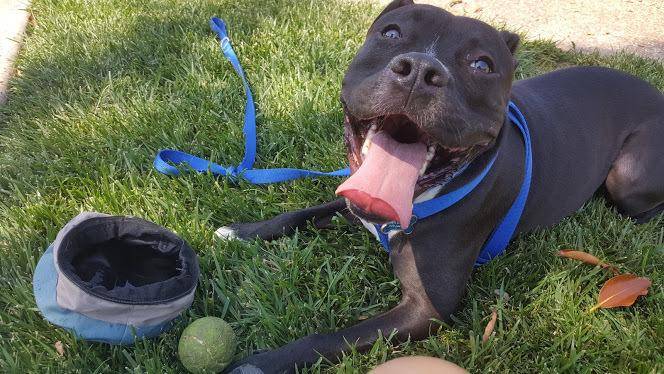 Meet Carter – Boxer Pitbull Dog REHOMED in Oceanside CALIFORNIA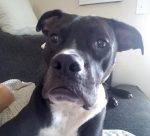 Carter found his forever family today with Joseph and his wife in San Diego. We are so happy for Carter and his new owners and wish them well as they adapt to their new life together.
Here is what they had to say:
My wife and I recently moved to the San Diego area. I am in the Marine Corps and have been for 13 years. We have no children that live with us. We live in a 2 bedroom apartment with an open floor plan. My wife and I both feel that animals aren't pets, they are members of the family and should be treated as such. I believe that Carter would be a good addition to our family because we will be treated with love and understanding, and our schedules work out in such a way that at least one of us is home during the day.
Need To Rehome a Dog in San Diego?
Our safe, careful and very effective pet rehoming process finds good homes for family pets in San Diego and throughout the surrounding towns and cities. If you are struggling with the difficult choice of having to find a good home for your dog, cat, puppy or kitten, we are here for you. Give our kind and very empathetic pet rehoming counsellors a call toll free at (888) 720-3322 or fill out our no-obligation rehoming information request form. We look forward to speaking with you.
Ready to Rehome Your Pet in San Diego?
---
Here is how our San Diego Dog Rehoming team presented Carter to attract his new family: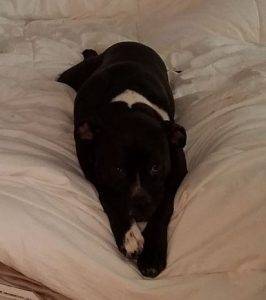 Carter is the ultimate family dog! This beautiful black and white male Boxer mix is just 3 years old and very healthy. He is so well behaved and affectionate. He adores children and people of all ages and sizes.
Carter is fixed, up to date on shots and very healthy. He is perfectly house broken and so eager to please his people. He loves to go for walks, play fetch in the yard, follow you around supervising your every move, and just being his sweet, loveable self.
Carter is very much loved by his owners. They have two dogs; recently the older dog began showing aggression towards Carter, which has resulted in several altercations. This is a dangerous situation for both dogs and their owners, and particularly for their brand new baby.
Carter's owners realize that the two dogs cannot co-exist peacefully, and feel that finding Carter a loving new home is the best decision, since he is such a sweet, people loving dog.
Carter's ideal home with be with a family who do not own other dogs, and who have a large, securely fenced yard for him to play in. They should have lots of time to spend with him, and plenty of energy for playtime and walks.
Carter will be rehomed with all supplies and vet records. His owners would dearly love to keep in touch with his new owners, so hopefully that will not be an issue.
If you are looking for 65 pounds of unconditional love on four legs, Carter is your dog! Please offer this very special boy a loving, forever home today. He can't wait to wiggle and lick his way into your heart.
---
All About Carter – Boxer Pitbull Mix Dog Rehomed in Oceanside CA
Location: Oceanside, CALIFORNIA, 92056
Type of Pet: Dog
Breed: Boxer / American Pit Bull Terrier
Age: 3
Color/Coat Type: Black with white markings
Size: 65 pounds
Health Issues: No
Behavior Issues: No
Carter is:
Neutered, Microchipped, Fully vaccinated, Crate Trained, House Broken, Leash Trained, Obedience Trained
Carter gets along with:
Babies, Toddlers, Small Children, Older Children, Adults, Strangers
Personality
Goofy and loving. Wants to please. Lots of energy. Loves walking, playing ball, kids.
Food and Diet
Carter is currently on Blue Buffalo
830am and 530pm
Reason For Rehoming
New baby in home – because of altercations between our two dogs, we worry that something might happen near the baby. We feel that Carter will easily find a good home because he is such a love dog and adores children.
Carter is a Black and White Boxer American Pit Bull mix Dog Rehomed in Oceanside CALIFORNIA near San Diego and close to Carlsbad,
Vista,
Encinitas,
San Marcos,
Fallbrook,
Solana Beach,
Escondido,
San Clemente,
Temecula,
Poway,
Dana Point,
Murrieta,
San Juan Capistrano,
Wildomar,
Laguna Niguel,
Escondido Junction,
South Oceanside,
Fallbrook Junction,
Yaldora,
Oceana,
Carlsbad,
El Camino 76 Trailer Park,
Talich,
Laguna Vista Trailer Park,
Carlsbad Trailer Park,
Rancho San Luis Rey Trailer Park,
Trico Mobile Estates,
San Luis Rey,
Ysidora,
Stuart,
Farr,
Green Valley Mobile Home Park, California.