Tony has found his forever home.
Meet Tony – Chihuahua Mix Dog Rehomed in Castle Rock CO
Looking for an 11 pound bundle of love and licks? Tony the Chihuahua mix will certainly fit the bill. This sweet boy is a healthy, happy dog. He is neutered and up to date on shots. Chihuahuas are a very long lived breed, so even though Tony is 10 years old, he has many years of love left to offer a loving home and family.
Tony is good with other dogs and cats, and enjoys the company of older, respectful children.
He is being rehomed by his owners, for whom rehoming Tony has not been an easy decision to make. They are concerned about Tony's wellbeing after starting their family. As their first child has reached the toddler years, it has become apparent that Tony is very nervous and unhappy. He can't predict what his young housemate will do next, whether he will make a strange loud noise, suddenly run in Tony's direction, or (yikes!) have another one of those frightening temper tantrums.
Tony's owners want what is best for him, and are hoping to find him a quiet home where he will be cherished by dog lovers with lots of time to spend with him. He is the ultimate lap dog, and would make such a great companion for senior or retired dog lovers. He would also do very well in a home with kids older than 6 who would treat a dog gently and with respect.
If you have been looking for a sweet little canine companion, request to meet Tony today. This is one little dog that will surely leave tiny paw prints on yoour heart.
---
All About Tony – Chihuahua Mix Dog ADOPTED Near Denver, Colorado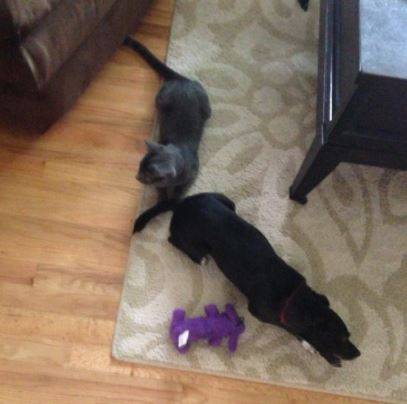 Status: REHOMED/ADOPTED
Location: Castle Rock, CO, 80109
Type of Pet: Dog
Breed: chihuahua mix
Age: 10
Color/Coat Type: short black
Size: ~11 lbs
Health Issues: no
Behavior Issues: no
Tony is:
Neutered, Microchipped, Fully vaccinated, Crate Trained
Tony gets along with:
Older Children, Adults Only, Dogs, Cats
Personality
Very loving and is a great companion… he loves to sit and snuggle with one or two specific people. Loves to go on walks and is still very active for being a 10 year old dog. Has anxiety about car travel unless he is being held. He is rather food driven and will take to training with food.
Food and Diet
Tony is currently on Blue Buffalo
He gets a 1/4 cup in the morning and at night. He receives a bones and/or treats occasionally.
Reason For Rehoming
We have a 2 year old and one on the way… due to his size Tony is scared and I do not think his quality of life with little children around constantly is all that great.
Tony is a chihuahua mix Dog REHOMED in Castle Rock CO near the following towns and cities in Colorado:
Parker, CO
Highlands Ranch, CO
Centennial, CO
Castlewood, CO
Southglenn, CO
Greenwood Village, CO
Littleton, CO
Columbine, CO
Ken Caryl, CO
Englewood, CO
Aurora, CO
Lakewood, CO
Black Forest, CO
Denver, CO
Air Force Academy, CO
Founders Village, CO
Castle Oaks, CO
Silver Heights, CO
Monte Vista Estates, CO
Castlewood North, CO
Happy Canyon, CO
Orsa, CO
Happy Canyon Ranches, CO
Tomah, CO
Franktown, CO
Castle Pines, CO
Burning Tree Ranch, CO
Sedalia, CO
Beverly Hills, CO
Richlawn Hills, CO
The Pinery, CO
Surrey Ridge, CO
Chihuahua Rehoming Services – Colorado Dog Rehoming