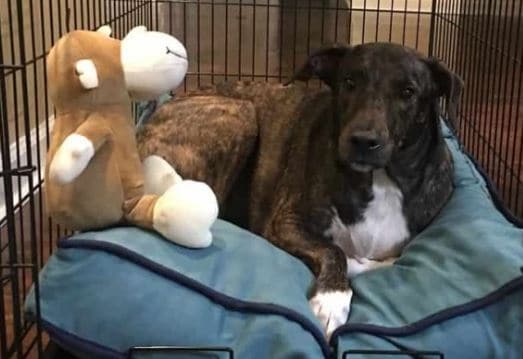 Meet Raindrop, Whippet Bull Terrier Dog For Adoption in Jacksonville FL
Raindrop is a sweet brindle Bull Terrier and Whippet mix dog for adoption in Jacksonville, Florida. Raindrop is just 4 years old and weighs. pounds. She is very healthy, spayed, up to date on shots, house trained and crate trained. She is very good with other dogs and children, and would probably be good with cats, although she has not yet enjoyed their company.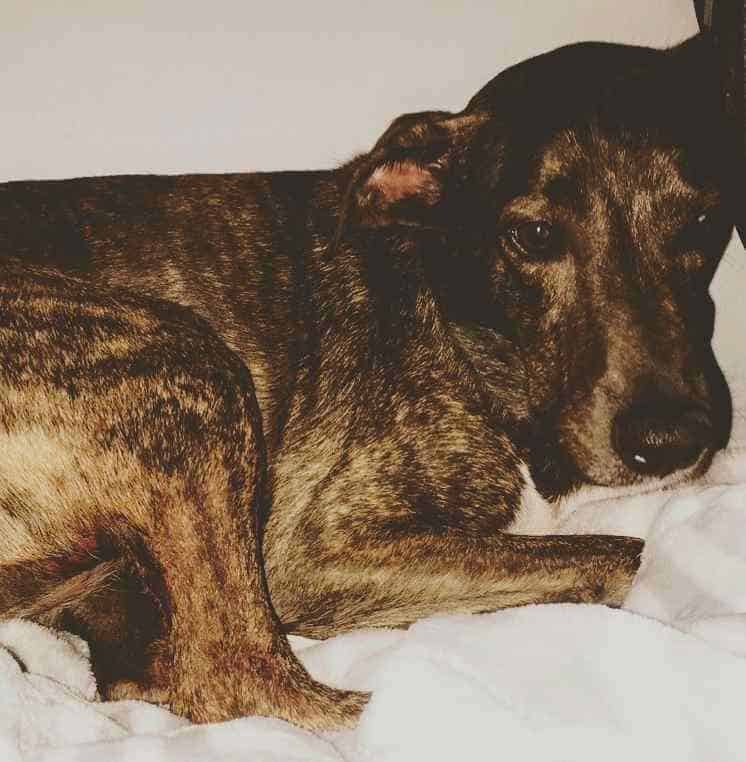 Raindrop is love on four legs. She is as sweet as she is pretty, with her brindle coat, big brown eyes and gentle and devoted personality.
Raindrop needs a special home with dog lovers who are able to be home with her. She suffers from separation anxiety as a result of having been hit by a car. Her body has healed but her mind is still experiencing the trauma, and she needs a devoted human to attach herself to like a barnacle. She is also afraid of fireworks and thunder, so needs to be kept safe and calm when there are storms or celebrations.
Raindrop is crate trained, and can spend some time in her crate each day. Unfortunately, her owner works very long shifts (up to 12 hours), and Raindrop is having a lot of depression and anxiety as a result. Her owner hopes to find Raindrop a very loving owner who will enjoy having such a sweet and devoted companion. Raindrop is a great therapy dog, as well as a dog that needs a therapy human. It's a win-win situation!
If you have the right environment and schedule for this sweet brindle Bull Terrier Whippet mix dog, please offer Raindrop a home today. She can't wait to show you the true meaning of unconditional love.
There is a $150 adoption/rehoming fee. Supplies and veterinary records will be included.
Questions about Raindrop? Contact our Jacksonville dog rehoming team today. Text RAINDROP to (888) 833-2128 or email [email protected]. We look forward to hearing from you.
---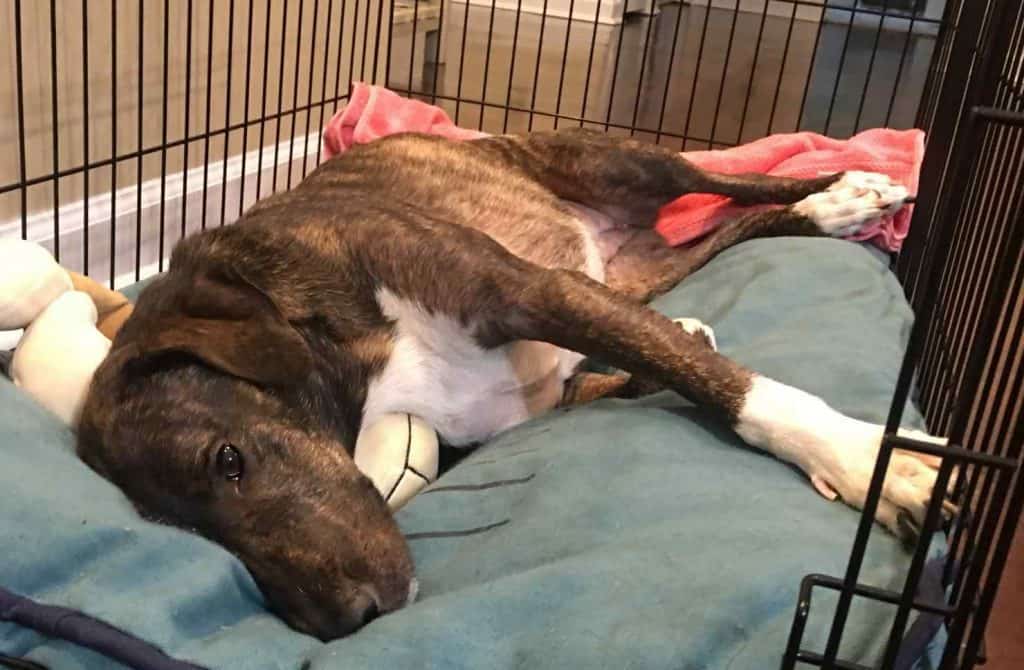 All About Raindrop – Whippet bull terrier Dog For Adoption in Jacksonville FL
Name of Pet: Raindrop
Location: Jacksonville, FL, 32246
Type of Pet: Dog
Breed of Pet: Whippet bull terrier
Sex of Pet: Female
Age of Pet: 4 years
Spayed/Neutered?: Yes
Health Problems: No
Behavior Issues: Yes Rain has anxiety issues and would do best in home where someone is there most of the time. She is very loving and walks well on a leash (her Nana said so) She is scared by noises of vehicles, etc., but not thunder or fireworks, as long as she is inside. She is very scared of new situations and it would take someone with patience and experience to help her overcome these issues. She was hit by a truck two months ago and this has intensified her anxiety. She rolled under the truck and her injuries were severe road rash on her back leg. She has healed up physically, but mentally needs a loving person to help her through this ordeal. She really is non aggressive to anybody, kids, adults. She is a flight not fight dog, she is house trained and crate trained. I leave the door of her crate open so when she does become anxious she goes inside her kennel "woman cave
Up To Date on Vaccinations: Yes
Gets along with cats: Unknown
Gets along with dogs: Yes
Good with Children?: Yes
House Broken or Litter Trained?: Yes
Crate Trained?: Yes
Accessories Included: Leash and collar, any toys of hers
Raindrop's Personality
Loves to cuddle
Loves her sister dog
Is quiet but barks to alert me
She is clean
Short haired so sheds very little
Raindrop's Current Home Environment
I am gone 10-12 hours per day as I have to work two jobs
Raindrop's Current Family:
I am recently divorced so that is the reason I had to take on another job. My other dog is also a rescue, she is 13 years old and acts more like a crate then a dog. She has no problem being alone
Raindrop's Favorite Toys, Foods, Activities?
Rain eats Blue Buffalo. She used to love squeaky toys but rarely plays anymore
Cute Raindrop Story:
When we first rescued her she would always try to love up to our older dog. The older dog would let her lay on her for about 5 minutes and then move. Rain always tried to get close to her
Why is Raindrop Being Rehomed?
I am not able to give her the care she deserves as I am not at home very much. Her anxiety is becoming worse. I feel she does not have a good life
Raindrop's Perfect Adoptive Home Will Be:
Rain needs a person who is a stay at home mom or dad. She needs people
Additional Comments:
Please help me to find Rain a stable and loving home
How To Adopt Raindrop
If you are interested in adopting this special Whippet/ bull terrier Dog For Adoption in Jacksonville FL, please fill out our online meeting request here. Once received and reviewed, our staff will ask the pets owner to reach out to you and arrange a meeting.
Questions about Raindrop? Contact our Whippet dog rehoming team today. Text RAINDROP to (888) 833-2128 or email [email protected]. We look forward to hearing from you.
Raindrop – Whippet Bull Terrier Mix Dog For Adoption in Jacksonville FL
Raindrop is a Brindle Whippet/ bull terrier Dog for adoption in Jacksonville FL:
Orange Park
Atlantic Beach
Lakeside
Jacksonville Beach
Palm Valley
Fernandina Beach
Saint Marys GA
Kingsland GA
Saint Augustine
Palatka
Brunswick GA
Saint Simons GA
Palm Coast
Lake City
Gainesville
Brooklyn
San Marco
South Jacksonville
College Park
Brentwood
Riverside
Saint Nicholas
Philips
Talleyrand
Phoenix Park
Floral Bluff
Grand Park
Pearl Court
Norwood
South Metro
Eggleston Heights
Murray Hill
Adopt this sweet Brindle Whippet Bull Terrier mix dog today.