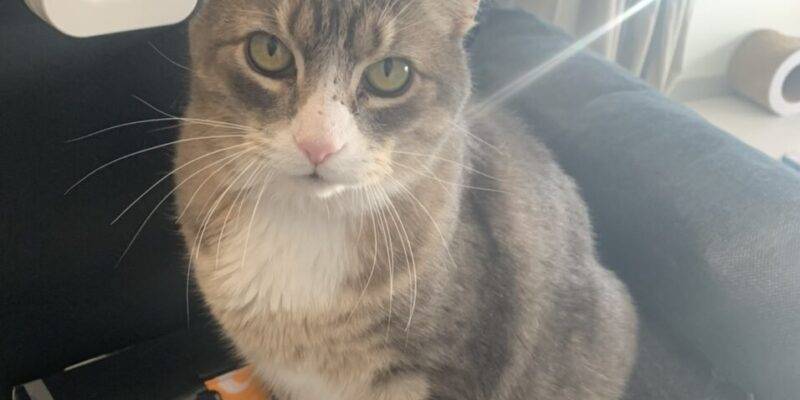 Sweet Brown Tabby Cat For Adoption in Calgary AB – Supplies Included – Adopt PJ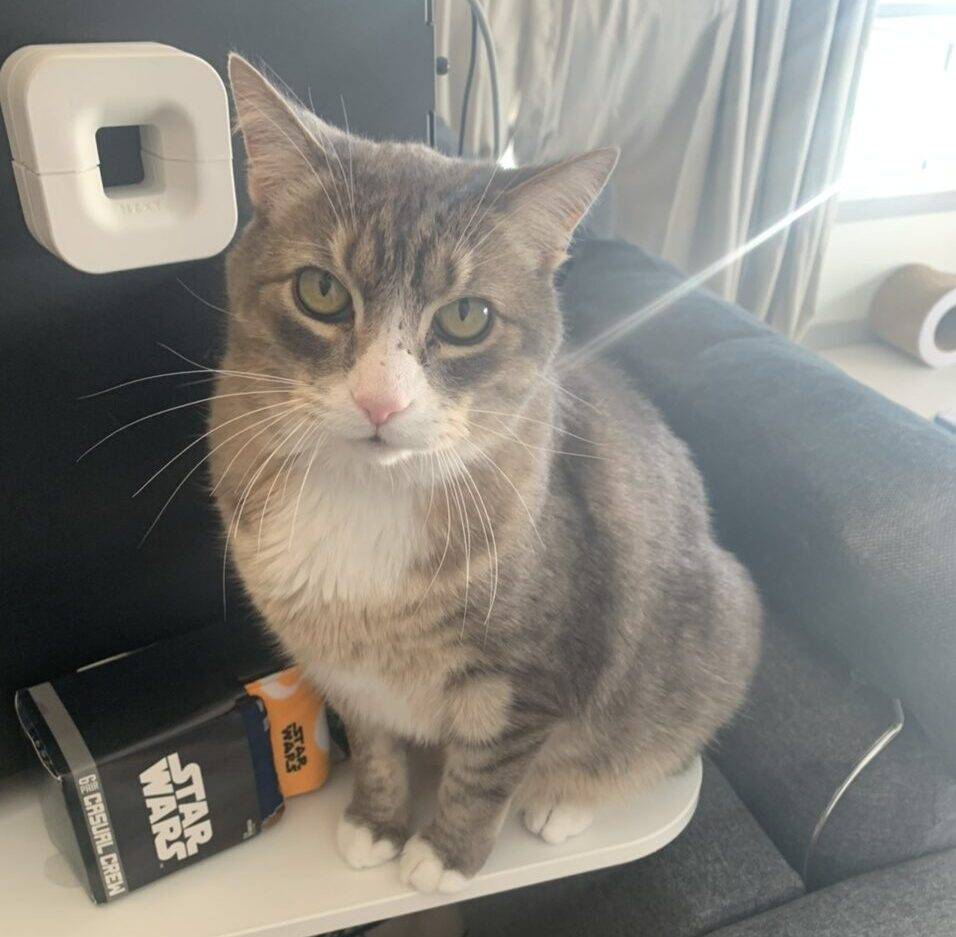 Brown Tabby Cat for Adoption in Calgary, AB
Looking for a Brown Tabby Cat to adopt in Calgary, AB?  PK is a very unique and people loving cat looking for his forever home after his owner, a senior gentleman, moved to assisted living. PK is 11 years old and weighs 6.3 kg, He has such a pretty coat – it's light grey with patches of rose, accented with adorable white paws and chest, and a white triangle on his face, surrounding an adorable little pink nose.
PJ is a chatty Cathy! He loves to talk and always has engaging stories to tell. He loves people and is very affectionate.
PJ has been fixed and micro-chipped. He is a clean cat that always uses his litter box. He will even let you know when it's time for a "freshening up" of his box. PJ is good with people (except small children) and cat-friendly dogs.
PJ is used to living in a quiet home with his elderly owner. His days were filled with routine and lots of human attention, watching birds out the window or  television with his owner while nestled comfortably beside him, or on his lap.  Since being place in new surroundings where there are other cats, PJ is not happy. He has never been around other cats, and at this stage in his life, prefers not to be.
PJ's guardian is hoping to find a new home where this special cat will be cherished and kept safe, happy, and healthy for life. He would be the perfect companion for a senior, and a senior's home would be perfect for PJ.
How To Adopt PJ
If you are interested in adopting this special Brown Tabby in Calgary AB, please fill out our online meeting request below. Once received and reviewed, our staff will ask the pets owner to reach out to you and arrange a meeting.
There is a $30.00 adoption processing fee. Supplies, accessories, and veterinary records will be included.
Questions about adopting PJ?
Text PJCALGARY to (888) 833-2128. We look forward to hearing from you!
---
All About PJ – Brown Tabby Cat For Adoption in Calgary AB
♥ Name of Pet: PJ
♥ Location: Calgary, AB, T3G 1E2
♥ Type of Pet: Cat
♥ Breed of Pet: Brown Tabby
♥ Color / Coat Type: Medium grey/brown/white Brown Tabby
♥ Age of Pet: 11
♥ Size of Pet: 6.3 kg
♥ Health Problems: No
♥ Behavior Issues: No
♥ Gets along with:
♥ Pet is:
♥ Food: Hills Science Diet
PJ – Brown Tabby Cat For Adoption in Calgary AB
---
PJ's Personality
We call PJ the "old man cat" he likes to complain and watch television or birds. he enjoys the company of people. Likes attention. "Talks" all the time. Can be brushed for hours. He'll let you know if he's hungry or litter box needs attention. He used to sit beside or on my grandpas lap to watch television. He was an indoor/outdoor cat with my grandfather's but has been indoor only since he's been with us. Enjoys just being with people.
Why is PJ Being Rehomed?
PJ was my grandpas cat and my grandfather had to move to assisted living. We took him in as we already have 2 cats. Unfortunately, PJ has not been socialized and does not like our 2 cats. We have a rescue Bengal (Leo) who is quite large and anxious, with a previous bad home experience that we took in 3 years ago, he is now 5. His brother passed away unexpectedly so we adopted a calico cat (Raza) from the meow foundation when she was 2. Raza is very patient and she and Leo are bonded.
Leo and PJ had an incident about a month in where PJ knocked over a glass on the coffee table which made a loud noise, which startled Leo, and attacked PJ. Which resulted in stitches. They have not been left alone since as Leo will now hunt PJ. PJ has his own room in our house with some time out when Leo is looking at the birds (in another room, door shut).
PJ now is terrified of Leo (understandably so) and does not get along with Raza.
I think PJ would be happier in a home without a Bengal, specifically Leo. He will tolerate other cats (like Raza) PJ does not go out of his way to bug her or hide from her they are fine cohabiting without being friends.
We are very attached to PJ and we're hoping he would settle after some time, but he is just scared all the time unless Leo is in a different room. We know he would be so much happier with someone who he can be around all day. He is a great companion.
Nearby Locations
PJ is located in Calgary, AB, close to the following towns and cities:
Airdrie AB,
Cochrane AB,
Crossfield AB,
Okotoks AB,
Irricana AB,
Black Diamond AB,
Strathmore AB,
Carstairs AB,
High River AB,
Didsbury AB,
Olds AB,
Nanton AB,
Sundre AB,
Three Hills AB,
Vulcan AB,
Thank you for your interest in this deserving Brown Tabby Cat for adoption in Calgary AB.