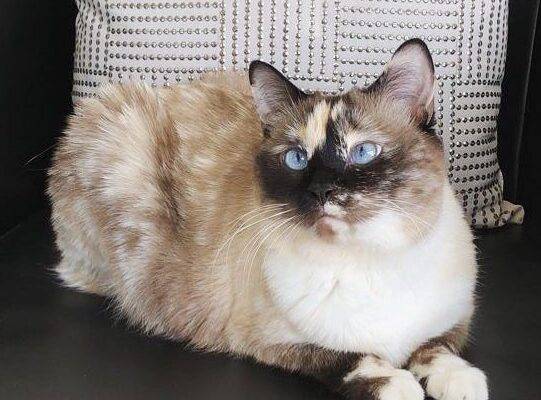 Stunning Manx Snowshoe Siamese Cat For Adoption in Okotoks AB – Supplies Included – Adopt Willow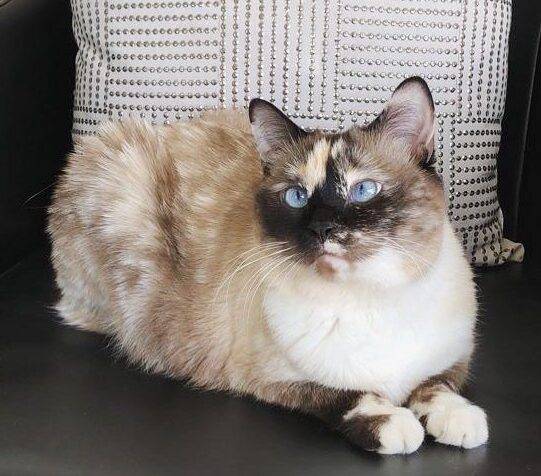 Snowshoe Siamese Manx Cat for Adoption in Okotoks, AB
Looking for a very special cat to adopt in Okotoks, AB? Just 7 years old and weighing 10 lbs, Willow is one of the most beautiful cats you will meet. This gorgeous blue-eyed Snowshoe Siamese x Manx cat is a slightly shy but very sweet cat that is a wonderful companion and friend. She is very well behaved, and will make a wonderful companion for a cat lover who can give her the love, care, attention and companionship that she deserves.
Willow's owner is very sad to have to rehome her cherished Cat.  Unfortunately, life has dealt her some difficult cards, and she has no choice other than to rehome her cherished cat. She is hoping to find a very good home for Willow where she will be given a good life full of love and care.
If you have room in your heart and home for Willow, please complete our online meeting request form. Once received, our Okotoks Cat Rehoming team will make arrangements for you to meet Willow and her owner. Adopt Willow today!
There is a $75.00 adoption processing fee. Supplies, accessories, and veterinary records will be included.
How To Adopt Willow
If you are interested in adopting this special Manx Snowshoe Siamese Cat in Okotoks AB, please fill out our online meeting request below. Once received and reviewed, our staff will ask the pets owner to reach out to you and arrange a meeting.
Questions about adopting Willow?
Text WillowOKOTOKS  to (888) 833-2128. We look forward to hearing from you!
---
All About Willow – Manx Cat For Adoption in Okotoks AB
♥ Name of Pet: Willow
♥ Location: Okotoks, AB, T1S 1P7
♥ Type of Pet: Cat
♥ Breed of Pet: Snowshoe Siamese Manx
♥ Color / Coat Type: White/Grey/Brown short hair
♥ Age of Pet: 7
♥ Size of Pet: 10 lbs
♥ Health Problems: No
♥ Behavior Issues: No
♥ Gets along with:
♥ Pet is:
♥ Food: Orijen
Willow – Manx Cat For Adoption in Okotoks AB
---
Willow's Personality
Quiet, a bit shy but very lovey once she warms up, super sweet and well behaved girl.
Why is Willow Being Rehomed?
This is for my cousins cat Willow. She's going through a really tough separation and is unable to keep her. She is heartbroken and asked me to find her a new home. She's a very sweet cat and no vices. Doesn't scratch furniture and only uses her cat tree. She quiet and litter trained.
Would excel in an only pet home as she hides when dogs are around. Doesn't get into fights or scratches anyone but hides. If the dog is quiet and good with cats she is fine.
Nearby Locations
Willow is located in Okotoks, AB, close to the following towns and cities:
Airdrie AB,
Cochrane AB,
Crossfield AB,
Okotoks AB,
Irricana AB,
Black Diamond AB,
Strathmore AB,
Carstairs AB,
High River AB,
Didsbury AB,
Olds AB,
Nanton AB,
Sundre AB,
Three Hills AB,
Vulcan AB,
Thank you for your interest in this deserving Snowshoe Siamese x Manx Cat for adoption in Okotoks AB.